The Truth About China's 'Interference' in Malaysia's Politics
A recent incident is yet another worrying sign of how Beijing treats its partners.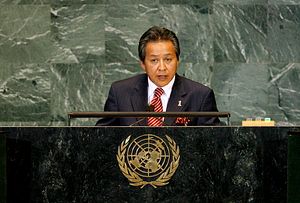 Over the past week, Sino-Malaysian relations have been rocked by allegations that China's envoy had attempted to interfere in the Southeast Asian state's internal affairs.
As is often the case, the seemingly endless commentary on the single incident has descended into a he said, she said that obscures the main point of the controversy. In truth, this is just the latest in a string of worrying incidents that clearly demonstrate how China is willing to use its influence to manipulate its "special relationship" with Malaysia, even at the latter's expense.
According to the Malaysian newspaper The Star, on September 25 China's ambassador Huang Huikang said that Beijing opposed any form of racial discrimination and would not tolerate violent demonstrations in Malaysia. He made the comments while visiting Petaling Street, a predominantly ethnic Chinese district of Kuala Lumpur. Huang's remarks, which were made ahead of a planned pro-government rally in response to previous protests urging Prime Minister Najib Razak to resign amid a corruption scandal, were read as a direct interference in Malaysia's internal affairs (See: "After the Scandal: What's Next for Malaysia"). 'Chinese interference' is a trigger word for Malaysia, a Muslim-majority country with a significant ethnic Chinese minority. It harks back to the days of the early Cold War when the Southeast Asian state worried about the Chinese Communist Party's links to the Communist Party of Malaysia.
Predictably, Huang clarified his comments at a press conference at the Chinese embassy in Kuala Lumpur Tuesday, noting that if they were read in context, "there is no person of clear mind who will say the China ambassador is interfering in domestic affairs." He also referenced the 'special relationship' between the two countries, which was forged after Malaysia became the first ASEAN state to normalize ties with China in 1974 under then-Prime Minister Tun Razak, Najib's father. Yet this parsing of words should not distract us from the broader incident itself and what it says about how Beijing treats arguably one of its closest partners in the Asia-Pacific.
First, if Malaysian diplomatic accounts are to be believed, China's initial response to the controversy smacks of defiance and disrespect one would not expect from a friendly nation. According to Radio Free Asia (RFA), sources indicate that when Malaysian officials contacted the Chinese embassy to summon Huang to the foreign ministry at the direction of Foreign Minister Anifah Aman, Huang's aides told them he was very busy and demanded instead that the foreign ministry officers instead go to the embassy to see him. Huang then went on to lobby Ong Ka Ting, Malaysia's special envoy for China, and several other ministers, who reportedly let him off the hook. This kind of behavior, which clearly violates traditional diplomatic protocol, illustrates that Beijing wants to have things its way even when resolving crises that are of its own making.
Second, China's brazen use of its influence to successfully circumvent diplomatic protocol at Malaysia's expense should serve as a lesson. The fact that a Chinese ambassador can directly defy orders from the foreign ministry and then lobby other ministers suggests that Beijing believes the Sino-Malaysian 'special relationship' entitles it to special privileges it can cash in on while running roughshod over Malaysia. True, China's efforts here were facilitated by Malaysian ministers guilty of interfering in what was essentially a foreign ministry affair, and this was complicated by the fact that the incident occurred when both Najib and Anifah were in New York for UN meetings, which made coordination more difficult. And Huang did eventually meet with acting foreign minister Hamzah Zainuddin, even though he insisted it was only a working meeting and the controversy was not discussed. But as one diplomatic source succinctly told RFA: "This is a big blow to Malaysia and national sovereignty. The Chinese influence appears to have reached the top echelons of power."
Third and more broadly, for all the attention on this controversy, this is just the latest in a series of incidents that raise serious questions about how China is treating Malaysia. As I have detailed extensively, Chinese ships have been making bolder intrusions into Malaysian waters in the South China Sea, leading Malaysia to be relatively more outspoken about violations of its sovereignty (See: "Malaysia's South China Sea Policy: Playing it Safe"). Following the disappearance of Beijing-bound Malaysian flight MH 370, which carried more than 150 Chinese nationals, China also sharply and publicly criticized Malaysia's handling of the investigation, a move hardly welcome given the pressure the Malaysian government was already under. While each of these incidents was followed by attempts on both sides to mend ties, they have also led some prominent figures in Malaysia to question the value of the 'special relationship.' Suffice it to say, controversies like these only reinforce this skepticism.
To be sure, this one incident should not distract us from the importance both sides place on the Sino-Malaysian relationship. Each views the other as an important economic priority – China is Malaysia's biggest trade partner and its largest tourism-generating market outside of ASEAN; Malaysia is China's third largest trade partner in Asia after Japan and Korea and accounts for about a quarter of Beijing's overall trade with Southeast Asia. And as I regularly point out, the Sino-Malaysian relationship has also begun to gradually expand in the security realm as well. Indeed, before Huang's comments, the bilateral relationship had gotten a boost with the first-ever joint live-troop exercise between China and Malaysia in mid-September, which I previewed for The Diplomat (See: "China, Malaysia to Hold First Ever Joint Live-Troop Exercise").
At the same time, much like its actions at the ASEAN Summit in Phnom Penh in 2012 did, China's willingness to use its growing influence in relationships with Asian states to its advantage and their expense only exposes the pretense of the "win-win cooperation" Beijing parrots and intensifies anxieties about its rise. In subsequent remarks clarifying his controversial comment, Huang implored both sides to not lose sight of the big picture amid the controversy, citing the promise of bilateral trade and the rewards of China's "One Belt, One Road" initiative. But in making Malaysia and others in the region more cognizant about the price of a cozier relationship with China, one wonders if it is Beijing that is missing the forest for the trees.