Time for Rich Countries to Pay Their Ecological Debt
A call for climate justice ahead of the Finance Ministers meeting in Lima.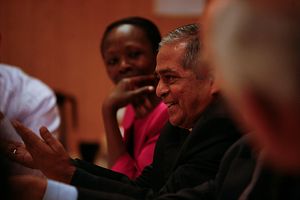 Today, Finance Ministers from across the globe are meeting in Lima at the annual meeting of the World Bank and the International Monetary Fund, which falls ahead of the 2015 UN climate summit in Paris. It is an auspicious moment to reflect on the financial issues in climate change, and to consider the historical responsibility richer nations hold towards poorer nations to help cope with and lessen the adverse effects of climate change, for a fairer world.
My country, Bangladesh, is a nation most at risk from climate change. Destructive flooding especially in low-lying coastal zones, more frequent violent and deadly storms fuelled by climate change, and 50 percent lower essential agricultural yields are some of the dramatic consequences of a changing climate our people face. Similarly, there are large-scale devastating droughts in Africa, local scale mercury pollution from gold mining or sulfur dioxide pollution from copper mining, and other issues in so many developing nations.
Adverse effects are also to be seen in the actions of multinational companies which, in withdrawing from their developing world operations, can leave behind huge unemployment, abandoned towns, depleted natural resources, deforestation, and polluted rivers and water-ways.
Developing countries shoulder a disproportionately large burden of the devastating social, economic and environmental costs of climate change. They are the least able to pay for protection from it and the least able to deal with its affects. Thus the responsibility is greater for the developed nations that cause these. A timely point is made by Pope Francis in his encyclical letter Laudato Si: "An ecological debt is owed by the global north to the global south, due to the disproportionate use of natural resources by certain countries over long periods of time resulting in the economic imbalances and inequities that we see today."
Climate change is frightening, but our efforts together to address them will be proof of our responsible leadership of our planet. The responsibility to drive climate-friendly action forward and pay for a fair proportion is with those countries that have the most power to bring about change. We are hopeful that government leadership, especially of developed nations, will be there for ambitious engagement and decisions. In solidarity the developing nations themselves too will engage courageously to the extent possible. Side by side in all nations various stakeholders and NGOs will be actively there, such as Coopération Internationale pour le Développement et la Solidarité (CIDSE, or International Cooperation for Development and Solidarity), which has long been advocating for climate justice, putting the poor at the center of their work, and will continue to do.
I hope that at Paris the developed countries will be able to take measures for keeping global warming below the 1.5°C threshold that science tells us should prevent dangerous climate change, also for cutting emissions of poisonous gases and for significantly limiting consumption of non-renewable energy by shifting away from fossil fuels, to keep our Earth clean.
It is my heartfelt desire that the Lima Conference of Finance Ministers from all across the Globe will, additionally and equally importantly, decide to pay their ecological debt to the global South. When it comes to tackling climate change the countries of the world have differentiated responsibilities. I call on rich countries to live up to their duty to cut emissions and provide climate finance. This in keeping with the agreement of 2009 at the Copenhagen UN Climate Summit, namely to provide $100 billion by 2020 to help developing countries tackle climate change, which now they must deliver.
At the 2015 UN climate change summit in Paris, leaders need to agree to a climate "finance package" that covers both the pre-2020 and post-2020 periods, with at least 50 percent funded by predictable public finance for delivering on the adaptation needs of poorer and more vulnerable communities, considering as well the climate damage done by uncontrolled industrialization.
It is my prayer and hope that our finance ministers, engaged in that all-important and essential sector of economic affairs of nations, will consider magnanimously and diligently the historical responsibility that richer nations hold towards poorer nations, so that all together we can become a communion of peoples and nations, in Pope Francis' words, on this "our common home," the Planet Earth.
Bishop Theotonius Gomes C.S.C is Auxiliary Bishop (emeritus) of Dhaka, Bangladesh.