UNESCO Accepts China's Nanjing Massacre Documents
Japan is not happy with the UN body's decision.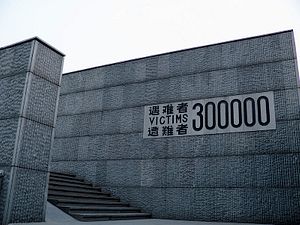 In a move cheered by China but slammed by Japan, UNESCO recently added Nanjing Massacre documents to its Memory of the World Register, a program established in 1992 to preserve and ensure access to documentary heritage of "world significance and outstanding universal value."
The collection of documents, which now sits alongside Britain's 13th century Magna Carta and the World War II diary of Jewish Holocaust victim Anne Frank, consists of films, photos and diaries from the period of the massacre, the post-war investigation and trials of war criminals documented by the Chinese National Government's Military Tribunal, and files from judiciary authorities of the People's Republic of China. China Foreign Ministry spokesperson Hua Chunying told a news conference last year that China had submitted these documents in an effort to "prevent the miserable and dark days from coming back again." In its nomination form, China accuses Japan of a "deliberate cover-up of the truth."
Japan has repeatedly sought to block China's application for the Nanjing Massacre listing. In line with previous rhetoric, Japan's chief cabinet secretary Yoshihide Suga denounced the UNESCO decision as biased and "problematic" during a press release on Tuesday.
While the Japanese government has previously acknowledged that its Imperial Army looted and killed civilians during their occupation of Nanjing in 1937, it refutes the claim made by China that 300 000 people were killed. Tokyo remains adamant that it cannot verify the numbers. Complicating the debate are the numerous public assertions by Japanese politicians and historians that the actual death total was a mere fraction of the 300 000.
But what truly ensnared the attention of the world media was Japan's statement that it may halt its financial contributions to UNESCO — hardly insignificant seeing that Japan currently stands as the agency's largest contributor. Predictably, the Japanese admonition provoked a sharp response from the Chinese government, who disparaged the threat as "shocking and unacceptable." In an echo of similar arguments made by the Chinese, an editorial in Japan's center-right Yomiuri Shimbun on Sunday accused China of "using a system for protecting cultural assets for political purposes in a campaign against Japan and trying to fix its self-righteous history perception in the international community."
Shin Kawashima, a professor at the University of Tokyo (and a member of the advisory panel on history appointed by Prime Minister Shinzo Abe ahead of his August 14 statement), told The Diplomat that it's "ridiculous" for Japan to consider ending its funding for UNESCO. However, he also acknowledges that Japan has concerns about the documents and would like the chance the evaluate them.
This debate adds another irritant to the long line of historical aggravations in the Sino-Japanese relationship. While Abe and Chinese President Xi Jinping's meeting in April following their ice-breaker handshake in November 2014 has injected some warmth back into the relationship, neither of their countries seem willing to budge on their stances anytime soon.
That begs the question, why are China and Japan so intransigent in their beliefs? Why are the two nations so keen on rousing controversy over mere numbers?
One way to look at this is that Chinese nationalism is in part defined by opposition to Japan. In contrast, the national identity of most Southeast Asian countries, many of which Japan also occupied, and most of which have been willing to forgive the Japanese, was defined in opposition to their colonial masters rather than Japan. Thus, Chinese leaders have generally preferred to take a more hardline stance toward Japan, often, as some have suggested, as a distraction for problems at home.
The problem is therefore two-fold. While Japan has been reluctant to confront its past and unafraid to use historical controversy as political capital, there has simultaneously been, as Japan scholar Thomas Berger argues, very little readiness in China to accept Japan's efforts to promote reconciliation.
There do not, however, seem to be any major tangible consequences to this UNESCO controversy. Abe and Chinese State Councilor Yang Jiechi met on Wednesday in Tokyo and left full of positive words about the relationship. China, Japan, and South Korea are also in the midst of planning a reinstatement of their annual trilateral summit, which collapsed in 2012 partly due to disputes over history.
For now it seems that the thorn in the side will remain just that — a thorn. But given the history of Sino-Japanese relations, who really knows?