China Blocked ASEAN Defense Meeting Pact Amid South China Sea Fears: US Official
Beijing allegedly didn't want its island-building included in official statement.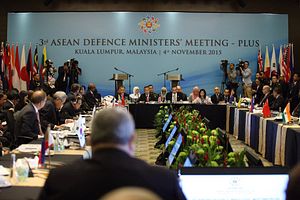 A meeting of Asian defense ministers has failed to issue a joint declaration as scheduled for the first time after China lobbied to block mention of its assertiveness in the South China Sea, media outlets reported citing a U.S. defense official.
"Our understanding is there will be no joint declaration," the official said, speaking on condition of anonymity according to Channel NewsAsia, a Singapore-based media outlet. He was referring to the joint communique usually issued at the biannual ASEAN Defense Ministers Plus (ADMM-Plus) meeting, which saw its third iteration held in Kuala Lumpur, Malaysia this week.
The ADMM-Plus groups the 10 countries of Southeast Asia and eight other countries – Australia, China, India, Japan, South Korea, New Zealand, Russia and the United States. Malaysia is hosting the meeting this year as the holder of the rotating ASEAN chair.
According to the U.S. official, China opposed mention of its construction of artificial islands in the South China Sea in the joint statement, but "a number of ASEAN countries felt that (it) was inappropriate" to exclude any mention of it in the official statement.
"In our view, no statement is better than one that avoids the important issue of China's land reclamation and militarization in the South China Sea," the official said.
Though reports had surfaced before the meeting that the United States and other actors were seeking to push for South China Sea concerns to be included in the statement, the exact wording that was allegedly rejected by Beijing remains unclear. According to Reuters, a Philippine defense official present at the meeting said that Malaysia had agreed to include a reference to the South China Sea and that Manila – one of the more forward-leaning Southeast Asian states on the issue – had been satisfied with the wording even though a better statement would have been preferable.
If it stands, for close observers of the region, China's alleged role in the failure to issue a joint statement is eerily reminiscent of a similar incident in an ASEAN Summit which took place in Cambodia in July 2012 (See: "ASEAN's Soul Searching After Phnom Penh").
At that time, ASEAN failed to issue a joint communique for the first time in its 45-year history – also due to disagreements over the South China Sea. Accounts of some present at the meeting in Phnom Penh suggested that Cambodia was pressured by its largest trading partner and investor to shape the agenda which eventually led to the regional grouping's unprecedented and failure.
China, for its part, has denied any responsibility. According to CCTV News, the Chinese defense ministry has expressed regret that the ADMM-Plus had failed to issue a joint declaration but suggested that blame should instead be placed on external actors like the United States who tried to insert references to the South China Sea into the statement.
"Certain countries from outside the region try to cram irrelevant content into joint declaration despite existing consensus," the defense ministry said. "This deviates from the ADMM-Plus' goal and principle. They should take the blame for the failure of a joint declaration."
U.S.-China tensions on the South China Sea issue have been high after a U.S. warship finally sailed within 12 nautical miles of one of China's man-made islands in the South China Sea, a move American officials had signaled was coming for months. The United States and other regional actors have feared that China may seek to militarize these islands, thereby further consolidating its control of the South China Sea and triggering a regional arms race.
In an effort to prevent unintended incidents in the high seas, ASEAN defense ministers had earlier agreed to establish a hotline during their retreat ahead of the ADMM-Plus (See: "ASEAN Sets Up New Hotline Amid South China Sea Tensions").