Could Climate Change Cooperation Ease Tensions in the South China Sea?
Climate change could be a net positive for stability in the South China Sea.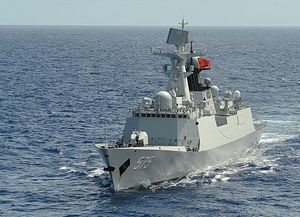 In a little more than a fortnight, over 25,000 delegates from almost 200 nations will arrive in Paris for the UN's Climate Change Conference. The leaders of two of the globe's largest emitters, China and the United States, will be on hand in Paris. Indeed, President Barack Obama and President Xi Jinping's commitment to take on climate change has already made global headlines — as have their nations' respective maneuvers recently in the South China Sea. Both global powers have a keen interest in the territorial imbroglio engulfing the South China Sea, as do the other claimants (Brunei, Malaysia, Philippines, Taiwan, and Vietnam). Likewise, each one also will be represented in Paris. The one thing that all of them agree on is the threat posed by climate change-induced sea-level rise (SLR), which is predicted to drown most of the features in the South China Sea and flood the sea's surrounding low-lying littoral nations.
Climate change has already brought together a myriad of Chinese and American interests to work cooperatively on mitigation and adaptation solutions – could the same strategy be used for those nations that bound the South China Sea? Could tying together each nations' respective interests on climate change and the South China Sea positively affect their relations?
SLR cooperation may offer a new avenue for confidence building among the claimants. This type of cooperation would be similar to humanitarian assistance and disaster relief cooperation that already exists in the region.  At the very least, it opens the opportunity for the claimants to work constructively and cooperatively on an issue that affects their shared maritime commons.
Breakdown of South China Sea Claimants' SLR Efforts
Each South China Sea claimant nation has begun shifting their resources and energies to adaptation strategies for SLR. Given its heterogeneous and non-uniform nature, SLR is and will affect the shores of these claimants in various degrees.
For example, Vietnam does not have as significant a number of vulnerable islands as some of the other South China Sea-bounded nations, but Vietnam's SLR vulnerability lies in its 897 miles of low-lying coastline. This coastline includes the massive Mekong River Basin in the south and the smaller Red River Basin in the north. Both of these areas are already prone to flooding but temperature rise combined with SLR would exacerbate this dramatically. Vietnam's Ministry of Natural Resources and Environment noted in 2009 that average temperature in Vietnam is expected to increase about 4.1º F and SLR is expected up to 2.5 feet. Vietnam is contemplating a number of initiatives that would help mitigate SLR, such as better flood-resistant farming techniques borrowed from the Netherlands.
Vietnam is not alone in its assessment. In anticipation, the other South China Sea-bounded nations are seeking individually suited seeking SLR-adaptation plans. However, noting the disparity in resources and interest among each, this has caused a large divergence among them in the amount of research and SLR-response initiatives.
On one end of the spectrum, China and Singapore stand out as the most robust in their SLR-adaptation efforts. Chinese efforts have been well documented and they are primarily focused through its Department of Climate Change, part of the National Development and Reform Commission. Meanwhile, the region's most endangered by SLR, the sovereign city-state of Singapore, has funded and supported a number of proposals and studies on adaptation strategies for the Ministry of the Environment and Water Resources.
The predictions for Singapore are particularly troubling, given its high land valuation and its large and concentrated 5.3 million population over its small, 227 square-mile-area. One study conducted in 2005 on the economics and cost-benefit analysis of seawall protection concluded that protection with an elaborate seawall network was the lowest cost strategy and that Singapore would capitalize fully on its long-term construction and maintenance costs. The researchers concluded the report by noting the precarious nature of Singapore's situation since "land in other places is not a perfect substitute for land on the island."
At the opposite end of the spectrum, the hydrocarbon-rich nation of Brunei's climate change initiatives have lagged significantly behind its South China Sea neighbors, although it was a party to the Kyoto Protocol in 2009 and created the National Council on Climate Change under its Department of Environment, Parks and Recreation.
The other South China Sea-bounded nations in between are trying to meet the challenge of SLR by enacting legislation and instituting offices devoted to climate change. Yet, these have not materialized into significant SLR-adaption strategies in the South China Sea. A quick look at each of these nation's initiatives manifests this.
The Philippines passed the Climate Change Act of 2009 and promulgated the Department of Environment and Natural Resources as the lead climate change government agency in the Philippines. But the archipelagic quality of the Philippines makes it one of the most vulnerable to SLR.
Similarly situated, Indonesia passed the National Action on Climate Change in 2007 and is coordinating future climate change adaption through its National Planning Agency in coordination with the Ministry of the Environment and the National Council on Climate Change. Despite this, serious action will be required in light of an Association of Pacific Rim Universities' study, which concluded that Indonesia's capital and the region's fastest growing city, Jakarta, is severely threatened by SLR. Jakarta already faces endemic problems with flooding since over one-third of the city sits below sea level.
Neighboring Malaysia's National Hydraulic Research Institute (NAHRIM) in 2010 forecasted SLR from 0.1 to 0.3 inches a year for the Malaysian coast after utilizing measurements from 30 stations around Malaysia, satellite altimetry data, and dozens of models. NAHRIM concluded its report that SLR is expected to be higher in Malaysia than other areas owing to local climate and topographical conditions.
Rounding out the South China Sea claimants, Taiwan, despite its absence from the United Nations Framework on Climate Change, has made strides with its own climate change initiatives.
These nations' individual efforts show that their various disparate governmental, academic, NGO, and commercial communities have focused on the challenges of climate change-induced SLR. At a broader level, SLR cooperation may offer an opportunity to ease tensions by building consensus and confidence among them and assist in transcending the distrust and ill will generated by the South China Sea territorial disputes.
Shared climate change planning in the South China Sea leverages low-tech, non-sensitive, and non-proprietary techniques and technologies such as climate change modeling that could easily be exchanged between these countries. Also, these techniques and technologies are scalable and modular at for each nation at the local, regional, or national level.  Finally, planning could be broadened to include other regional nations or supranational organizations, such as ASEAN. Each nation is already meeting in Paris so the groundwork for enhanced cooperation exists.
Even though the long-term impacts from climate change have yet to materialize, many of the short-term impacts are being felt in the South China Sea. South China Sea-bounded nations cannot handle this alone; there is an opportunity now for them to come together on a common cause.
Wilson VornDick is a Commander(s) in the U.S. Navy and his recent Harvard graduate thesis focused on the implications of climate change in the South China Sea. This piece reflects the author's opinions, not the official assessments of the U.S. Navy or any other government entity.