India and the Politics of Extremism
The diversity of the polity and the BJP's own political future will limit Hindutva prominence in Indian politics.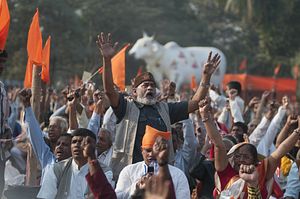 The lynching of Mohammad Akhlaq and his family by Hindu extremists over rumored beef possession is a new symbol of Modi's India. Instead of the good governance and economic reform that has been promised, Hindutva (Hindu nationalism) groups continue to aggressively push their agenda for a "Hindu" India rather than the secular nation envisioned by many of its founders, such as Mahatma Gandhi and its first prime minister, Jawaharlal Nehru. Between the ghar wapsi (lit. homecoming, reconversions of Christians and Muslims "back" to Hinduism), new draconian anti-beef laws, continued attacks on alleged beef smugglers, and rhetoric from some high-level ministers, it appears that Hindu extremism is becoming more prominent by the day. The lynching has brought further international scrutiny to the actions of Hindu extremists in India and their seemingly growing influence in the country.
These as well as many other actions of Hindutva organizations are worrying. Yet many writers have misinterpreted the fight over beef as primarily a communal problem, a religious issue between Muslims and Hindus. While there is real anti-Muslim sentiment among Hindutva organizations, it is important to remember that beef eating is not viewed as scandalous among large segments of the Hindu population. In addition, the view of beef eating among the country's different regions and castes also differs greatly from the view that Hindutva groups promote. This illustrates the challenges the Hindutva-rooted ruling Bharatiya Janata Party (BJP) would face in trying to mobilize politically around the issue.
Fundamentalist politics exists regardless of religion, but the practice of Hinduism, as such, is so diverse across ethnolinguistic communities and castes that few principles can be considered universal. This applies to beef consumption: By and large, the consumption of beef is culturally taboo, but this is far from universal in the Hindu hierarchy, with lower castes less likely to refrain from its consumption. Scriptural citation, as has been done by the mother of all Hindutva groups, the Rashtriya Swayamsevak Sangh (RSS), does not itself imply that such a belief is endorsed by a majority of Hindus. Even setting aside the caste and ethnic differences in observing what is understood to be Hindu, the philosophies attributable to Hindu civilization are manifold and sometimes self-contradictory.
Nevertheless, beef eating plays into a sensibility held by high-caste Hindus. A major political figure in Bihar, low-caste former Chief Minister Lalu Prasad Yadav, has allied with a former rival and another former Chief Minister, Nitish Kumar in a "Grand Alliance" against the BJP. But Yadav's campaign trail comment, that poor Hindus do in fact eat beef, has met with political resistance. He later revised his statement to say simply that it would be unadvisable to eat beef because it is unhealthy.
Looking at the politics of beef at a regional level also shows the limits of any potential mobilization on the issue. While many Central and North Indian states continue to hold stringent cow slaughter and anti-beef laws, a different pattern emerges in the South, East, and Northeastern states. Particularly in the South and Northeast of India, beef remains an important part of the local cuisine. In the southern state of Kerala, beef constitutes up to 40 percent of the meat consumed in the state, including the state's Hindu majority. Even the state's BJP figures have come out to say that they are not opposed to the sale or consumption of beef. Indeed, some Hindus in the state organized a beef-eating festival in protest of the beef ban and the lynching of Akhlaq. Nor was Kerala the only state to feature such protests. These regions represent a significant part of India's population, and contain their own diverse strains of the Hindu religion.
In becoming a credible national player in the 1990s, the BJP, traditionally a political voice for the RSS and other Hindutva groups driven by high caste Hindus, had to accommodate the concerns of lower caste political groups. Lower caste interests are politically represented differently state by state, but where caste interest groups have a strong political manifestation, the BJP has had trouble. Bihar was a pioneer in positive discrimination policies toward lower castes, which has progressed into leadership by lower caste groups, represented most prominently by former Chief Minister Lalu Prasad Yadav. As Bihar is crucial to the BJP's task of achieving an upper-house majority and passing economic reforms, the core policy plank on which the BJP was elected, it would be short-sighted of the party leaders to allow the base to speak too freely. For example, the RSS recently had to walk back leader Mohan Bhagwat's remarks calling for an end to positive discrimination policies in Bihar. The Modi government had trouble dealing with caste protests in Gujarat earlier this year relating to its policies.
Some Western observers tend to view communalism in India when violence is at its worst, such as the anti-Sikh riots in 1984, the Babri Masjid agitation in 1992, Godhra in 2002, and Muzaffarnagar in 2013. These outbursts invariably represent the outcome of divisive policies by India's various political parties. The politics of beef play an important part in this divide-and-rule politics.
To be sure, communal rioting does not constitute the majority of political activity, but as media outlets amplify the incidents, they dominate the citizens' political awareness. Elections currently underway in Bihar are must-win for Modi and the BJP. The key political activity, according to the BJP chief, is highly granular management of particular power brokers. In Indian political history, the communal card has been played, with far from sure success, as a volatile solution to reframe a caste, regional, or ethnicity-dependent political divide as simply Hindu-Muslim. The next round of state-level elections will take place in Pondicherry, Assam, Tamil Nadu, West Bengal, and Kerala, all outside of the BJP's traditional sphere of influence. The BJP will face formidable regional parties, some of them with especially devoted followings. Perhaps even more so than in Bihar, it will have to be sensitive in its political conduct, reining in those who would be brazen in promoting a communal agenda. The Hindu right wing may be on a longer leash, but India is not under its thumb.
Hari Prasad is a Masters student at the Elliott School of International Affairs at George Washington University with a specialization in Middle East and South Asian Politics and Security. Samir Kumar is an independent researcher on South Asia's political economy.