Malaysia Slams China's South China Sea Encroachments
The country's deputy prime minister takes aim at Beijing's actions.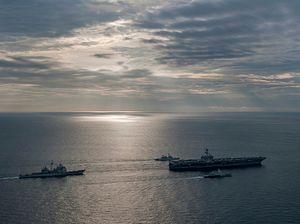 On Saturday, local media outlets reported that Malaysia's deputy prime minister had slammed China's South China Sea behavior in a public address.
In a speech delivered to a party congress in Kota Kinabalu, the capital of the Malaysian state of Sabah, Deputy Prime Minister Zahid Hamidi took aim at Beijing's questionable historical claims in the South China Sea as well as its construction of facilities on features 3,218 kilometers from the Chinese mainland and just 155 kilometers from Sabah.
"To claim this part of the South China Sea as theirs due to historical narrative is invalid," Zahid said according to the Malaysian newspaper The Star, referring to a "regional superpower" without directly mentioning China.
"We have a country that is building 3km-long airstrips and port facilities, supposedly for its coast guard," Zahid said. "Does this make sense when that country's mainland is more than 3,000kms away?" he asked rhetorically.
To close observers, Zahid's remarks are not surprising. As I have noted previously, though Malaysia has traditionally adopted a "playing it safe" approach in the South China Sea – pursuing measures to secure its interests as a claimant state while also being careful not to disrupt its bilateral ties with China – bolder and more frequent encroachments into Malaysian waters have led officials to become more public about their concerns (See: "Malaysia's South China Sea Policy: Playing it Safe"). A good example of this was Malaysia's response to a Chinese coast guard vessel anchored in Malaysian waters at the Luconia Shoals – which Malaysia calls Beting Patinggi Ali – since 2013 (See: "Malaysia Responds to China's South China Sea Intrusion").
But a dimension often missed about Malaysia's position is how this factors into domestic politics. Chinese intrusions into Malaysian waters not only threaten the country's claims and its extensive natural resource activities there, but also its very territorial integrity since the South China Sea geographically divides Peninsular Malaysia from East Malaysia. Indeed, Chinese encroachments have already led to domestic criticism about the Malaysian national government's inability to protect Sabah, already under scrutiny following the invasion of Philippine militants in the Lahad Datu incident in 2013.
This domestic political angle accounts for why Zahid's remarks were delivered at the Parti Bersatu Sabah (PBS) congress in Sabah, and why he specifically mentioned the harassing of Malaysian fishermen whose livelihoods depend on these waters. As I pointed out in an earlier piece, local groups in Malaysia have been calling for a stronger national government response to growing encroachments in its waters (not just by China, but other actors as well) – such as erecting artificially-constructed shoals along the state's coastlines and increasing the number of patrol boats and officers (See: "How is Malaysia Responding to China's South China Sea Intrusion?").
It was also notable that Zahid urged PBS and other parties, as well as Malaysian groups, to be proactive and send a clear message by opposing moves by any nation to encroach into Malaysian territory, including by passing a resolution.
"For a start, I want the PBS delegates to pass a resolution to oppose any country's move to encroach into Malaysian territory," he said.
Despite these sorts of veiled rebukes of Chinese actions by Malaysian officials, along with other subtle signals like Malaysian defense minister Hishammuddin Hussein's recent touring of a U.S. aircraft carrier with his American counterpart, it is important to underscore that the administration of Prime Minister Najib is still insistent on trying to preserve a good overall relationship with Beijing, which is Malaysia's largest trading partner. As the ASEAN chair this year, Malaysia has also continued to push for more significant progress on an elusive binding code of conduct (CoC) on the South China Sea between ASEAN and China despite Beijing's previous foot-dragging.