Why Afghanistan's Citizens Are Frustrated… And Leaving
New public opinion data shows the governance shortcomings of Afghanistan's National Unity Government.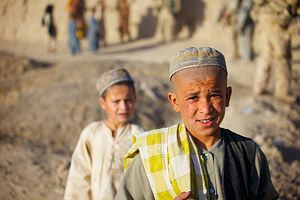 If you are wondering why so many Afghans are trying to migrate to Europe—second only to the tens of thousands of Syrian refugees—all you have to do is read the latest annual Survey of the Afghan People, directed by The Asia Foundation in Kabul.
The survey reflects growing Afghan frustration at the country's numerous challenges and increased skepticism about the government's ability to correct them.
A case in point: Afghans recently turned out in the tens of thousands to protest the government's seeming inability to deal with threats of militants after the beheading of seven people from the Hazara ethnic minority. The attacks were carried out by militants linked to the Islamic State, or ISIS. The 2015 survey shows that more than two-thirds of Afghans report they always, often, or sometimes fear for their personal safety, the highest percentage in a decade. This year's survey also found that 74 percent of Afghans say they have heard of ISIS and more than half of them say the group poses a threat to the security of their district.
This is the 11th year this survey has been undertaken. More than 900 experienced interviewers polled some 9,500 Afghans face-to-face – equally divided between male and female respondents – in all 34 provinces. The sample consisted of 18 percent urban households and 82 percent rural. The survey has a margin of error of less than 2 percent.
The polling took place in June, after the formation of a unique power-sharing National Unity Government of President Ashraf Ghani and Chief Executive Abdullah Abdullah that is still struggling to find its stride. The survey also coincided with a rising Taliban security threat across the country (and the arrival of ISIS), a spike in urban unemployment, and double economic blows of reduced U.S. and foreign military presence and declining development funding by the international community.
The Afghan national mood has fallen to its lowest level since the survey was first conducted in 2004. Just 37 percent of respondents say their country is moving in the right direction, down dramatically from last year's hopeful 55 percent. At the same time, 57 percent of Afghans say their country is moving in the wrong direction, the highest level of pessimism in a decade.
The most frequently cited reasons for this pessimism are insecurity, unemployment, and corruption. In fact, 90 percent of Afghans say corruption is a problem in their daily lives, the highest number in ten years. And nearly three quarters of Afghans say unemployment is the biggest problem facing youth.
In 2015 the proportion of Afghans who say the national government is doing a good job declined sharply from 75 percent in 2014 to 58 percent today.
There are, however, some positive findings.
Overall, more than 70 percent of Afghans who are optimistic cite reconstruction as the primary reason. A similar percentage reports satisfaction with the quality of education for children in their area, with Afghans in urban areas at 80 percent. A majority of Afghans support women's equal access to education and two-thirds agree that women should be able to work outside the home. Seventy-two percent are satisfied with their access to clean water. Access to information is growing rapidly, with 82 percent of households owning one or more mobile phones.
What overall conclusions can be drawn from these findings?
One is that the National Unity Government continues to face huge problems, now with the added challenge of unmet expectations and growing disappointment in it on the part of the Afghan people. Some of this disappointment can be overcome if the government continues to make progress in such areas as education, employment, and infrastructure construction. But it clearly needs to show more progress in improving security, fighting corruption, boosting the economy and improving governance at the center and in the provinces. An important part of the latter is moving forward with constitutionally overdue parliamentary elections and with the appointment of able provincial governors and senior officials in the central government.
Ghani's long-standing commitment to a better life for the people of Afghanistan is a continuing reason for being hopeful about his country's future. He is determined to move toward a government based on merit, not patronage, a step in the right direction at curbing corruption. And he will also continue to work to expand women's rights.
The future security of Afghanistan is both a national and an international problem. Efforts of the Ghani government to reach a peaceful settlement with the Taliban have gone nowhere, and it is doubtful that they will as long as the Taliban think they have a chance of winning and Pakistan does not fully commit to reversing its decades-long support for them. ISIS is also a very real and growing threat.
Further, military assistance from the U.S. and NATO will be necessary for at least the next few years, hence the importance of the recent announcement by the Obama administration that U.S. soldiers will stay in Afghanistan beyond their 2016 deadline. Other NATO partners have made similar commitments. While confidence in the Afghan National Army is still running high at 81 percent, the survey shows that a large majority of Afghans believe its security forces still need foreign support to do their job.
According to the United Nations, 120,000 Afghans sought asylum abroad during the first eight months of this year. As security and economic conditions worsen, more will flee, as they did during the Soviet occupation in the 1980s and the Taliban repression in the 1990s. As before, Afghanistan will lose many within its professional class and its younger generation, upon whom the future of the country depends.
The stakes are also high for the international community. Absent continuing international assistance for the Afghan people and its government, the country risks becoming, once again, a base for terrorist groups like ISIS in an unstable and volatile region.
Theodore L. Eliot, Jr., U.S. Ambassador to Afghanistan from 1973 to 1978, is dean emeritus of the Fletcher School of Law and Diplomacy at Tufts University.  Karl F. Inderfurth, assistant secretary of state for South Asian affairs from 1997 to 2001, is a professorial lecturer at George Washington University. Both have served as trustees of the Asia Foundation.