A New Era for China-Myanmar Relations?
The NLD victory in Myanmar's general election has China wondering if it needs to change its diplomatic approach.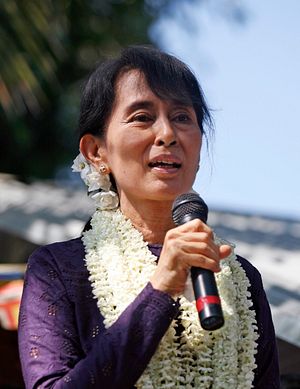 With the National League for Democracy's (NLD) landslide victory in the general elections in November, China expects a new page in Myanmar's domestic politics and foreign policy under the new government to be inaugurated at the end of March 2016. The NLD's yet-to-be-clarified policy direction has led to a major sense of uncertainty in the Chinese policy community, giving rise to heated discussion about whether (and if so, how) China should once again adjust its policy toward Myanmar. While the change of government in Myanmar does not alter China's overall goals in its relations with the southwestern neighbor, China nonetheless hopes to start a new era in its relations with Myanmar. For the foreseeable future, however, the details of China's policy will be determined by the positions and policies of the NLD government.
China's Complicated Relationship with Aung San Suu Kyi
China's relationship with Aung San Suu Kyi was largely suppressed under the military government. It was a decision of expediency and necessity given the political reality of in Myanmar between 1990 and 2011. When Aung San Suu Kyi and NLD won in the 1990 elections, the then-Chinese ambassador was among the first to send her a letter of congratulations. The military government, which rejected the results of the election, allegedly did not take kindly to China's initiative toward the NLD. This incident affected bilateral ties, leading China to recall its ambassador from Yangon from mid-1990 until July 1991. To avoid a similar situation during the 2010 elections, China left the ambassador position open from September to late December.
During the 20 years of military rule in Myanmar, Beijing minimized contact with Suu Kyi and the NLD out of consideration for the military government's sensitivity. As a result, Chinese diplomats, officials, scholars and businesses had almost no relationship with the democratic opposition. This policy was cost-free because the NLD and its leader Suu Kyi had little influence over Myanmar's domestic and foreign policy decision process under the military government and China could pursue its political and economic agendas by working with the government alone.
Lack of contact with Suu Kyi and NLD therefore did not present a major problem for China in the past. But with the political reform adopted by the Thein Sein government since 2011, Suu Kyi's reemergence and prominence in Myanmar domestic politics made the absence of relations with the NLD no longer a sensible or practical strategy. China therefore took pains to build ties almost from scratch. Since 2011, three consecutive Chinese ambassadors (Li Junhua, Yang Houlan, and Hong Liang) have met regularly with Aung San Suu Kyi, and Chinese officials, scholars, journalists, and businesses have frequented NLD headquarters in Yangon. Chinese authorities invited several NLD delegations to China to build relations and to display the achievements of the Chinese government and express its desire to maintain a friendly relationship with Myanmar.
A "Normalization" of Relations with Aung San Suu Kyi
While acknowledging the important role of Suu Kyi and the NLD and pursuing the policies necessary to establish a positive and health relationship with them, China has nonetheless maintained a sense of uncertainty about her intentions. On the one hand, there is concern that she might harbor some resentment against China for its steadfast support of the military government that held her under house arrest for 15 years. On the other hand, her democratic credentials, her status as a Nobel Peace Prize laureate, and her presumed close relationship with Western countries, especially the United States, all lead to a sense of foreboding in China about her future positions and policies. People worry that she might (either through her own initiative or a sense of obligation) demonstrate support for the democratic movement in China. They worry that she might at a minimum sympathize with and support her fellow Nobel Peace Prize laureates the Dalai Lama and democracy activist Liu Xiaobo. Last but not least, they worry that Suu Kyi will be ardently pro-West, pursuing policies that are essentially anti-China.
In the past four years, Suu Kyi seems to have demonstrated effectively that she understands these Chinese concerns. So far, she has done and said all the right things.  She has been graceful and respectful in her meetings with Chinese dignitaries. In bilateral and other public occasions, she has openly committed herself and the NLD to a friendly policy toward China, vowing to build a good relationship. The investigation committee for the Letpadaung copper mine project, which she chaired, approved the continuation of the joint venture despite opposition from local residents and Myanmar society in general. On issues that China prioritizes, such as ethnic conflict on the border and China's commercial projects across Myanmar, her position (or rather the lack of a position) has made her at the minimum an acceptable Myanmar politician for China.
All these factors combined to culminate in normalization of relations between China and Suu Kyi during her visit to China in June 2015, filling a critical blank in both her foreign policy credentials and China's policy toward Myanmar. The two sides seem to have demonstrated that they can move beyond ideological differences and narrow personal preferences to work well together as partners in pursuit of common interests. This normalization of relations signifies not only the maturing of China's policy toward Myanmar, but also demonstrates Suu Kyi's pragmatism as a politician.
China's Relations with Myanmar under Thein Sein
There is no denying the fact that the Thein Sein government has made many impressive achievements in the past five years, politically, economically and in its foreign relations. Nevertheless, problems are abundant and persistent. In the case of China, despite the official portrayal by both sides that the bilateral relationship is healthy, positive, and expanding, the reality is that Sino-Myanmar relations have been on an abnormal, problematic trajectory since the suspension of the Chinese Myitsone dam in September 2011. China bears deep grievances about its troubled economic projects in the country, feels unfairly penalized for its relationship with the military government by a pseudo-democratic government, and sees itself as victimized by Myanmar's political transition. Furthermore, it has been frustrated by the Myanmar government's reluctance to cooperate with China's strategic initiatives and profoundly disturbed by the Myanmar military's audacity in attacking Chinese territory during its conflicts with ethnic minorities on the border.
Uncertainty about Myanmar's adjustment of its alignment between China and the United States has presented another major problem from Beijing's perspective. While the Chinese would like to believe that Myanmar will maintain its strict nonalignment and balanced diplomacy, the rapidly growing presence and influence of the United States and its allies, such as Japan, in Myanmar's politics and national economy has further undermined China's confidence and enhanced its sense of vulnerability.
These perceived problems and challenges have strongly affected China's policies toward Myanmar since 2011. The annual approved foreign direct investment from China has dropped from $8.2 billion in the peak year of 2010-11 to merely $56 million in 2013-14. Although the amount climbed back somewhat to $516 million last year, it still remains puny in comparison with the past. China is still Myanmar's largest trading partner, with bilateral trade increasing 150 percent from $10 billion to $25 billion from 2013 to 2014. However, the largest factor in this trade has been a 446 percent hike of Myanmar's exports to China due to a single project — the Sino-Myanmar gas pipeline, which started pumping in mid-2013. Under the political pressure of this uncertainty, China has felt compelled to strengthen its strategic leverage vis-à-vis Myanmar on different issues, leading to some Myanmar officials' accusation in October that China had been meddling in the peace process and prevented certain groups from signing the national ceasefire agreement
The NLD's Future China Policy
When they take office at the end of March 2016, Aung San Suu Kyi and the NLD will inherit many problems with China from the current Thein Sein government. However, the inauguration of the NLD government may also be an opportunity to start a new era in Myanmar's relationship with China. The Thein Sein government has always had a public opinion problem, stemming from past military dependence on China and crony relations with Chinese companies, leading it to feel compelled to cater to anti-China sentiment to gain popularity. In comparison, the NLD will operate from a position of strength domestically and will start from a clean slate in relations with China. It will therefore be in a better position to make policy decisions based on the objective merits of specific projects or issues related to China, allowing it to treat China rationally and pursue cooperation possibilities on a practical basis without emotional or historical baggage. This does not mean that Aung San Suu Kyi and the NLD will say yes to China's requests, but when they do say no, it will be more likely to be based on a fair and transparent judgment out of Myanmar's national interests rather than out of special vested interests.
Suu Kyi's initial statements on China have indicated she will go in this direction in the future. In an interview with the Chinese Xinhua News Agency after winning the elections, she promised a friendly policy toward China, but emphasized that China's investments should be designed to gain the trust of the Myanmar people. She also reportedly praised China's One Belt One Road initiative, expressing the hope that it would benefit all sides. These messages have been welcomed in China. After all, at this stage, China is no longer expecting preferential treatment from Myanmar but rather hopes to be treated fairly and equally.
China's Policy Toward the NLD Government
China still enjoys overwhelming influence in Myanmar, representing more than just a formidable force to be reckoned with. In fact, its presence and influence can be felt in almost all walks of life in Myanmar. The change of government in Myanmar does not alter China's strategic pursuits in the country. China still wishes to press development of its infrastructure and connectivity projects through the country to the Bay of Bengal. It still needs a tranquil and stable border. And it still competes with the United States for influence in the country.
In this context, China will initiate its relations with an NLD government by demonstrating cooperative intentions with friendly gestures. It is more than likely to offer the new government financial capital, aid projects, and even assistance in the peace process to help it achieve its priority goals.  However, in six to 12 months, China will also demand responses on certain issues critical to China. This would include a final resolution to the suspended Myitsone dam project, a clear decision on the development of the Kyaukphyu special economic zone, as well as agreements on the series of One Belt and One Road projects, such as the Sino-Myanmar highways and the Irrawaddy River land-water joint transportation program.
China will closely observe the development of the peace negotiation with the ethnic groups, especially with those in northern Myanmar along the Chinese border. Now that Suu Kyi has vowed to lead the peace process, many observers are hoping that her unique background and popular strength might bring more confidence to the ethnic minorities in the process and therefore break the impasse. China understands very well that a peaceful and unified Myanmar would serve China's broader interests since the conflicts in northern Myanmar are the most immediate obstacle blocking China's economic and strategic programs. If Suu Kyi is capable of shaping the consent of the ethnic minorities and bringing peace, China is unlikely to sabotage the process.
While China has a lot to offer Myanmar's political and economic development, its olive branch does come with certain conditions. Although specific terms might be negotiable, China will demand Myanmar's genuine cooperation on the economic projects listed above. China will also want the NLD government to "respect" China's national interests when working with Western countries, especially the United States. Balanced diplomacy is easier said than done. Even though Suu Kyi has not always had smooth relations with the West, Beijing is likely to react strongly to anything short of a clear middle way approach. In fact, the sense of uncertainty and suspicion surrounding Suu Kyi's democratic convictions and her relationship with the West could escalate China's reaction in such a scenario, making it harsher than it has been with the Thein Sein government. The future NLD government should be particularly mindful of this perception.
Aung San Suu Kyi and NLD should not expect that China will abandon its relationship with other political forces in Myanmar, including the USDP, the military, and the cronies. After all, no one can be completely certain about the country's political future, and it makes perfect sense for China to maintain good contacts with all potential parties. The lesson of picking either or any side in Myanmar has proven costly and Beijing is unlikely to repeat the same mistake.
Conclusion
After 20 years of unbalanced ties under the military government and five years of turbulent corrections under the Thein Sein government, China and Myanmar are standing at a historic moment with a genuine opportunity to make their relationship truly normal. It will require supreme political wisdom, courage and leadership from both governments. Neither will get everything they want, but both will benefit from dialogue and cooperation. China should understand that an NLD government will be more responsive to the people's will and accept the new political reality in Myanmar. And the NLD government should seek maximum strength from popular support for its policies, since that is the last thing China can defeat with coercion and/or economic enticement.
Yun Sun is a Senior Associate at the Henry L. Stimson Center and a nonresident fellow at the Brookings Institution.
This piece originally appeared on Asia Times and is republished with kind permission.