ASEAN's New Community – Only a Small Step
Will the new ASEAN Community be able to change perceptions of the regional bloc?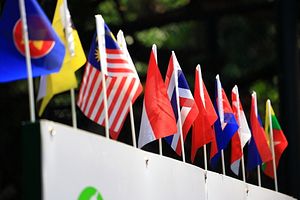 At an Association of Southeast Asian Nations (ASEAN) summit last week, Southeast Asian leaders signed an agreement creating an "ASEAN Community." The Diplomat reports that the "Community," much discussed by Southeast Asian media and leaders in recent years, will be "a step towards realizing the idea of a three-pillared community to deepen regional integration first proposed in 2003 comprising an ASEAN Political and Security Community; an ASEAN Economic Community; and an ASEAN Socio-Cultural Community." All the specifics of what these communities will entail have not been finalized, despite long "blueprints" proposed by ASEAN for each of the communities. The most developed idea is the Economic Community, which is supposed to be the creation of a single regional market for goods and services.
And yet the three-pronged community, which technically comes into effect on December 31, will not do much to change perceptions that ASEAN, never a strong organization, is now weaker than it has been in years. Although ASEAN had planned to have the Economic Community completed this year, it remains only about eighty percent finished, with the countries yet to reach agreement on the most contentious goods and services. Most of the countries that traditionally lead ASEAN are preoccupied with domestic politics, and the smaller and/or poorer nations cannot step into the void. Thailand is still reeling from years of political turmoil and is ruled by a military regime, Malaysia is consumed by alleged scandals involving a state fund and the prime minister, and Indonesia's president, Joko Widodo, is focused on domestic reforms. Singapore has strong bilateral relationships with countries throughout the Pacific Rim, and also cannot effectively lead ASEAN itself. Meanwhile, ASEAN'S Secretary General, former Vietnamese deputy foreign minister Le Luong Minh, has proven a very reticent leader himself, compared to his predecessor as Secretary General, former Thai foreign minister Surin Pitsuwan. And the organization has proven ineffective in addressing several of the most important regional nontraditional security issues of the past year, including a refugee outflow from Myanmar and one of the worst haze crises in decades.
ASEAN's rotating chairmanship only exacerbates these challenges. The organization's weakness will even more evident next year, when Laos takes over the chair. While Malaysian officials and leaders may have been preoccupied by domestic politics, hampering their ability to handle ASEAN affairs, Laos is perhaps the least-equipped nation in the group to serve as chair. Although Brunei has a much smaller population than Laos, the sultanate has a retinue of capable diplomats, and when Brunei served as chair in 2013, it won applause from Southeast Asian leaders and officials for managing the hundreds of ASEAN meetings effectively. During Brunei's 2013 chairmanship, ASEAN briefly resolved its internal tensions over the South China Sea, after countries in the group could not agree on a joint statement on the Sea in 2012, a time when Cambodia was ASEAN chair. In contrast to Brunei, Laos has few skilled officials and diplomats—even fewer than Myanmar, which chaired ASEAN in 2014.
Laos' 2016 chairmanship also will highlight the fact that, for all its meetings and its rhetorical commitments to human rights and inclusiveness, ASEAN remains essentially a leaders' organization—even more so than other regional groupings like the European Union. Laos' authoritarian government has refused to allow civil society groups from across Southeast Asia to meet in Laos during an ASEAN summit next year. (Civil society organizations from across the regional have been meeting at ASEAN summits regularly.) Radio Free Asia's Laos service reports that Vientiane refused to allow the civil society meeting, "citing potential criticism by participants against governments in the region and inadequate resources as among reasons for the decision." While leaders of some of the more democratic ASEAN states, like the Philippines and Indonesia, might offer some token support for civil society groups from their countries, no ASEAN leaders are going to spend much time trying to persuade Laos' government to allow the meeting.
Joshua Kurlantzick is a fellow for Southeast Asia at the Council on Foreign Relations. This post appears courtesy of CFR.org.