China's Economic Miracle, As Seen Through Its Trains
Like its economy in general, China's railways have grown by leaps and bounds over the past 30 years.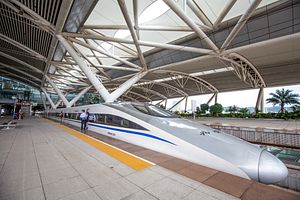 A few days ago, I was in Shanghai for an academic conference on China-South Korea relations. The next morning, I decided to meet a professor in Nanjing, the capital city of Jiangsu Province, which is a little more than 300 kilometers to the west of Shanghai — but I needed to return to Shanghai in time for the dinner reception. Like many Chinese people would do these days, I chose to travel by CRH (China Railway High-speed). It took me a little more than an hour to arrive in Nanjing, where I immediately transferred to a subway system that conveniently took me to the university where that professor works. We had lunch together in a restaurant just a few minutes' walk from the subway station. The journey back took me about the same time — I took a nap, watched a short documentary, worked a little bit on my laptop, and arrived in Shanghai a couple of hours before the reception started.
Ten years ago, it normally took more than four hours to travel by train from Shanghai to Nanjing. Back in the early 2000s I could have never made this round trip between two major cities and caught the dinner reception all on the same day.
Twenty years ago, it took me almost a half day (with one transfer) to travel from the city where I studied as a university student to Wuhan, the capital city of Hubei Province. Now it takes less than three hours. And back then, I counted myself lucky, since one of my schoolmates had to stand stiff in the "Green Train" (not necessarily environmentally-friendly, but merely painted in green) for almost four days before he could catch a bus and finally arrive home in northwestern China.
Thirty years ago, traveling by train was becoming more frequent and necessary for many Chinese undertaking long trips, such as those from central or western China seeking opportunities in the eastern coast. Train travel, however, was seen as something fancy or even extravagant for rural people living in the remote areas and many of them had rarely seen a train in their lifetime. It quite often took people days to travel between major cities.
The development of China's railway network symbolizes how fast China has moved forward. Within 25 years, China's national railway system has undergone a series of historic changes that tell the story of modernization. For example, China surpassed Russia to become the country with the longest electrified railway system in 2012. Now China has the longest and the most sophisticated national high-speed railway network in the world, with the total mileage expected to reach 19,000 kilometers by the end of 2015. In fact, even though the civil aviation market is expanding rapidly, the railway system is still the more widely used means of transportation for millions of Chinese.
Not surprisingly, China's high-speed railways are also going overseas: Chinese technologies and equipment will go to countries like Russia, Thailand, and Indonesia, and China is ready to participate in yet more overseas high-speed railway projects. This naturally reminds us of China's grand "One Belt, One Road" initiative and the newly commenced Asian Infrastructure Investment Bank, both of which highlight and also facilitate a high-speed interconnectivity (literally and metaphorically) among nations and regions.
Notably, China did not create an "AFIB" ("Asia Financial Investment Bank") despite frequent financial crises in and across the region. It does not seek hegemony in the U.S.-led financial system; rather, it seeks a high-speed development on a specialized track where China has demonstrated expertise. Beijing knows what it really lacks and wants.
How fast can China still go in the coming 30 years? Its trains, at least, will keep speeding up — CRH is sure to create more records in the coming New Year. A video by a Swedish visitor to China posted on YouTube shows how a coin stood still on the windowsill of the train at the speed of 300 kilometers per hour. This is the best scenario for China going forward, as an economic great power that is going global and a vibrant society that is undergoing domestic transformations. China will need to find the a way to continue its growth over the next 30 years in a way that is speedy, but more importantly, safe and steady.