China's Securities Crackdown a Source of Fear
China's corruption investigations need to be more transparent if markets are to thrive.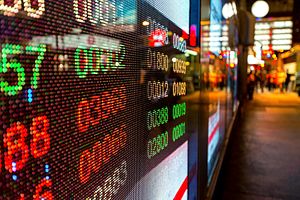 China is cracking down on companies dealing in financial securities, in an effort to root out corruption. The tightened scrutiny was brought about by the stock market crash, which was viewed as arising from short-selling and insider trading. Wang Qishan, head of the Central Commission for Discipline Inspection (CCDI), has been leading a series of investigations into most of the major securities companies since October of this year.
CITIC, China Investment Corporation and China Construction Bank punished employees for acts such as overspending on business trips. More formally, however, securities companies including China Haitong Securities, CITIC Securities, and Guosen Securities have been under investigation for possibly violating rules on margin trading contracts. Even the China Securities Regulatory Commission has not been immune; Vice Chairman Yao Gang came under investigation for corruption in November, joining Assistant Chairman Zhang Yujun. To drive home the import of these events, Xiao Gang, chairman of the CSRC, reportedly told officials to take notice of the poor examples set by Yao Gang and Zhang Yujun.
CITIC has been under investigation since the flattening of the stock bubble. CITIC executives were investigated by the police ministry in August and September for insider trading. CITIC Chairman Wang Dongming was forced to resign in November for failing to prevent insider trading within his firm. Currently, two CITIC securities brokers, Chen Jun and Yan Jianlin, have gone missing to reportedly assist with investigations or undergo investigation themselves.
CITIC was also found to have overstated the value of its financial derivatives by over 1 trillion RMB ($156 billion) in reports dated from April to September. The error was not contained in the quarterly filings and was claimed by CITIC to be an artifact of a system upgrade.
ICBC noted this week that it has voluntarily punished 137 of its staff as part of the corruption crackdown. Fourteen people have been fired and/or purged from the party. The corruption sting has even extended to Hong Kong. Guotai Junan Chairman and CEO Yim Fung was taken by the Hong Kong's Independent Commission Against Corruption (ICAC) in November to "assist" in an investigation.
The corruption crackdown in the financial industry may represent a large setback in the eyes of foreign financial specialists. Reforms appeared to be on track for some time, with the lifting of the deposit interest rate ceiling and China's inclusion in the IMF benchmark SDR, enhancing the extent of marketization in the financial industry. However, the pervasive investigation and purge of rule violators underscores the presence of the Party and the State in this sector, and the shortcomings of the rule of law which would help to keep offensive activity in check.
Moreover, financial executives have found that they are being punished for financial practices that were condoned or only lightly punished during the stock market upswing. Equity swaps, for example, had been permitted in good times, but were soon criticized as conditions worsened. Margin lending was a practice that had been overlooked for some time, but under the threat of a stock slump and the later corruption crackdown, has now been vilified. Well-functioning markets struggle to arise under a regulatory business cycle that loosens or fails to enforce regulations in the upswing and strongly punishes market excesses in the downswing. The uncertainty and climate of fear and repression created by this type of crackdown is a market killer, ultimately working against the aims of China's reform program.
The solution to halting the negative market sentiments caused by China's ongoing corruption investigation into the financial industry is to swiftly wrap up the investigations with as little fallout as possible. The disappearances of top executives has had one of the most harmful impacts on the industry, and the practice must become more transparent if markets are to thrive.