The Comfort Women Agreement: A Win for Traditional Diplomacy
The resolution achieved by South Korea and Japan was a good day for diplomacy.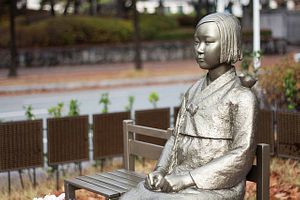 In a landmark agreement,­ seventy years after the end of the Second World War, Japan and the Republic of Korea  appear to have finally resolved the longstanding issue of the "comfort women" that has hitherto plagued relations between the two nations.  Japan has issued a "most sincere" apology and will pay 8.3 million U.S. dollars to the surviving victims.  In return, South Korea has promised to "finally and irreversibly" end the dispute and endeavor to secure the removal of a comfort women statue in front of Japan's Embassy in Seoul.  Both nations also agreed to mutually refrain from further public criticism in terms of the issue.  A symbolic telephone call made by Prime Minister Shinzo Abe to President Park Geun-hye, in which he conveyed his apologies, cemented the agreement.
The deal has been largely welcomed.  Although there are opponents, notably in South Korea, including activists who support the comfort women and some comfort women themselves, who dislike the deal, the agreement met with wider acclaim in Japan.  Even Tomiichi Murayama of the Socialist Party of Japan, a former prime minister and a staunch critic of Prime Minister Abe, conceded that Abe had "decided well."  In the international community, the United Nations' Secretary General Ban Ki-moon, a former South Korean foreign minister, praised the two countries.  And U.S. National Security Advisor Susan Rice hailed a "comprehensive resolution" that represented an "important gesture of healing and reconciliation."  U.S. support was soon followed by that of the United Kingdom and Germany.
In the larger scheme of things, the agreement is a win for both countries, and a personal diplomatic triumph for both Abe and Park.  The comfort women issue tainted relations so severely that summit talks between the two leaders have not taken place since 2012. Sharing so much, the countries simply needed to move on.  If the two countries can truly return to business as usual, the deal will confer important future security and economic benefits to both nations.  To cite but one common issue, a nuclear armed North Korea potentially threatens the security of both countries who are allies of the United States.  Furthermore, from a Ricardian economic standpoint, more trade means more GDP which, in turn, may ultimately even entice South Korea to join the Trans-Pacific Partnership.  Economic recovery is, no doubt, a priority for Park.
Significantly, Park and Abe distanced themselves from their respective nationalist constituencies and, in so doing, put their countries' long-term interests first.  In fact, both can present the deal as a victory.  For Park, this is an agreement that no predecessor ever achieved, extracting an unprecedented statement of apology from Abe in addition to financial compensation.  That should ultimately bode well for Park both domestically and on the international stage, even though she does have a formidable task to rally support from her opponents and the comfort women themselves.  For Abe, the gains are perhaps even more substantial.  No longer can he be freely painted by his domestic and international critics as a revanchist or revisionist, nostalgically celebrating Japan's Imperial past.  Abe has proven to be rather more of an enigma than the one-dimensional cardboard cutout rightist that his adversaries often portray.  His stated desire not to burden the next generation with this issue, but to "enter a new era" demonstrates that he is looking to the future.
So, why then did such a seemingly straightforward agreement between the two nations take so long to achieve?  While there was no INF Treaty-style walk in the woods, both leaders invested political capital and committed themselves to a resolution.  And both had to take a leap of imagination that recognized that the negotiation was not a zero-sum game, there were mutual benefits to working together, and the burden of maintaining acrimonious relations was simply too great.  Both leaders acted as pragmatic statesmen rather than dogmatic ideologues.
There are other lessons to be drawn.  Principally, bilateral negotiations of this importance should not be based on loose assumptions and one-sided expectations.  The 1965 Treaty on Basic Relations between Japan and the Republic of Korea, which was supposed to resolve all issues and all claims "completely and finally," clearly failed to do so, at least in the context of the comfort women.  Only by moving away from an absolute and legalistic interpretation of the 1965 treaty was Japan able to finally negotiate a resolution to the seemingly intractable comfort women issue that satisfied the South Korean government.
As an aside, perhaps this was also personal for the two leaders.  This year marks the 50th anniversary of the normalization of diplomatic relations, as concluded in 1965 by Park's father, President Park Chung-hee, with the support of Abe's grandfather and former prime minister, Nobusuke Kishi.  Forging the agreement this year was, therefore, perhaps meaningful on a personal level.
Of course, other contentious issues between Japan and South Korea remain.  Both countries claim sovereignty over the Liancourt Rocks, known collectively as Takeshima and Dokdo, for example.  Still, both nations have demonstrated that they can negotiate in good faith and this surely augurs well for the future.
For the Japanese, the agreement has also invited further claims for atonement.  Taiwan, for one, quickly called upon Japan to look into its own case, followed by China and Indonesia.  It remains to be seen if more nations will follow suit.
These concerns notwithstanding, this was a good day for diplomacy.  It is never difficult to find naysayers who identify seemingly insoluble problems.  But this agreement is a victory over such cynicism and a win for good old-fashioned diplomatic efforts based on negotiation and goodwill.  The deal may not satisfy everyone completely, but it represents an important symbolic gesture that other nations with tainted relations can learn from.
Yukari Easton is a Public Diplomacy graduate student at University of Southern California and also a recipient of the 2014-2015 ACE-Nikaido Fellowship, awarded by the East Asian Studies Center at University of Southern California. Her research focus is upon international relations, diplomacy and security issues in the Asia-Pacific region. Previously, she worked for ten years in international banking in Europe and Asia.