US Top Asia Diplomat to Visit Thailand, Laos and Japan
Daniel Russel will travel to Asia from December 13 to 21.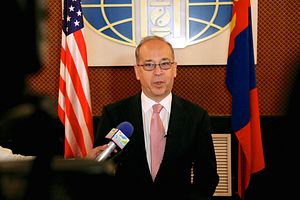 America's top diplomat for East Asia will travel to Thailand, Laos, and Japan next week, the U.S. State Department said Thursday.
U.S. Assistant Secretary of State for East Asian and Pacific Affairs Daniel Russel will travel to Asia from December 13 to 21.
In Thailand, Russel will lead the U.S. delegation to the 5th U.S.-Thai Strategic Dialogue on December 16. That is significant as it will mark the first time the dialogue has been held between the two allies since 2012. The coup that took place in May 2014 strained U.S.-Thai ties.
The dialogue, the State Department said a statement, would cover "the full range of  the political, security, and economic cooperation with Thailand." The last one was held in Washington, D.C. Russel will also meet with Thai government officials, civil society and political leaders on December 17 and view an Ambassador's Fund for Cultural Preservation project at Wat Suthat Thepwararam.
In Laos, Russel will meet with Lao government and party officials. He will also speak at the Lao Institute of Foreign Affairs of the Ministry of Foreign Affairs in Laos. Russel's trip to Laos comes as the country is set to officially assume the rotating chairmanship for the Association of Southeast Asian Nations (ASEAN) next year.
That has significance for the United States, especially as Washington seeks to sustain the momentum in U.S.-ASEAN ties following the upgrading of relations to the level of a strategic partnership (See: "US, ASEAN to Ink New Strategic Partnership").
It could also be a boost for U.S.-Laos relations, since U.S. President Barack Obama – assuming he attends regional meetings there next year – will become the first sitting U.S. president to visit the landlocked Southeast Asian state.
During Russel's visit to Japan on December 21, he will meet with current and former Japanese government officials in Tokyo. The statement did not disclose further details about his itinerary there. Russel will return to the United States on December 21.