Indonesia's Papua Reporting Paranoia
Despite Widodo's promise of an "opening," journalists are still being kept out of Papua.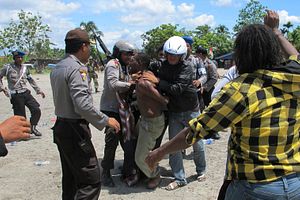 There are new hazards for foreign journalists attempting to report from Indonesia's restive easternmost provinces of Papua and West Papua (generally referred to as "Papua"): visa denial and blacklisting. Just ask Bangkok-based France 24 TV correspondent Cyril Payen.
On January 8, the Indonesian Embassy in Bangkok informed Payen that it had denied his application for a journalist's visa for a reporting trip to Indonesia's Papua province. The denial was not wholly unexpected. On November 8, Indonesian Ministry of Foreign Affairs officials notified the French Embassy in Jakarta that they considered Payen's previous reporting, which focused on pro-independence sentiment in the region, "biased and unbalanced." Rather than engaging with Payen and France 24 to publicly challenge the report's alleged inaccuracies, the Indonesian government took the punitive and disproportionate step of a threatened visa ban for an unspecified period of time for any France 24 journalists seeking to report from the country.
Payen's predicament highlights the glaring gap between the rhetoric of Indonesian President Joko "Jokowi" Widodo's announced "opening" of Papua and West Papua (commonly referred to as "Papua") to foreign media and the far grimmer reality for journalists still blocked from reporting there.
Official reprisals for reporting on Papua that displeases the government are a threat to journalists and their sources alike.
A week after Marie Dhumieres, a Jakarta-based French correspondent, returned from a Papua reporting trip in October, police detained a Papuan activist who had travelled with her along with two of his friends. Police interrogated the trio for 10 hours, demanding details of Dhumieres' reporting trip. Police subsequently released the men without charges. Dhumieres expressed her dismay in a tweet to Jokowi: "So Mr @jokowi, foreign journalists are free to work anywhere in Papua but the people we interview get arrested after we leave?"
None of this should be happening.
After all, last May, Jokowi announced a long overdue lifting of the 25-year de facto ban on foreign media access to Papua. That policy change was supposed to put an end to placing foreign journalists in legal limbo through the denial of Papua reporting applications outright or a failure to approve them.
But Payen and Dhumieres' experiences highlight the disconnect documented in a November 2015 Human Rights Watch report between Jokowi's policy objectives and the fierce opposition of some elements of the Indonesian government and security forces to opening Papua to foreign media.
Since Jokowi's announcement, a series of senior government officials have publicly contradicted that policy change. They include National Police spokesman and Senior Commander Agus Rianto. On May 12 he asserted that the government would continue to restrict foreign correspondents' Papua access through an entry permit system. Rianto justified the need to maintain foreign media access restrictions to Papua to prevent foreign media from talking to "people who opposed the government" as well as to block the access of "terrorists" who might pretend to be journalists as a means to travel to Papua.
On May 26, Minister of Defense Ryamizard Ryacudu warned that foreign media access to Papua was conditional on an obligation to produce "good reports." Ryacudu did not precisely define "good reports," but he explicitly equated foreign journalists' negative reporting on Papua with "sedition" and threatened expulsion for any foreign journalist whose reporting displeased the government.
These statements reflect a deeply rooted perception among many Indonesian government and security agency officials that foreign media access to Papua is a recipe for instability in a region already troubled by widespread public dissatisfaction with Jakarta and a small but persistent armed independence movement. The challenges to media freedom in Papua are compounded by obstacles faced by Indonesian journalists – particularly ethnic Papuan reporters. Local journalists who report on sensitive political topics and human rights abuses are often subject to harassment, intimidation and violence by officials, members of the public and pro-independence forces. Conversations with Indonesian bureaucrats and government officials about the tenacity of official obstacles to foreign media access to Papua routinely reference East Timor and a persistent suspicion that the presence of foreign media and human rights activists in East Timor helped pave the way to that former Indonesian province's independence in 2002.
Indeed, the government's obstacles to Papua access extend beyond journalists. The security forces closely monitor the activities of international groups that the government permits to operate in Papua – those that seek to address human rights concerns get particular scrutiny. International NGOs such as the Dutch development group Cordaid that the government asserts are involved in "political activities" have been forced to cease operations, their representatives banned from travel to the region.
Government restrictions on foreigners have extended to United Nations officials and academics Indonesian authorities perceive as hostile. In 2013 the government rejected the proposed visit of Frank La Rue, then the UN special rapporteur on freedom of expression, because he insisted on including Papua on his itinerary. Foreign academics who do get permission to visit the region have been subjected to surveillance by the security forces. Those perceived to have pro-independence sympathies have been placed on visa blacklists.
Luhut Pandjaitan, Indonesia's Coordinating Minister for Political, Legal and Security Affairs, the security minister, said on November 11 that he would take action if he were given evidence that government or security officials were obstructing foreign journalists from going to the Papua region. "Come back to me, and if it's necessary, we will fire them," he said.
The experience of Cyril Payen, Marie Dhumieres and other foreign journalists suggest that it's time that Pandjaitan deliver on that promise.
Phelim Kine is the deputy director of Asia division at Human Rights Walk and a former Jakarta-based foreign correspondent.