Kaw Thoo Lei: 'A Peaceful Land'
Myanmar's Karen minority continue to fight for sovereignty over their territory.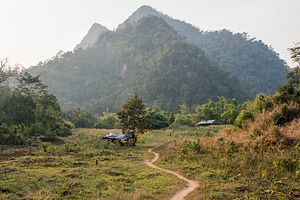 Many ethnic minorities in Myanmar have experienced a tumultuous period at the hands of a military government since the country gained formal independence from Britain in 1948. The Karen are one of these groups who have continued to fight for sovereignty over their territory. A territory they call "Kaw Thoo Lei," or "a peaceful land."
While the history of this conflict between the Karen and the Burmese military government is complex, it is not helped by the group's religious beliefs (many Karen are followers of Christianity) and cultural practices that differ from the Buddhist majority. For decades Karen villages have been attacked, torched, and littered with landmines to prevent residents from returning. These repeated attacks have taken their toll with many villages becoming effectively cut off, leading to economic hardship for villagers and a lack of basic services and support.
Despite this, the Karen have persevered; rebuilding their villages while using an ageing arsenal along with crude, homemade landmines to protect their territory and themselves in what is described by some as one of the longest running civil conflicts in history.
Although much of the international community praises the NLD's recent landslide election victory, few in Karen state seem to hold much hope that a change in government will bring with it a change in circumstances.