Kazakhstan's Ever Shrinking Space for Dissent
Two activists were recently jailed for "inciting national discord."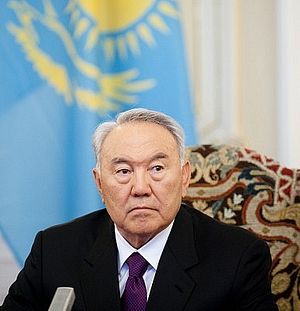 With both oil prices and the Russian ruble continuing to search for their respective floors, Kazakhstan's economic maelstrom shows no signs of slowing. If anything, 2016 is shaping up to be worse than 2015: Not only has Kazakhstan's tenge now lost over 50 percent of its value against the dollar since last August's de-pegging, but the Economist Intelligence Unit is projecting the country will endure a recession for the first time since 1998. All of this while the country's megalith hydrocarbon project shows no signs of growing closer to completion, while the country shows no indications of enacting long-overdue political reform, and while septuagenarian President Nursultan Nazarbayev pushes into his second quarter-century leading the country.
Instead, the government's energies have focused on tamping down any critique it may find coming from any end of the political spectrum. Astana's latest round of crackdowns took the form of sentencing a pair of activists, Serikzhan Mambetalin and Ermek Narymbaev, on claims of "inciting national discord." Narymbaev and Mambetalin – who received three and two years in prison, respectively – have also been "barred … from civic activities for five years," according to Human Rights Watch. The activists' crimes? Facebook postings. As EurasiaNet's Joanna Lillis detailed, "Narymbayev and Mambetalin were arrested in October on charges of fomenting ethnic strife in Facebook postings related to an unpublished book written by another anti-government activist, Murat Telibekov."
The postings dealt with the topic of Kazakh nationalism, which has spiked following both Kazakhstan's accession to the Eurasian Economic Union and the Kremlin's neo-imperialist policies through the former Soviet Union, most especially out of Ukraine. Astana has remained wary of overtly stoking Kazakh nationalism in the time since, all the more after Russian President Vladimir Putin failed to push back against claimed threats against the ethnic Russian population in Kazakhstan's north. Narymbaev's and Mambetalin's sentencing, however, hikes Astana's concerns to another level.
That said, the sentencing will likely do little to tamp Russian nationalists' howls about persecution in northern Kazakhstan – if only because Narymbaev and Mambetalin aren't the only activists Astana has targeted for simple rhetoric. In December, blogger Yermek Taychibekov received four years in prison on charges similar to Narymbaev and Mambetalin, and stemming directly from Taychibekov's Facebook postings. But where Narymbaev and Mambetalin were discussing the merits of Kazakh nationalism, Taychibekov spent most of his time trumpeting support for Russia's neo-imperialist designs through Central Asia.
Indeed, Taychibekov's views far outpaced anything the Kremlin had espoused thus far. Over the past two years, Taychibekov had called for Russia to annex Kazakhstan outright, tapped Putin as a "White Khan," and claimed that some 80 percent of ethnic Kazakhs would prefer a return to the Russian empire. As Taychibekov, an ethnic Kazakh, explained following the fallout from the Crimean annexation, "I'm not a Russian fascist. I'm a Russian imperialist." To be sure, Taychibekov's views seemed to gain little traction in the broader Kazakh community – his beliefs that environmental movements were "American-funded" or that China would rule Texas by the 2030s didn't carry much water. One Kazakhstani publication even named him one of the country's most prominent "anti-heroes."
Taychibekov's views flew in the face of Astana's professions of sovereignty and independence; as such, the blogger was placed in a psychiatric center. His Facebook page has now become a repository for others. But his sentencing, along with Narymabev's and Mambetalin's, shows just how anxious Kazakhstan has become about internal fracture. Given Russian nationalists' continuing claims to northern Kazakhstan – or "Southern Siberia," as they call it – and the degrading economics of both Kazakhstan and Russia, the jailings aren't likely to be Astana's last.