North Korean Defectors to South Hit 13-Year Low
The number of North Korean defectors reaching the South has declined severely since Kim Jong-un took power.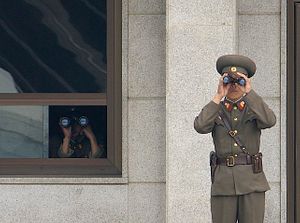 The number of North Korean defectors who reached South Korea last year was the lowest in 13 years, data showed, continuing the sharp decline that has followed Kim Jong-un's rise to power in Pyongyang.
According to figures released by the South's Ministry of Unification earlier this month, 1,277 North Koreans settled in South Korea in 2015, a decline of 120 from the year before. The data shows that fewer North Korean escapees reached the South than in any year since 2002, when 1,142 resettled south of the 38th parallel that divides the Koreas.
The number reaching South Korea had been on an upward trend before Kim Jong-un assumed control of North Korea in December 2011, reaching a high of 2,914 in 2009. In 2012, Kim's first full year in power, that number plummeted: just 1,502 North Koreans resettled in the South compared to 2,706 in 2011. Since then, the figures have remained far below pre-2012 levels; last year's figure represents an almost 53 percent drop from 2011.
Sokeel Park, who works with defectors with non-profit Liberty in North Korea, told The Diplomat the drop was consistent with heightened security on the North Korean-Chinese border, as well as within China itself.
"The security situation on both sides has increased and that has been cited by a lot of people, including refugees, as part of the reason why it is so difficult to both escape from North Korea and get through China and, eventually, to make it to South Korea," Park said.
Increased security measures in North Korea range from more personnel and watchtowers to the deployment of elite guards that are less susceptible to bribes, Park said.
The falloff in defectors could also be related to modest improvements in living standards inside North Korea. For years, defectors and travelers to the country have reported on the growth of informal markets that supplement the state rationing system, which was hugely degraded by a famine in the 1990s. This increased marketization has led to modest economic growth and greater material wealth in the country, according to analyses from the Congressional Research Service, among others.
"That's going to affect your cost-benefit analysis,"  said Park. "So it might persuade you to just sort of sit tight and hold onto this idea (of defecting)."
Because those who flee North Korea do so at the risk of their lives, they may be swayed against leaving by even slight improvements in their situation, Park said.
"People are naturally hopeful and they might think, 'Well maybe the border security situation is going to change, maybe that can wait another year, is it really worth us taking this risk?'" he said.