The Price Is Wrong? US Mining Giant in Divestment Talks With Indonesia
Freeport McMoRan Inc enters another stage of its contract renegotiation with Jakarta.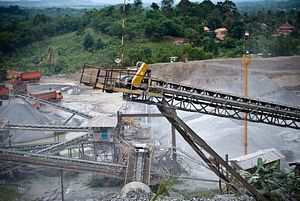 Last week, U.S. mining giant Freeport McMoRan Inc's Indonesian unit submitted a divestment price to the Indonesian government for an additional stake in one of the world's biggest copper mines, part of a process to allow the firm to extend its right to operate in the country beyond 2021.
According to Energy and Mineral Resources Ministry's minerals and coal director general, Bambang Gatot Ariyono, Freeport had valued its Indonesian asset at $16.2 billion, with the divestment offered to the government being valued at $1.7 billion for a 10.46 percent stake.
Some Indonesian officials and lawmakers have already described the $1.7 billion price tag for Freeport's huge Grasberg copper and gold mine in Papua as too high.
"What is definite is that $1.7 (billion) is too expensive," Indonesia's state-owned enterprises minister Rini Soemarno told reporters.
Meanwhile, Indonesian House of Representatives Commission member Ramson Siagian has also described the divestment price as too high for its market value.
Heeding calls by parliamentarians for the government to estimate the fair price, Gatot told a parliamentary committee that a team of officials from different ministries will be formed to evaluate Freeport's offer. A mines ministry official on January 20 said that his government would reach a final verdict in March.
Freeport Indonesia's vice president Clementino Lamori confirmed that the share price offered to the government was calculated assuming Freeport Indonesia continued operations after the contract was renewed in 2021. This is purportedly different from the government's benchmark.
A price review by the inter-ministry team would also involve an internal discussion on whether the stake in Freeport Indonesia would go to central or regional governments, a state-owned enterprise, or a private company. Under current regulations, the central government has 60 days to consider Freeport's offer before the right to buy shares is taken over by Papua's provincial and regency/municipal administrations, followed by state-owned enterprises and local administration-owned enterprise.
Negotiations have been hampered by the resignation of Freeport's local CEO Maroef Sjamsoeddin citing personal reasons. Sjamsoeddin's departure came weeks after the company became embroiled in an extortion scandal involving parliamentary speaker Setya Novanto, who resigned his post on December 16, 2015. The departure of Freeport McMoRan's Jakarta-friendly co-founder James "Jim Bob" Moffett was also seen as a loss for contract talks.
Freeport's current contract to operate the Grasberg mine is set to expire in 2021. The company intends to invest $18 billion to develop underground mining at one of the world's largest copper mines, but is seeking government assurances on a concession extension first before it signs off on the investment.
Under current rules, foreign mining companies operating in Indonesia can apply for a contract extension only two years before a concession agreement is due to end. Freeport is legally required to relinquish a 30 percent stake to either government or national companies. The government already holds a 9.36 percent share from a previous divestment scheme and the divestment of the remaining 20.64 percent will occur in two stages, with the first 10.64 percent sold this year and last 10 percent by 2019.