US Asia Rebalance Still Lacks Direction, Resources: Study
A new think tank report takes Washington's Asia strategy to task and suggests how to boost it.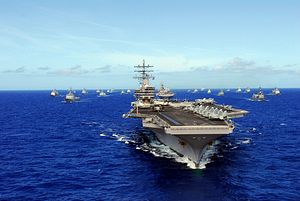 More than four years after it was first unveiled, the Obama administration's pivot or rebalance to the Asia-Pacific lacks the necessary direction and resources to secure U.S. interests, a new think tank report released this week argues.
The report, an independent assessment commissioned by the U.S. Congress under the 2015 National Defense Authorization Act, notes that the United States has still yet to articulate a clear Asia-Pacific strategy and adequately resource it even in the face of rising threats to American interests, particularly from a more capable and risk-tolerant China.
"[T]he study team is concerned that the administration's rebalance effort may be insufficient to secure these interests," the study, "Asia Pacific Rebalance 2025: Capabilities, Presence and Partnerships," published by the Center for Strategic and International Studies (CSIS), argues.
To address this, the report makes four sets of recommendations. First, given the confusion still heard about the rebalance strategy within the U.S. government and across the Asia-Pacific, it suggests better aligning Asia strategy at home and abroad through several measures, including preparing an Asia-Pacific strategic report, better aligning strategy and resources, and increasing administration outreach to Congress.
"Addressing this confusion will require that the executive branch develop and then articulate a clear and coherent strategy and discuss that strategy with Congress as well as with allies and partners across the world," the study argues.
Second, with security challenges increasingly outpacing the capabilities of regional states, the report recommends strengthening U.S. allies and partners. To do so, it calls for a "differentiated strategy" that includes a federated approach sharing capabilities with highly-capable allies like Japan and Australia as well as boosting maritime security in less capable Southeast Asian states. It also suggests the formation of a standing U.S. joint task force for the western Pacific to establish clearer U.S. command and control relationships as well as deepening U.S. humanitarian assistance and disaster relief expertise and efforts in the region.
"The United States seeks and benefits from the success of all states throughout the region, so building ally and partner security capabilities is in the U.S. interest," the report noted.
Third, to contend with growing challenges and alleviate concerns at home and abroad about the sustainability of U.S. force posture, the report recommends that the United States expand its military presence in the region. The authors identified initiatives to address capability gaps in ten areas: base realignment, surface fleet presence, undersea warfare, amphibious warfare, air supremacy, missile defense, ground force mission sets, logistics, munitions, and intelligence, surveillance and reconnaissance (ISR).
"Forward presence, including forces deployed, is central to U.S. strategy in the Asia-Pacific and strengthening U.S. military posture in these areas will require a sustained commitment and additional resources," the study said.
Fourth, the authors emphasize that the United States should accelerate the development of capabilities and concepts to ensure it can deter and prevail in potential conflicts. Here, the authors identify capability gaps in two types of areas in particular: those required to offset an emerging risk to U.S. forces such as the growing ballistic missile risk to U.S. ships and forward bases, and those that Washington could develop to provide an asymmetric counter to potential regional competitors. These include the undersea domain, additional air combat systems, as well as space, cyber and electronic warfare capabilities.
"The United States must update existing concepts and capabilities to ensure that the future force is capable of deterring and prevailing in potential conflicts," the authors wrote.