Australia's Shame: Child Abuse as a Border Defense Strategy?
Australia has to find a way to protect its borders without seeing children in its care subjected to repeat sexual abuse.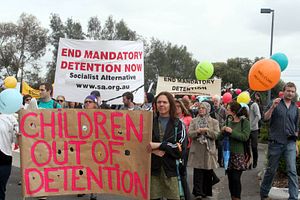 A decision by Australia's High Court on February 3 2016 has cleared the way for the government to keep up its policy of indefinite detention of a small number of refugee children in abusive, unsafe circumstances in two lawless and highly corrupt states (Papua New Guinea and Nauru) as part of a strategy it says deters people smugglers. The ethical confusion in the Australian position is Orwellian.
There is no other way to interpret the policy than "child abuse as deterrence" for border protection. Important members of the medical and legal professions in Australia have spoken out against the policy because of direct knowledge of sexual abuse and other abusive practices in the centers. The critics include doctors who have treated the children, and some of whom face jail terms under quite recent Australian legislation criminalizing unauthorized public disclosure of conditions and events by medical staff who worked in the detention centers.
A state that cannot distinguish between its own border deterrence strategy (a political signaling problem) and the safety of children in its care is worthy of sustained international condemnation. The officials involved should reckon that one day they may face in the mid-term future criminal charges or civil law suits, if not in Australian courts then in other jurisdictions. They will certainly face the moral opprobrium of many Australians.
The government argues that the refugee families and individuals who arrived by boat must never be allowed to settle in Australia because that would give the green light to people smugglers and other would-be refugee boat arrivals. This is the same government whose secret service is alleged to have paid some of those people smugglers. This is the same government who paid the human-rights-abusing Cambodian government tens of millions of dollars to resettle refugees, only to see it fail to meet its commitments (in part because the refuges refused to take up the option).
Australia had reached an agreement with New Zealand to take some of the refugees in detention but then pulled out of it.
What is the ethical foundation for a policy by a government that cannot distinguish between failure to protect a small number of children in its care and the need to deter unapproved boat arrivals supported by people smugglers?
The failing of the Australian government,  supported by the Opposition Labor Party, is all the more staggering because it has adopted a far more successful border protection policy that did stop the boats. This strategy involves the towing back to Indonesia waters of boats operated by the people smugglers (and paying them off).  The Liberal-National coalition can be commended for this strategy. It worked. Its continued success depends in no way on keeping children currently in Australian care in abusive circumstances.
Australia's ethical blindness to child abuse in the name of a higher interest seems to be an enduring national failing. There is a long-running Royal Commission into child sexual abuse of children in the care of all sorts of institutions, including religious groups. In living memory, Australian governments had a policy of forced separation of aboriginal children which was abusive in itself, but which in some case led to their sustained sexual abuse. Through 2015, the country went through a high profile campaign of candor and transparency about the impact on children (and other victims) of domestic violence. This recent history of public repentance for more than a half century of tolerance of child abuse should have been enough to shake the Turnbull government (and its Labor opposition) out of their ethical blindness toward the refugee children. But it has not.
In practical terms, it may be time for Prime Minister Turnbull and the country to ask its new Border Force and its Department of Immigration to come up with more humane and sustainable border deterrence options. It is the lack of creative (and ethical) thinking by these advisers that makes Australia and Turnbull look so brutish. The government can surely find a way to protect our borders without seeing children in its care subjected to repeat sexual abuse.