Can Japan's Opposition Unite to Dethrone the LDP?
By-elections in April will be a testing ground for major opposition parties' election strategy.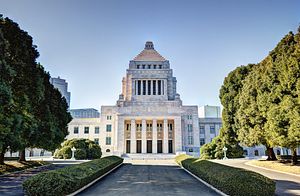 The by-elections for Hokkaido Constituency No. 5 and Kyoto Constituency No. 3 on April 24 are the opening salvos for a colorful year of elections in Japan. Winning at least one if not both these elections for the Lower House this spring – three months before the real contest in July over Japan's Upper House – is critical for opposition parties to gain the momentum and "prove" to voters they can overcome their differences enough to present a unified opposition against the ruling Liberal Democratic Party (LDP).
Kyoto is set up for intra-opposition rivalry. Kenta Izumi of the Democratic Party of Japan (DPJ) is interested in the opening, as is the Japanese Communist Party (JCP), which has a strong support base in the prefecture. Osaka Ishin no Kai, a regional political party, is also likely to jump into the fray, as the by-election will be held in the Kansai region – Osaka Ishin no Kai's geographic domain.
The LDP is still debating whether or not to run a candidate, as the by-election is only being held because of LDP legislator Kensuke Miyazaki's resignation. Miyazaki resigned when it was discovered he was having an extramarital affair while asking for paternity leave. Due to the negativity associated with Miyazaki, LDP strategists believe it would be wiser to sit this round out and focus on Hokkaido, which is having a by-election because of the death of Nobutaka Machimura, the LDP politician representing the constituency, last summer.
Therefore, Hokkaido has only increased in importance to the LDP as the party chooses to forego officially competing in Kyoto due to the public atmosphere. At the same time, however, the prospects for intra-opposition cooperation appear brighter in Hokkaido than in Kyoto. JCP dropped its candidate – allowing voters opposed to the LDP to rally behind a single anti-LDP option, Maki Ikeda, who had already secured the backing of the DPJ and several other parties.
Kyoto and Hokkaido will both be important testing grounds for the opposition parties to practice unity as they begin laying the groundwork for the Upper House elections in July.
Five parties have already agreed to cooperate in the Upper House elections, including the DPJ and JCP. Kazuo Shii, JCP President, said his party would withdraw candidates from competing in electoral districts where there is only one seat up for grabs. Districts with only one seat tend to favor the LDP as the anti-LDP vote often gets split up among the multiple opposition parties. Shii's priority is to repeal the security-related legislation passed by Prime Minister Shinzo Abe's government last fall and uphold the Japanese constitution as is; in pursuit of this goal, he is willing to prioritize joint candidates over the JCP's.
This strategy could work for the election, but it is a marriage of convenience that will not translate into effective governing. The opposition parties have vast differences over issues such as the consumption tax hike and constitutional revision. Furthermore, the strategy could backfire if the LDP – or opposition parties that stay out of the agreement – succeed in painting these politicians as "political animals" who would be willing to do anything to get elected. For example, Ichiro Matsui, Osaka Ishin no Kai leader and governor of Osaka, called the opposition agreement an "election mutual aid society based on unprincipled collusion."
While the agreement between the five parties might be a matter of temporary convenience, the DPJ is considering a more permanent change with at least one other opposition party – the Japan Innovation Party (JIP). JIP and Osaka Ishin no Kai were originally one party, until Osaka Ishin no Kai split off last October. A DPJ-JIP merger is expected to take place next month, when JIP will dissolve itself and be absorbed into DPJ, at which point DPJ will change its name.
However, things are not proceeding smoothly, as there is bickering over who will comprise the new leadership. DPJ President Katusya Okada is expected to act as interim leader until leadership elections can be held immediately after the Upper House elections. Even though this merger is a move meant to increase unity among opposition politicians, it could have the opposite effect if JIP splits again, with members opposed to the merger going their own way. A lack of visible reform (especially if Okada stays on as the leader) and real policy differences between the two parties will also dampen the expected positive effect of a merger on the opposition's electoral prospects.
As opposition parties scramble to prepare for the daunting task of breaking the LDP's monopoly on political power in Japan, they should focus more on having policy debates and coming to principled positions that they can agree on, instead of simply playing the numbers game.
Japan's political space has long been renown for its lack of ideology. Leaders jockey for power, not over ideas. No fundamental ideological schisms divide parties from each other (with the exception of the JCP, which historically opposed the U.S.-Japan Mutual Security Treaty and the Self Defense Forces). Plus, Japan was effectively a one-party system until a coalition government in the early 1990s and a brief interlude of DPJ government (2009-12). Thanks to that history, neither Japan's leaders nor its people are able to have the kind of debate that can lead to a credible unified opposition through the thesis-antithesis-synthesis of contradictory ideas.
Until the opposition parties can sit down and talk about what they want to stand for collectively, the Japanese people will only see interparty agreements and mergers as a cynical exercise in politicking that does not offer them any true electoral alternative to the ruling LDP.