Good Morning Future Wealth, Vietnam
For reformers, the country's economic and political rise could be just about to start.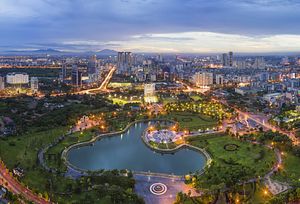 Vietnam has been among Asia's top performers in recent times, bucking a region-wide trade recession despite tensions with China, its biggest trading partner. For the nation's reformers though, Vietnam's economic and political rise could be just about to start.
In a joint report released February 23 by the Vietnamese government and the World Bank, the authors suggested the Southeast Asian nation could achieve upper-middle income status by 2035 with per capita income of more than $7,000, up from the 2014 level of just over $2,000 and in range of Malaysia or South Korea in the mid-2000s.
Achieving the goal would require annual gross domestic product (GDP) growth of at least 7 percent, above last year's estimated 6.7 percent but well within its potential, providing reforms are implemented to boost productivity, promote innovation, support "smart urbanization" and to take advantage of new trade opportunities.
GDP growth per capita has averaged 5.5 percent a year since 1990 – a record bettered only by China – following "Doi Moi" reforms launched in 1986 aimed at freeing up the economy. At that time, average annual income was around $100 and inflation was running at over 400 percent, with the poverty-stricken economy dependent on foreign aid.
"In the last 30 years, Vietnam has become one of the world's great development success stories, rising from the ranks of the poorest countries. On the strength of a nearly 7 percent average growth rate and targeted government policies, tens of millions of people have lifted themselves out of extreme poverty," World Bank president Jim Yong Kim said.
"Improvements in productivity, environmental protection and economic innovation can help Vietnam maintain high levels of growth. It will be critically important to remove barriers that exclude marginalized groups and deliver quality public services to an aging and urbanizing middle-class," Kim added. "The report recommends that Vietnam build modern and more transparent institutions – those steps will help the country meet its ambitious goals."
'Democratic Society'
However, the report also called for the creation of a "modern rule of law state and a democratic society" by 2035 – a vision cited in its constitution but a considerable challenge for the rulers of one of the world's four remaining one-party socialist states.
While the nation reportedly has a growing democratization movement, the levers of power remain firmly in the hands of the communist party, with dissidents still subject to harassment and imprisonment by the authorities.
But Vietnam's Planning and Investment Minister, Bui Quang Vinh said the nation of 90 million people had no choice but to push through the promised changes.
"Without these reforms it will be hard for us to avoid falling into the middle income trap and lagging behind. We see these reforms as a continuation of the historic Doi Moi reform process," he said.
Reform Drive
According to the report, the authorities will have to reform inefficient state-owned enterprises and remove barriers to private firms including insufficient property rights and vested interests that ensure the allocation of land and capital is "as much as by arbitrary administrative decisions as by efficient market signals."
In this regard, commitments made under the Trans-Pacific Partnership (TPP) agreement "offer a real opportunity to carry out many demanding and politically sensitive reforms," the report said.
According to the Eurasia Group, Vietnam could be the biggest winner from the TPP, boosting its GDP by 11 percent in a decade and causing exports to surge by 28 percent on the back of increased foreign investment. Exports grew 8 percent in 2015 for the sixth straight annual rise, despite a region-wide contraction, while this year's launch of the ASEAN Economic Community is expected to spur inter-regional trade.
The report also urges measures to aid "learning and innovation," improve urban planning and infrastructure and "sustain the environment," including through tapping more clean energy sources.
Environmental stresses have worsened in Vietnam, including rising greenhouse gas emissions and urban water and air pollution levels which "are beginning to pose serious health hazards, especially near Hanoi and Ho Chi Minh City."
According to an Asian Development Bank report, Vietnam is among other Southeast Asian nations facing a potential 11 percent GDP loss by 2100 due to climate change, with the Mekong Delta considered at "heightened risk."
Vietnam's rulers are also encouraged to promote greater equity and social inclusion. The report noted that "over the last decade, the number of millionaires in Vietnam has tripled while malnutrition rates among ethnic minority children have hardly budged."
It called for reducing the barriers to opportunity for ethnic minorities, creating more opportunities for those with disabilities and reforming the household registration system to prevent migrants suffering disadvantaged access to public services.
Vietnam's gender imbalance is also highlighted, as reflected by its sex ratio at birth being 114 boys born for every 100 girls, one of the world's highest such ratios. The report said a preference for sons could be reduced by expanding the pension system and reforming population policy, while the government could use affirmative action policies to place more women in leadership roles.
By 2035, more than half the populace are expected to be part of the global middle class, up from just over 10 percent currently, while the nation will also see a rise in its elderly and the start of a decline in its working-age population. These trends could be addressed by expanding the pension system, enhancing school training, improving labor relations and introducing universal health coverage.
The report also called for political and institutional reforms "to keep pace with Vietnam's development," such as by ensuring checks and balances between the three branches of government and providing more access to information.
"The state's role in the economy needs to be transformed from a producer to an effective regulator and facilitator," the report said, requiring among other measures that state-owned enterprises lose their favoritism from authorities, along with having an independent judiciary.
Risks Seen
Nevertheless, the report also cited a number of risks to its outlook, including the need for cooperative relations with China despite recent maritime disputes; competition over energy and water security; and disruptive technological changes. On top of this is an "unfinished economic modernization agenda and rising political economy challenges," the report said.
"Reforms are likely to face greater resistance than in the past, from interest groups that perhaps have more to lose now than 25 years ago. And the benefits are more uncertain than they were when reforms warded off widespread economic crisis," it said.
Avoiding the "middle income trap" that has caught nations such as Indonesia and Thailand is also crucial, although the authors said Vietnam's ascent appeared similar to China's trajectory in sustaining high growth rates over five decades to achieve high income status.
Should Vietnam achieve the GDP growth target, it would by 2035 "stand a strong chance" of reaching the incomes of South Korea and Taiwan as of the early 2000s. Yet if reforms prove too challenging and the growth rate slips to 4 percent, Vietnam's average income would only rise to the level of Brazil or Thailand today, reducing the likelihood that it would catch up with its richer neighbors.
Vietnam's new leadership team elected in January pledged to continue reforms including privatization and upgrading infrastructure, in the face of a falling currency, rising bad loans, and widening trade and public deficits. Last year's trade deficit hit $3.5 billion, while public debt has risen around 20 percent a year over the past five years.
The nation is still expected to post a 6.7 percent GDP growth rate this year, making it one of the fastest growing economies in the region, with the government targeting a 7 percent average annual expansion through to 2020.
According to ANZ Research, Vietnam should pick up speed to post 6.9 percent GDP growth this year, easing to 6.5 percent in 2017, although still "well below potential."
The launch of the ASEAN Economic Community also poses downside risks, including "the risk that the trade recession will morph into a more generalized collapse in domestic demand across Asia during 2016-17," the bank said.
Yet should Hanoi overcome such short-term challenges, its rulers have been handed a road map to future prosperity. For one of Asia's emerging growth engines, it may be a case of now or never for that happy good morning.