Hindu Marriages Will Be Legitimized in Pakistan
Pakistan's Hindus will soon finally have a law that legitimizes their marriages.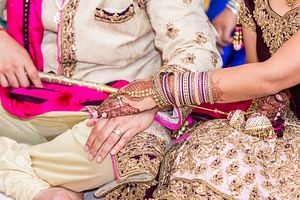 After decades of Pakistani independence, it seems as though Pakistan's small Hindu minority, which comprises about two percent of its population and is its largest minority, will finally be allowed to register its marriages.
Marriage laws in some countries, including Pakistan, India, and Israel, are specific to religious groups. For example, in India, Hindus can only legally practice monogamy, but Muslims are allowed up to four wives in accordance with their traditions. India does, however, make special provision for interfaith marriages, by allowing civil marriage. Pakistan has no equivalent allowance.
While Pakistan has in place laws for Muslim and Christian marriages, it is only now moving forward with giving legal status to Hindu marriages.This will resolve numerous issues including the registration of marriages, obtaining national identity cards, visas, and transfers of property. The legislation was in the works and delayed for decades, due to filibustering in Pakistan's National Assembly.
On Tuesday, the National Assembly Standing Committee on Law and Justice on Tuesday unanimously passed the final draft of the Hindu Marriage Bill 2015. Five Hindu lawmakers were specifically invited to witness this. The bill will now move to the National Assembly where it is expected to pass as the ruling party of Prime Minister Nawaz Sharif, the Pakistan Muslim League-Nawaz (PML-N), is supporting it.
In regards to the delay in preparing the law for Hindus, the committee's chairman Chaudhry Mahmood Bashir Virk introspected:
It was unbecoming of us Muslims in general and the political leaders in particular. We were required to facilitate the legislation, not obstruct it. If we 99 percent of the population are afraid of one percent, we need to look deep inside [about] what we claim to be and what we are.
Before the bill was approved by the standing committee, two amendments were made to it. Controversies over these elements were a delaying tactic used by opposition parties. The first provided for the legal age of marriage for Hindu women to be 18, while the second applied it to the entirety of Pakistan. The 18th Amendment of the Pakistani constitution devolved the issues of minority rights to the provinces, but Balochistan and Khyber Pakhtunkhwa passed resolutions allowing the central government to legislate Hindu family law. Similar legislation is pending in Punjab.
The most controversial aspect of the bill, for Hindus at least, is a clause in the bill that says a Hindu marriage would be nullified if any of the partners converts to Islam. It was inserted by the Council of Islamic Ideology when the bill was sent for 'sharia vetting' some six months ago. Hindus pressed for marriages to remain valid even if the partners were of different religions. In traditional Islamic law, a male (but not female) Muslim can marry a spouse of another religion of the "people of the book," usually defined as Jews and Christians, but expanded in some parts of South Asia to include Hindus, Zoroastrians, Sikhs, and others. However, the majority scholarly tradition in Islam holds that marriages are automatically dissolved when one of its participants converts to Islam and the other doesn't, since a non-Muslim cannot be married to a Muslim, and most definitely a Muslim woman cannot be married to a non-Muslim man.
Pakistan's Hindus were not able to get the bill changed on this matter, due to strong resistance from numerous lawmakers, scholars, and judges. It was always unlikely that such a provision would be legislated in Pakistan in any case. But at the very least, if all goes well, Pakistan's Hindus will soon finally have a law that legitimizes their marriages.