How the US Approached the 2012 Senkaku/Diaoyu Tensions
Released emails between Kurt Campbell and Hillary Clinton speak of "delicate diplomacy" with both China and Japan.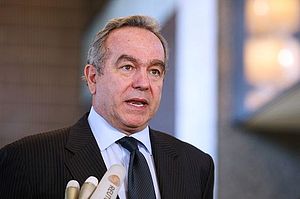 Kurt Campbell, then-assistant secretary of state for East Asian and Pacific Affairs, e-mailed then-Secretary of State Hillary Clinton about the disputed Senkaku/Diaoyu Islands on October 2, 2012 – less than a month after the Japanese central government nationalized the islands – it was revealed in the latest batch of emails released by the U.S. State Department.
Campbell wrote, "We assess that the Chinese and Japanese positions are hardening due to a variety of factors despite a shared understanding that prolonged friction would be harmful to regional stability and the global economic recovery." Campbell reported to Clinton that "[w]e are now engaged in delicate diplomacy" with the goal of "de-escalat[ing] tensions and find[ing] an acceptable, face-saving route out."
Campbell's concrete suggestion was to send a bipartisan group of former policymakers who could stimulate discussion of how to pragmatically resolve the issue. The advantage of this proposal, in Campbell's own words, was that "it show[s] our proactive efforts to manage the issue while not serving as a mediator."
Clinton's response to the Campbell's "Japan-China" e-mail? "We should go ahead."
International mediation is tricky business. While the United States has a strong interest in seeing the various history-related issues plaguing Northeast Asia resolved, there is also a strong incentive to avoid playing too active of a role in bringing about such a resolution. For example, even though the United States has a vested interest in Japan and South Korea increasing security cooperation, Washington has strenuously avoided mediating between its two allies on history-related issues that can plague such cooperation. Trying to be a mediator would only lead to accusations of U.S. "bias" – no matter what the outcome. Instead, the United States has tried to facilitate increased security cooperation despite historical issues — as when Washington successfully mediated the first face-to-face meeting between Prime Minister Shinzo Abe and President Park Geun-hye at the Nuclear Security Summit in March 2014.
If it is so hard to mediate among close friends, it will only be exponentially harder to try to mediate between a close friend and a significant rival – which might explain why there is an emphasis on showing "proactive effort" without "mediating."
As Campbell explained, the focus of the U.S. policymakers' mission would be to discuss with Japanese and Chinese players why it is important to cool tensions and find a pragmatic resolution. Yet at the elite level, this exercise might simply be preaching to the choir – Japanese and Chinese leaders undoubtedly know the economic and geopolitical importance of good Sino-Japanese relations on an intellectual level.
But what makes implementation so difficult is the domestic political constraint, i.e. popular nationalism in Northeast Asia, which will punish leaders who look "weak" or are seen as "caving." The reaction in South Korea to the recent comfort women deal is a great example of this: many in South Korea were more enraged at Park for selling out the victims than they were at Abe.
Japan has been trying to resolve the East China Sea dispute with China for years now. But no compromise or negotiated solution will completely satisfy domestic constituencies in either country. And if the U.S. plays a mediating role, the sore losers will waste no time attacking American "interference." So, when it comes to dealing with this dispute, the best option for Washington might be playing a behind-the-scenes role in facilitating pragmatic discussions — while  continuing to communicate that the islands are covered under Article  V of the U.S.-Japan security treaty.