Indonesia's Anti-Corruption Fight
Anti-corruption could be Jokowi's ticket to political redemption.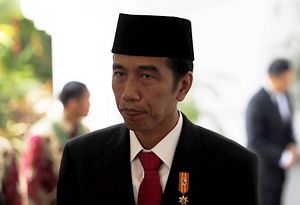 Corruption has once again taken center stage in Indonesia, following the resignation in December of House Speaker Setya Novanto for being caught attempting to extort Indonesia's largest taxpayer, U.S. mining giant Freeport McMoRan's subsidiary PT Freeport Indonesia, and mounting evidence that the devastating fires that negatively impacted the country late last year, to the tune of $30 billion, were fueled by local corruption. Political infighting has meant that Indonesia's long-simmering, critically important fight against corruption has been in limbo for nearly a year, and soon President Joko "Jokowi" Widodo will face a decision whether or not to make fighting corruption the centerpoint of his administration, or its downfall.
To the surprise of many, Indonesia actually improved in the recently released Corruption Perception Index, moving up from 107th last year to 88th this year, which the organization credited to improvements in the country's bureaucracy and public services – initiatives pushed forward by Jokowi – but also partly to increasing corruption in other countries. However, the report noted that Indonesia could take a huge step forward if it empowered its once famous, internationally renowned anti-corruption agency.
That would be Indonesia's most trusted public institution, the Corruption Eradication Commission (Komisi Pemberantasan Korupsi, KPK). The KPK has made a reputation for itself globally for thoroughly investigating, researching, and trying high-level targets, and, in its first 13 years, achieving an astounding 100% conviction rate.
"The KPK was clearly seen as one of the strongest anti-corruption institutions in the world, showing recognition that this is a serious problem worth tackling," said Samantha Grant, regional coordinator for Southeast Asia at Transparency International.
The KPK was by no means perfect, and its limited scope – national level cases – meant the vast majority of Indonesia's corruption, which takes place at the regional and local levels, was going un-prosecuted. Nevertheless, the KPK made numerous enemies, and early last year, the fight reached a boiling point when two KPK commissioners were arrested by the National Police on trumped up charges that were clearly meant to permanently weaken the institution.
Now, finally, after months of delay, the House – yes, the same one which just had its speaker resign due to corruption – picked five new commissioners. Just days later, they were sworn in by Jokowi, who announced a need to "get the KPK functioning again." None of the new commissioners have previous experience with the KPK, with one, Alexander Marwata, having often sided with graft defendants in his previous role as a judge. Three others were derided by NGOs as being weak, and only one commissioner, Laode Muhammad Syarif, known for his green leanings, was accepted as having the qualifications and stature to be part of the KPK. Not surprisingly, much of Indonesian civil society was disappointed.
"I am worried that the KPK is no longer a commission to eradicate corruption, but a commission to support corruption," Indonesian Corruption Watch's Emerson Yuntho said in a statement.
"The new appointments certainly don't strengthen the KPK – they are the latest in the House of Representatives' ongoing attempts to defang the commission," said Gregory B. Poling, an Indonesia expert at the Center for Strategic and International Studies in Washington.
The KPK is a peculiar entity in many ways. Though its members are appointed by the House and approved by the president, it is an independent institution that is accountable primarily to the public. It has, time and time again, stood up against political pressure, and in the Indonesian public it has a powerful ally. A unique factor in democratic Indonesia is the willingness of regular citizens to stand up for the KPK, having taken to the streets numerous times in its history as it has faced repeated attempts to have its power cut. If the new commissioners attempt to work from within to stunt the KPK, expect a reaction.
"The public has come to the KPK's back more than once in the past," said Poling. "I don't think the man on the street will sit back and let this happen – they will become engaged."
Part of this is that many Indonesians regularly brush up against corruption in some form or another. "The public supports the fight against corruption as they understand how much corruption is hurting them," said Natalia Soebagjo, executive director at the Center for the Study of Governance at University of Indonesia. "Corruption cases are spoken about openly in the media, and in social media, corruption issues often go viral."
What the public really wants, however, is the president they elected, the clean, get-it-done mayor of Solo and Jakarta, to become the anti-corruption leader they thought they were voting for. Jokowi will get a chance soon to decide where he stands on the issue. The Indonesian House of Representatives, fresh off its nominations, is now pushing to weaken the KPK's law enforcement capability. Currently the KPK can arrest, hold, and try members independently of the national police, an institution that is not only widely corrupt, but has repeatedly fought against the KPK and is the source of the institution's current weakness.
Public Opinion
"Public opinion is in favor of the KPK and against the House's plan. Jokowi should help them to voice their will," said Burhanuddin Muhtadi, a political researcher who runs Indonesia Political Indicator.
In fact, Jokowi may have some political capital to work with too. Despite the disappointment of the past year-plus since he was inaugurated, Jokowi remains personally popular in Indonesia, and recent public opinion polls show him returning to his previous position as one of the country's most popular politicians, alongside his former deputy, Jakarta Governor Basuki "Ahok" Tjahaja Purnama, and Bandung Governor Ridwan Kamil. All three are new-wave politicians with no ties to Indonesia's political oligarchy, with reputations as clean, anti-graft leaders.
In fact, corruption is partly why many don't blame Jokowi for the lack of change in government, recognizing that he barely controls the corrupt House, and is still under the thumb of his party's despised leader, Megawati Sukarnoputri. Pushing forward on the corruption fight and standing behind the KPK would allow the president to both appeal to the public, while also weakening the position of those in Jakarta, including in his own political party, who oppose the KPK.
"Jokowi wanted to avoid conflict, and thus deferred to his political patrons, which had resulted in a very inept response," said Poling, speaking of the year-long incapacitation of the KPK.
Adding to the fire, quite literally, are the recent fires that burned more than 2 million hectares of land in Sumatra and Borneo, emitting haze that impacted the health of an estimated 44 million people. Corruption was a key driver in not only the illegal burning of land, but years of lax enforcement of deforestation and the handing out of land to cronies. A KPK report released in October found that illegal deforestation sales between 2003-2014 were an astounding $81 billion, resulting in up to $8.9 billion in lost state revenue.
Both ASEAN and global government are strongly pushing Indonesia to take action to stop the fires and the resulting haze. If Jokowi is to put an end to the recurring fires, then a strong anti-corruption push is crucial, through a cleaning out of the forestry and land sectors by the KPK, or a similar institution. There is hope that Laode – the one positive appointee – can lead this fight.
Another hopeful sign – the tapping of highly respected former KPK spokesperson Johan Budi to serve as the new presidential spokesperson. Anti-corruption supporters will be hoping that his appointment signals that the government is about to take corruption seriously. Jokowi – and Indonesia's – future both depend on it.
Nithin Coca is a freelance writer and journalist who focuses on cultural, economic, and environmental issues in developing countries. Follow him on Twitter @excinit.