Is South Asia Experiencing a Cold War?
Afghan CEO Abdullah Abdullah says it is.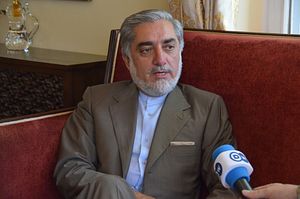 Afghanistan's Chief Executive Officer Abdullah Abdullah delivered a keynote address at a recent counter-terrorism conference in Jaipur, India. He's been in the county since January 31 on the five-day visit. While Abdullah perhaps didn't say anything groundbreaking or new, he nonetheless outlined the thinking in Kabul about the source of seemingly perpetual unrest in the region.
He roots current troubles in three periods: the Cold War, post-Cold War era, and the post-9/11 era, noting that the "failures to follow through, the missed opportunities for regional cooperation, and the continued pursuit of zero-sum policies characterize these three eras. And together they have contributed to creating an enabling environment for terrorism and its utilization as an instrument of state policy."
Abdullah doesn't name names with regard to which states have utilized terrorism as an instrument of state policy but the target is clear: Pakistan.
The end of the Cold War, Abdullah said, ushered in regional cold wars in which "regional players began to act irresponsibly in an effort to protect their self-interest and to strengthen their strategic position" while disregarding opportunities for "win-win" cooperation. Pakistan has long been criticized for its use of terrorist groups as proxies.
When dust settled from Afghanistan's presidential election and the Ghani-Abdullah national unity government tame into office, one of its first big initiatives was to try and repair Afghanistan's relations with Pakistan. The push didn't last terribly long, derailed by the Mullah Omar news late last summer. Pakistan's duplicity–or rather it's carefully curated division between bad terrorists and useful ones–makes it difficult for Afghanistan to fully trust Pakistan. The point stands, however, that Afghanistan needs Pakistan's help to deal with terrorism in the region.
Given that terrorists cross borders without regard, Abdullah proposed developing truly regional counter-terrorism strategies that could do the same. He noted that there are already forums in place to do that: "The Heart of Asia Process, the Shanghai Cooperation Organization (SCO), and the South Asian Association Regional Cooperation (SAARC), are the appropriate mechanisms, through which we could organize our collective efforts in the fight against terrorism, drug trafficking, and other such threats."
The trouble has been and will always be operationalizing these forums–converting talk into action.