Philippines' Top Diplomat Resigns With South China Sea Verdict Looming
Foreign Secretary Albert del Rosario has stepped down from his post.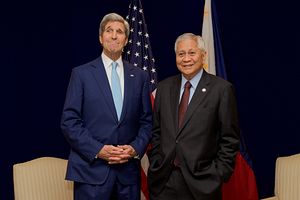 Philippine President Benigno Aquino III accepted the resignation of influential Foreign Secretary Albert del Rosario on Monday, the presidential palace confirmed.
"According to Executive Secretary Ochoa, President Aquino has accepted the resignation of Foreign Affairs Secretary Albert del Rosario effective 7 March 2016," Communications Secretary Herminio Coloma Jr. said in a statement.
While no further details were officially provided regarding his resignation, del Rosario, 76, has been suffering from a series of health issues, including a spinal problem as well as a recently detected heart ailment that caused doctors to implant a pacemaker back in November.
Del Rosario's tenure, which began in February 2011, has witnessed several milestones in Philippine diplomacy, including the strengthening of the U.S.-Philippine alliance with the inking of the Enhanced Defense Cooperation Agreement (EDCA) in 2014. The agreement was approved by the Philippine Supreme Court last month (See: "Philippine Court Upholds New US Defense Pact").
Under del Rosario's watch, the Philippines also filed a significant case against China in 2013 to settle a decades-long dispute over the South China Sea, which Manila calls the West Philippine Sea (See: "Does the Philippines' South China Sea Case Against China Really Matter?"). Del Rosario has been a tireless voice drawing attention to China's assertiveness within the Association of Southeast Asian Nations (ASEAN) as well as in other international fora, including at the Arbitral Court at the Hague last year. A verdict on the case is expected later this year.
The American educated diplomat, who previously served as the Philippines' ambassador to the United States from 2001 to 2006, has just participated in the second iteration of the U.S.-Philippine 2+2 ministerial consultations, inaugurated back in 2012, as the two countries commemorate the 70th anniversary of the establishment of diplomatic relations in 2016 (See: "US, Philippines Boost Ties in Ministerial Meeting").
Del Rosario has reportedly recommended that Laura del Rosario (no relation), the undersecretary for international economic relations, to succeed him. As undersecretary, del Rosario oversaw the Philippines' hosting of the Asia Pacific Economic Cooperation (APEC) forum in Manila last November.