Thailand's Junta Chief Pledges New Elections in 2017
Premier says much-awaited polls will take place next year regardless of the fate of a new draft constitution.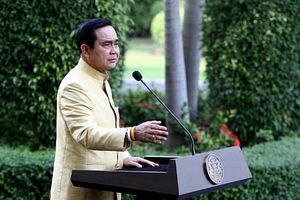 The head of Thailand's ruling junta Prayut Chan-o-cha has pledged that a much-awaited general election will take place in 2017 in spite of fears that a new draft constitution may once again derail polls.
Since the military junta assumed power in a coup in May 2014, elections have repeatedly been delayed – first into 2016 and then 2017. In September last year, government officials had said that polls would be held in mid-2017 in accordance with a 20-month process known as the "6-4-6-4 road map to democracy," where the government would have six months to draft a new constitution, four months to hold a referendum on it, six months to draft organic laws to support the constitution and four months to campaign ahead of the election (See: "When Will Thailand's Elusive Election Be Held?").
But with a new draft constitution released last week criticized by political parties across the spectrum, there are concerns that it will be rejected in a July referendum, thereby once again delaying a return to democracy. Upon the release of the new constitution, Meechai Ruchupan, the chairman of the junta-appointed Constitution Drafting Committee, admitted that it was difficult to find solutions for reconciliation and that the government roadmap for a mid-2017 election would be delayed by a minimum of two to three months.
"In terms of finding a solution for the current situation, we really could not think it up and have told the Prime Minister so," he said.
This week, Thailand's prime minister Prayut sought to reassure observers that polls will be held in 2017.
"The year 2017, 2017, 2017," a visibly irritated Prime Minister Prayut Chan-o-cha told reporters Monday according to Reuters.
Last week, Prayut also had said that the country would hold an election next year even if the draft constitution does not pass a referendum.
"No matter whether the draft Constitution passes the referendum or not, the government will hold the election in 2017 according to our roadmap," Prayuth said.
As others have noted, Prayuth's comments have left vague as to what will actually occur should the new draft constitution not be approved in a referendum – whether it is the adoption of another draft charter, the amendment of an interim charter, or some other outcome.
"If the draft fails to make it through the referendum, then it will be my business. I tied the knot, now I must learn to untie it. I will ensure a general election is held," he said according to the Thai newspaper The Nation.