The Walled City of Lahore: Protecting Heritage and History
After years of negligence, Lahore's historic and cultural treasures are being rescued from further deterioration.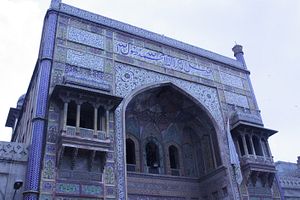 After years of negligence and a lack of serious preservation efforts, the historic buildings and facades of Lahore's old city are being rescued from further deterioration. The overall jurisdiction of the walled city includes various heritage and historical buildings, including a sacred gurdwara, Hindu temples, and old mosques. There is a population of about 300,000 living within the walled city today. The old city is known for its unique and ancient wooden balconies, temples, gurdwaras, havelis, narrow winding streets, and busy bazaars.
The Walled City of Lahore initiative has helped promote cultural activities and tourism in the city. The initiative allows visitors, both local and foreign, to get acquainted with the history, architecture, lifestyle, and community of old Lahore. From the old days of the Mughal Empire to British colonial rule, visitors walk through the various heritage sites that speak about the original structure as well as the additions made during the Sikh rule and transformations of the British colonial period.
Pervaiz Qureshi, a prominent architect, urban planner, and CEO of Unicon Consulting Services based in Lahore, was part of the initial stages of this initiative. "A number of us were of the view that we need to put together a separate entity and organizational structure for the walled city alone so we could focus on the development work that's going on," he said. "Ten years ago a movement was picked up and eventually an organization was set up in 2012 which was called the Walled City of Lahore Authority."
"There were challenges and problems; the character was different because Lahore is an old city with its heritage dating back to thousands of years," he added. "It's a city that had been destroyed multiple times and rebuilt at number of occasions. So, there were some unusual set of issues relating to its urban fabric." In addition to the Walled City of Lahore Authority, Qureshi has also consulted for numerous donor and international agencies like USAID, UNICEF, UNDP, World Bank, and the Agha Khan Foundation.
According to Qureshi, one of the main issues was the extraction of the historical walled city from the old development authority, as it wasn't getting any attention and the buildings were quickly deteriorating. "Starting from 1979 to 1981, a series of recommendations were listed, first of which was to try to document the old city in terms of old heritage and see how we could conserve and preserve the history of old monuments," he said. The Walled City of Lahore program was put into effect in partnership with the Aga Khan Trust for Culture. AKTC supports the Walled City Authority in all technical matters in terms of restoration and conservation work being carried out. Other donors include the World Bank, Royal Norwegian Government, USAID, and the German Embassy.
Old Lahore is a hub of commercial activity, with a number of shops, vendors, and bazaars lining most areas around the Walled City. Some shops and stands encroach on public pathways, making it difficult for residents and visitors to walk around. "The first step involved creating a plan and deciding on preservation work on some designated areas. Under the auspices of the Aga Khan foundation, we put together a team of people and they selected an area which is called the Shahi Guzergah. This was taken up as a pilot project to not only investigate but to evolve a conservation plan and have it documented," explains Qureshi. The trail was named Shahi Guzargah; some of the historians report that it was used by the Mughal emperors and their entourages.
"Shahi Guzergah was one of the most difficult areas to select, and the choice of selection and criteria was not perhaps very wisely chosen. And that is one of the reasons why it has taken them so long to implement," says Qureshi. "A lot of people asked why this area was chosen. Once you do an intervention of a large scale urban development you try to select a pilot project which is very simple to do. You experiment with a simple area and then go on to a more complicated one."
Due to extraordinary structures such as the Wazir Khan mosque, the area also has a lot of businesses in the vicinity that had to be relocated for the ongoing renovation and preservation efforts. It has taken many years for the plan to be implemented because of a range of persistent problems in the neighborhood.
These are various interventions of a larger program. According to Qureshi, the Punjab government has a larger plan where they want to evolve the garden spaces and have them integrated with the old city. There are some sections that are being funded by the Punjab government and being realigned with the routes and traffic management.
The Walled City Authority offers various curated tourist experiences for locals and foreigners. The guided tours are planned according to routes, for instance, one route covers all major sites such as Delhi Gate, Shahi Hammam, Wazir Khan Mosque. After covering all designated areas, it ends at the popular Food Street. The tours offer visitors a vantage view of all the old city has to offer.