Unexplained Deaths: 'Fake Encounters' in Manipur
An extraordinary admission highlights a serious problem.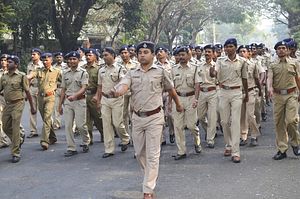 Thounaojam Herojit Singh – a police officer from Manipur – made an extraordinary statement to the media recently. He said that in 2009 he was ordered by his superiors to kill Sanjit Meitei, an unarmed man suspected of being a "militant." Meitei and a pregnant woman, Thokchom Rabina, were both killed in the incident, one of many such unlawful killings in Manipur over the past decades.
These killings provoked great outrage at the time they happened, and are currently the subject of a formal investigation. However, Herojit Singh's statements point to a much larger problem: the lack of accountability for the large numbers of "fake encounter" deaths in Manipur.
The nomenclature of "fake encounters" serves to mask what these deaths really are: extra-judicial killings by security forces – police, paramilitary and the army, in the name of "national security," resulting in the deaths of people suspected of being "militants," "terrorists," other criminal offenders, or for political or other reasons.
Statistics regarding numbers of such killings are hard to come by. The Indian Ministry of Home Affairs claims in its most recent report on Northeast India that there sere 3867 incidents in Manipur between 2007 and 2015, in which 1205 "extremists" and 486 "civilians" were killed. According to the National Crime Records Bureau (NCRB), there were no encounter deaths in India in 2014 and only two in 2013. In a judgment on this issue – the 2014 PUCL v State of Maharashtra case – even the Supreme Court raised doubts about the accuracy of the NCRB figures. A petition currently pending in the Supreme Court alleges that over 1500 civilians have been extrajudicially killed in Manipur since 1979. And these are just the cases that were either reported or documented. The full number remains unknown.
Under international law, the use of force must be necessary and proportionate, and lethal force may only be used where strictly unavoidable in order to protect life. It is plausible that some of these deaths may have been a result of a lawful and proportionate use of force, but it is clear that many were unlawful. In any event, the lack of effective and impartial investigations or prosecutions means that there is no way to know. Civil society groups and human rights defenders have called for accountability. The Indian Supreme Court has repeatedly emphasized the need to investigate what it called "unexplained deaths," and reinforced guidelines that should be followed by the police and other agencies involved in investigating these deaths.
In Manipur, however, these guidelines are rarely followed in practice. In several of the cases that form part of the petition pending before the Supreme Court, for example, no First Information Reports (the start of an investigation) were filed. In cases where investigations are conducted, they are either inadequate or the final reports are kept confidential. For example, the report of the judicial enquiry into the alleged rape and murder of Thangjam Manorama by the Assam Rifles was completed in 2004 but was only made public in 2014.
Manipur has been the site of an armed insurgency for decades, and has witnessed deaths, injuries and threats resulting from the often unlawful conduct of armed groups. The existence of the large numbers of "fake encounters" in Manipur is rooted in the implicit belief amongst state officials that such action is necessary to deal with the insurgency. This contributes to the lack of accountability, but the blame also lies with the existing legal structure.
For one thing, India's victim and witness protection system is not adequately developed. Existing provisions are piecemeal and rely heavily on police to perform the protection function. This is problematic where the suspected perpetrators themselves are the police. Where the investigation proceeds and there is enough material to prosecute, the law presents another roadblock. Under several provisions of Indian law, governmental sanction or permission is required before a case can even be registered against security forces. For example, section 6 of the Armed Forces Special Powers Act requires permission from the state or central government before any prosecution can be instituted against armed forces personnel acting under the act. Section 197 of the Code of Criminal Procedure contains an equivalent provision with respect to the police. In a best-case scenario, waiting for government permission to prosecute delays the trial. In a worst-case scenario – one that is far more common – this permission never arrives. Laws like the Disturbed Areas Act and Armed Forces Special Powers Act entrench this culture of impunity.
"Fake encounters" by their very nature violate the right to life, prohibitions against torture and other ill-treatment, and, where they serve as a substitute for arrest and prosecution, the right to fair trial. The lack of any investigation or prosecution of those responsible breaches the principle of accountability and frustrates the rights of victims to an effective remedy.
In his 2012 report on India, the UN Special Rapporteur on extrajudicial, summary or arbitrary executions noted the widespread use of "fake encounters" by security forces and made a series of recommendations to the government. His 2015 follow-up report noted that not one recommendation was fully implemented. India has an obligation under international human rights law, its Constitution, and the directions of the Supreme Court to end this practice and, at the very least, thoroughly and impartially investigate such cases and prosecute those responsible.
The nature of Herojit Singh's statements as well as media interest in the cases he was a part of has resulted in the central government committing to take action on this case. However, this case is the tip of the iceberg insofar as extrajudicial executions in Manipur are concerned. The Indian government must put a stop to the impunity of "fake encounters" and provide accountability for extrajudicial killings.
Sanhita Ambast is an International Legal Advisor, South Asia, at the International Commission of Jurists.