US Presidential Candidates Must Think Strategically About South Asia
What the next U.S. president needs to consider when shaping a South Asia policy.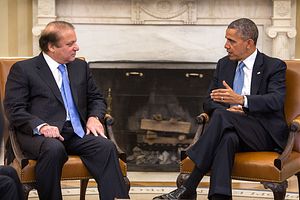 What happens in South Asia will not stay in South Asia. Developments there—from rising transnational terrorist threats, to expanding nuclear weapons arsenals, to an emergent Indian economy—pose both significant risks and opportunities for American interests. U.S. presidential candidates must carefully consider and enunciate a strategic vision for this pivotal part of the world.
Some strategic components would seem to be no-brainers. Fortifying the Indo-U.S. partnership while India modernizes its defense forces and expands its maritime capabilities to meet the China challenge would fit in this category.
What is less obvious is how the United States engages an unsteady Pakistan in a way that encourages it to contribute to regional stability, peace and prosperity. Since 9/11, the U.S. has given Pakistan more than $27 billion in economic and military aid, yet the country remains a hotbed for international terrorists. This has created tremendous uncertainty over how to proceed. Hence, we now see tremendous friction between the Obama administration and Congress over whether to provide Pakistan with eight additional F-16 fighters.
Divergent Priorities
India and Pakistan have strikingly different priorities. Earlier this month, we were in New Delhi at the same time that David Headley was being deposed before an Indian court via video conference. Way back in 2010, Headley had pleaded guilty in a U.S. court to assisting the 2008 Mumbai terrorist attacks that that killed 166, including six Americans. His deposition for the Indian court revealed little new information, but it got tremendous press coverage in India, reminding everyone of the involvement of Pakistani intelligence in the attacks.
Arriving in Islamabad later that week, we found a complete absence of any news on the Headley deposition. Instead, we observed a splashy, obtrusive sign across one of the main thoroughfares that proclaimed "Kashmir is the unfinished agenda of partition." The contrast between the two nations' priorities could not be starker.
A series of meetings with senior Pakistani civilian and military officials revealed that Islamabad's current priorities revolve around fighting the internal terrorism threat and managing the Afghan Taliban to bring about a reconciliation process in that country. The Pakistan military has deployed nearly 200,000 troops to guard its border with Afghanistan and to fight the Tehrik-e-Taliban Pakistan (TTP) in North Waziristan. Meanwhile, police and Army Rangers conduct joint intelligence-based operations against terrorists in the urban areas.
The anti-terrorist operations are bearing fruit. Terror attacks were down by 50 percent last year, and average Pakistanis say they feel safer going about their daily business and shopping in markets. But safer is not the same as "safe," as was tragically demonstrated by the January 20 attack on Bacha Khan University in Charsadda, which killed 22 students and teachers. That atrocity led to panic about the safety of schools elsewhere in the country.
Curbing the terrorist threat in Pakistan's tribal border areas has been messy, displacing over one million residents. This has contributed to a major humanitarian challenge. Meanwhile, Afghan officials have complained that Pakistan's military operations had sent hundreds of militants fleeing across the border into Afghanistan. Obviously, when the terrorist threat spans the border, both nations will need to cooperate to bring it to heel.
Elsewhere, Pakistani authorities are starting to move, albeit haltingly, against Jaish-e-Mohammed (JeM), the group allegedly responsible for the January 2 attack on the Indian airbase at Pathankot. Pakistani officials have reportedly arrested members of JeM and launched a formal police investigation into their possible involvement in the attack.
The Role of the United States

So how should the United States position itself in a region that is becoming increasingly unbalanced economically and is less stable because of non-state actors in Pakistan?
First, the United States must encourage Pakistani and Afghan officials to work together to control the border and to integrate reconcilable Taliban into the political process. There is some hope that Taliban leaders will soon return to negotiations, but any talks would also have to quickly result in reductions of violence.
And even as Washington forges ahead with solidifying ties to New Delhi, incorporating India into its Asia rebalance strategy, it must be careful not to leave Pakistan behind.
To help remedy the growing economic imbalance, Washington should support regional economic integration, including the China-Pakistan Economic Corridor. Although questions persist about China's willingness to commit major investment in the projects and Pakistan's capacity to absorb the same, any steps that might even marginally improve the energy sector and infrastructure are welcome.
Finally, Washington must keep pressure on Islamabad to shut down terrorism. Groups like Lashkar-e-Taiba and JeM not only threaten India but also contribute to global terrorism. So long as Pakistani leaders remain ambivalent toward these groups, the international community will question why they are content to allow non-state actors to drive the country's foreign policy and relations with other nation states.
Regional Context of F-16s
The F-16s are an important symbol of U.S.-Pakistan friendship. But they must be provided only in a context that supports overall U.S. regional objectives. The attack on Pathankot airbase has complicated matters, calling into question Pakistan's commitment to peace in the region. Pakistani action against JeM would improve regional dynamics and make the F-16 transfer more palatable to skeptics on Capitol Hill.
The challenges in South Asia will not disappear; indeed, they could well intensify by 2017. U.S. presidential candidates should explain how they would manage U.S. policy in this vital region.
James Jay Carafano is a vice-president at the Heritage Foundation, where he directs the think tank's national security and foreign policy research.  Lisa Curtis is a senior research fellow in the Foundation's Asian Studies Center.