What Happened to ISIS's Afghanistan-Pakistan Province?
A year after its founding, the Islamic State's Khurasan province remains a notional entity.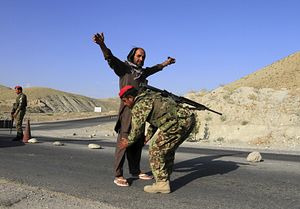 The so-called Islamic State's Khurasan province (ISIS-Khurasan), which includes Afghanistan and Pakistan, remains a notional entity a year after its establishment. It consists mainly of peripheral Afghan and Pakistani Taliban defectors who have fused with the Islamic Movement of Uzbekistan (IMU) and are clustered in remote portions of northeastern Afghanistan bordering Pakistan.
While ISIS-Khurasan has engaged in some high-profile attacks over the past year, it has lost a strategic window of opportunity to absorb local jihadist networks amid the fractious leadership transition following the announcement of the death of Afghan Taliban founder Mullah Muhammad Omar.
The loss of this opportunity is due to ISIS-Khurasan's ideological inflexibility as well as efforts by a loose "consortium" – the U.S., Afghan, and Pakistani governments, and the Afghan Taliban, al-Qaeda, Pakistani Taliban, and Lashkar-e Taiba – to obstruct its rise.
Achievements
Presently, ISIS-Khurasan is concentrated in portions of Afghanistan's remote, but strategically located Nangarhar province, whose capital, Jalalabad, lies along the most direct route between Peshawar, Pakistan and Kabul, Afghanistan. The Peshawar-Jalalabad-Kabul road was a critical supply route for the U.S.-led coalition in Afghanistan and a major artery for landlocked Afghanistan's trade with the world.
In January, ISIS-Khurasan demonstrated an ability to extend beyond Nangarhar's more remote areas and hit Jalalabad, the province's major urban center. ISIS-Khurasan claimed responsibility for a January 13, 2016 attack on the Pakistani consulate in Jalalabad. Days later, a suicide bomber struck the home of a local anti-ISIS-Khurasan tribal leader in Jalalabad, killing over a dozen people. An Afghan Taliban spokesman said that his group was not involved in the blast, which makes ISIS-Khurasan a likelier suspect.
ISIS-Khurasan aims to consolidate and expand its presence in Nangarhar and move into neighboring Kunar and Nuristan. Militants loyal to the group also operate in other parts of the country, such as the Zabul province, where former IMU members now linked to ISIS-Khurasan have kidnapped and killed Hazara Shia Muslims numerous times.
While ISIS-Khurasan's leadership comes largely from Pakistan, it lacks a safe haven in the country. Pakistan's civilian government and military have the will and capability to confront the terror group. The emergence of ISIS-Khurasan came amid an overall decline in jihadist violence in Pakistan, propelled by a more forceful and comprehensive counterinsurgency and counterterrorism campaign that began at the end of 2013. As a result, Pakistan has seen a precipitous drop in terrorist violence. Civilian deaths due to terrorism fell from a virtual all-time high of 3001 in 2013 to 1781 in 2014 and 940 in 2015 – roughly a 70 percent decline from its peak and the lowest number since 2006.
Still, ISIS-Khurasan appears to be in the midst of developing a network in urban Pakistan, as attacks attributed to the group as well as numerous arrests of alleged members indicate. What is unclear whether this embryotic network is the byproduct of active recruitment by figures connected to the ISIS core leadership in Syria or are these militants are moving toward ISIS on their own.
ISIS-Khurasan has yet to show that it can pull off attacks in Pakistan with the scale, regularity, and sophistication of competing militant groups. Last month, it took responsibility for a grenade attack on ARY News, a private Pakistani news channel that has taken a heavily pro-army stance in recent years (mainly in respect to tensions with the civilian leadership).
The deadliest operation attributed to ISIS-Khurasan was a mass shooting in Karachi targeting a bus carrying members of the Ismaili Shia Muslim community. All together, 46 people were killed in the attack on May 13, 2015. Hafiz Saeed Khan, the ISIS-Khurasan's leader, took responsibility for the attack in an interview published in January in the group's magazine, Dabiq.
Pakistani security officials have alternated between describing the killers as connected to al-Qaeda or ISIS. In October, a police official in Karachi said that the group received direction from an ISIS figure in Syria, who, by virtue of his name, appears to be a Pakistani national. Yet other officials quoted later describe the network as connected to al-Qaeda, though the group did not claim responsibility for the attack. It may be that they were self-directed and either operate in a gray zone between al-Qaeda and ISIS, or have shifted allegiance from the former to the later.
If ISIS is to make an impact in Pakistan, the path may be through low-cost, high-impact urban terrorism (e.g., mass shootings), rather than a grueling insurgency focused on control of remote terrain. Ominously, ISIS has been attracting middle-class, educated, urban Pakistanis – albeit in small numbers.
Saad Aziz, the main perpetrator of the mass shooting of Ismaili Shias, was a graduate of one of Pakistan's top business schools. Adil Masood Butt, the alleged funder of the attack was a former member of Islamist group Tanzeem-i Islami who studied at Indiana University, and had been tied to Pakistani al-Qaeda operatives, such as Akmal Waheed.
Pakistani security forces have arrested dozens of suspected ISIS members and sympathizers elsewhere in the country, including former members of Jamaat-ud-Dawa (JuD), which is seen as a front group for Lashkar-e Taiba (LeT). And a small number of Pakistanis, including women, have gone to Syria to support ISIS.
What these arrests mean remains unclear. More likely, they reflect the vigilance of Pakistan's crackdown on an embryonic network rather than ISIS's rising tide in the country.
Beyond Afghanistan and Pakistan, ISIS has claimed responsibility for a string of attacks in Bangladesh, including the bombing of an Ahmadi Muslim mosque, attacks on two Shia mosques, and the killing of an Italian aid worker. These attacks largely blend into killings of agnostics, atheists, and foreigners by al-Qaeda-linked terrorists, and do little to build the ISIS brand in Bangladesh.
Indian officials have arrested dozens of alleged ISIS sympathizers, including individuals in Karnataka and elsewhere once part of the Indian Mujahideen/Ansar al-Tawhid network that has been absorbed by ISIS. Not only do these ISIS-linked cells appear to be small in size, they also lose members to Iraq and Syria, where several have died in fighting.
ISIS-Khurasan Outmaneuvered
In the aforementioned interview in Dabiq, ISIS-Khurasan's leader Hafiz Saeed Khan smugly dismissed the presence of both al-Qaeda and the Afghan Taliban in the region, and is scornful of the oath of allegiance of the Tehreek-e Taliban Pakistan (TTP) to the new Afghan Taliban leader Mullah Akhtar Mansour.
While al-Qaeda is a shadow of its former self in South Asia, the Afghan Taliban, which is arguably ISIS-Khurasan's main competitor in the region, is ascendant. Mullah Akhtar Mansour has consolidated control over the group. His most influential detractors have shown little interest in joining ISIS-Khurasan. Similarly, the TTP, despite its fracturing, has chosen to stay, at least nominally, in Mansour's camp – though there may be tactical, covert cooperation between elements within the TTP network and ISIS-Khurasan. Should peace talks with Kabul bring about opposition to Mansour, Taliban dissidents are likely to operate autonomously of ISIS-Khurasan, not under its leadership.
As it stands, ISIS-Khurasan is more spectator than spoiler in Afghanistan. The Afghan Taliban is contesting for control over key areas in Afghanistan's north and south along Highway-1, the ring-shaped road that connects the country, running adjacent to its perimeter. In addition to controlling terrain for some time in Kunduz, Helmand, and Kandahar, the Afghan Taliban is also very capable of striking Kabul.
The Afghan Taliban aims to abort ISIS-Khurasan in its embryonic phase. It has formed a "special forces" contingent of over 1,000 fighters to thwart ISIS-Khurasan. Last year, the Afghan Taliban rescued Hazara Shias kidnapped by Uzbeks claiming ISIS-affiliation and killed their abductors.
Beyond the Afghan Taliban, other state and jihadist forces are working to stop the spread of ISIS in the region.
The U.S. drone campaign in Afghanistan is perhaps more relentless in targeting ISIS-Khurasan operatives than the Afghan Taliban. The campaign seems to have stunted ISIS's growth, but with little reliable on-the-ground reporting, its full effects are unclear. U.S. drone strikes in ISIS-controlled areas of Afghanistan tend to produce high casualty counts. And that could mean that either ISIS-Khurasan insurgents are being killed in large clusters or significant numbers of civilians are dying along with the militants.
A wide variety of Islamic and Islamist groups in Pakistan have opposed ISIS. Most notable has been the anti-ISIS campaign of JuD, which has intensified after the arrest of some of its former members for joining ISIS. It has launched a sophisticated social media campaign, declaring them as khawarij, using prophetic traditions. The JuD campaign is more than an exercise in damage control. It is a Salafi jihadist group. And there is a real threat of its members defecting to the ISIS camp, especially as LeT remains largely inactive in Kashmir and India, and Islamabad and New Delhi continue their comprehensive dialogue.
What to Look Out For
ISIS's future prospects in South Asia look dim. Not only has it missed an opportunity to integrate large numbers of Afghan and Pakistani Taliban dissidents into its network, it also has failed to demonstrate the ideological flexibility to make serious inroads in an Islamically heterogeneous South Asia. ISIS demands that those within its network adopt its takfiri variant of Salafism. In contrast, al-Qaeda, which fomented insurgencies in Afghanistan and Pakistan post-9/11, cooperated with Sunni Islamist and jihadist groups that were not Salafi or transnational, realizing its dependence on local actors.
Still, while ISIS lacks state patronage, Afghan intelligence officials may be tempted to use it to hit Pakistan. In the past, Afghan intelligence supported the TTP in its terror campaign in Pakistan. As the Pakistan-based Afghan Taliban continues to strike Afghanistan, ISIS could play, and perhaps already is playing, the same role.
Ten days after militants struck the Indian consulate in Mazar-e Sharif, Afghanistan on January 3, 2016, ISIS-Khurasan attacked the Pakistani consulate in Jalalabad, with the Indian and Iranian consulates nearby. Within the same hour, terrorists hit the Pakistani city of Quetta, in an attack that claimed by the TTP. ISIS-Khurasan also took responsibility for the attempted targeted killing of Afghan Taliban-linked figure in Peshawar last month; these targeted killings in Pakistan have allegedly been perpetrated by Afghan intelligence in recent years.
Zahir Qadir, an anti-ISIS warlord and Afghan parliamentarian, has alleged that his government is supporting ISIS-Khurasan, pointing toward alleged secret flights transporting militants to his home province of Nangarhar. He also claims that Lashkar-e Islam, an Afghanistan-based Pakistani militant group fighting against Islamabad, is supported by Kabul and provides logistical support to ISIS-Khurasan.
In addition to the potential for covert state patronage, exogenous factors could bolster ISIS in South Asia. Iran has increased its use of Afghan and Pakistani Shia fighters as cannon fodder in Syria. They fight under the Fatemiyoun Brigade. One of its recently slain commanders appears to be a Pashtun Shia from the Kurram Agency, an area that has witnessed all-out sectarian war. The return of these fighters home could upend Sunni-Shia relations in Kurram, creating greater local appeal for the ISIS brand.
In the coming months, ISIS is likely to delineate the boundaries of its Khurasan "province." Al-Qaeda has excluded Pakistan's Punjab and Sindh provinces from its conception of Khurasan. Its Al-Qaeda in the Indian Subcontinent affiliate has jurisdiction over these provinces, as well as Kashmir, India, Bangladesh, and Myanmar. ISIS may follow suit and establish a separate administrative unit for this area – a "Wilayat Hind." But much like its "province" of Khurasan, ISIS-Hind would be an imaginary space than a real stronghold.
Arif Rafiq (@arifcrafiq) is president of Vizier Consulting, LLC, which provides strategic guidance on Middle East and South Asian political and security issues.