Australia Gives the Philippines Another Military Boost
Manila takes delivery of three more ex-Australian landing craft heavy vessels in a boost for its sealift capability.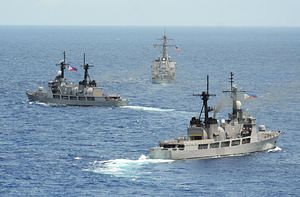 The Philippines has officially taken delivery of three former Australian landing craft, a government spokesman confirmed Monday in a boost for the country's capabilities.
According to Philippine Navy spokesman Captain Lued Lincuna, three Balikpapan-class landing craft heavy (LCH) vessels acquired by the Philippine government from Australia arrived in Liloan, Cebu on March 26 around 10:30am. The three LCHs are former ships of the Royal Australian Navy and were formerly identified as the HMAS Balikpapan (L-126), HMAS Wewak (L-130) and HMAS Betano (L-133). They have yet to be given new names.
The LCHs are part of a set of five vessels that the Philippines acquired from Australia. The first two – the BRP Ivatan (formerly HMAS Tarakan) and BRP Batak (formerly HMAS Brunei) were donated and commissioned into the Philippine Navy (PN) last year, while the three newly arrived vessels were sold to Manila for a 'friendship price' of 270 million pesos.
The Philippines had wanted the LCHs – versatile vessels capable of moving large amounts of cargo, personnel and equipment from larger ships to shore – to improve the country's sealift capability, enabling it to undertake humanitarian assistance and disaster relief (HADR) operations more efficiently as well as boost its capacity for amphibious transport. This sealift capability was found lacking following Typhoon Haiyan in 2013, the deadliest Philippine typhoon on record that killed more than 6,300 people.
"With their capability of moving large amounts of cargo, personnel and equipment, these vessels will bolster the PN's humanitarian assistance and disaster relief operations. They will also be useful in transporting troops from one operational area to another, especially during amphibious operations," Lincuna said.
Lincuna said that the vessels would be moved from Cebu to the navy shipyard in Cavite in the middle of May in preparation for their commissioning, hopefully in time for the PN's 118th founding anniversary on May 25. Around 30 personnel have been assigned to the ships while they undergo minor repairs and refurbishment. They will also be equipped with a .50 caliber machine guns as defensive weaponry.