Between China and Myanmar: The Battleground Region of Northeastern Myanmar Faces an Uncertain Future
The region deserves urgent attention as the country's opposition prepares to take power.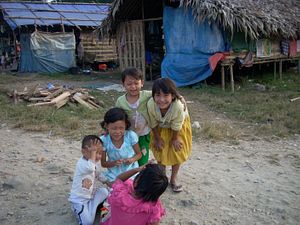 This article is part of "Southeast Asia: Refugees in Crisis," an ongoing series by The Diplomat featuring exclusive articles from scholars and practitioners tackling Southeast Asia's ongoing refugee crisis. All articles in the series can be found here.
Bordering China, northeastern Burma (also called Myanmar) pays the price of resource extraction in human displacement and environmental degradation. As Burma's new National League for Democracy (NLD) led government calibrates its relationship with China and honors commitments to the rights of ethnic groups, this battleground region will need urgent attention.
Known for remote, forested mountains with an array of minerals, including jade and gold, Burma's northeastern region is a strategic crossroads where Kachin State's east and Shan State's north border China's Yunnan Province. Struggles for control of resources and trade routes, dating back to World War II, have militarized the region.
Companies from resource-hungry China have logged the region's biodiverse forests, dredged for gold using mercury in the rivers, run petroleum pipelines through Shan State and attempted to build the enormous Myitsone dam in Kachin State, which could threaten the entire Irrawaddy River watershed. Heroin refined from opium poppies grown in the region and methamphetamine manufactured there are trafficked to China.
During the 1990s, ceasefire agreements were reached between Burma's military regime and many of the ethnic armed opposition groups which had been fighting for independence, federalism or autonomy for decades. During a 17-year ceasefire, the Kachin Independence Organization (KIO), one of the largest of those groups, enjoyed a peace dividend as the area it administered on the China border thrived, but at the cost of the large-scale loss of forests to Chinese timber companies. In northern Shan State, narco-warlords presided over ceasefire-enabled prosperity (including casinos catering to gamblers from China.)
In June 2011 Burma's military broke the ceasefire with KIO. Fierce resistance by KIO and its ethnic allies in eastern Kachin State and northern Shan State has cost Burma's government military thousands of casualties, while the government's use of aerial bombardment has failed to force a surrender. Government forces' tactics have included well-documented attacks on civilians in the conflict zone, including torture, rape, mutilation, summary execution, confiscation of crops and property and the burning of houses and churches.
Fear of human rights violations has led to an estimated 120,000 fleeing the war between Burma government forces and KIO since mid-2011. In November 2011, a 58-year-old Kachin woman told Project Maje that she "left my farm animals and fled with a group of eight people when we heard shots fired. We heard that people were taken away and killed, and their farms destroyed."
Neighboring China prohibited Kachin refugees' entry, so most are internally displaced persons (IDPs) who have remained within the borders of Burma. An estimated 60,000 IDPs are in camps set up in KIO-controlled territory and an equal number are in government-controlled areas, especially Kachin State's largest city, Myitkyina.
Initially, aid for IDPs came only from within Kachin society. Volunteer organizations like Kachin Development Group, Wunpawng Ninghtoi (Light for the People), and Relief Action Network for IDP and Refugee were formed in KIO-controlled border areas to administer and supply camps including those near the KIO border towns of Laiza and Mai Ja Yang. Their efforts were supported by funds raised by overseas Kachins. Starting in December 2011, United Nations (UN) aid convoys reached refugee camps at Laiza, followed by sporadic deliveries until September 2014.
In Burma government-controlled regions of Kachin State, several IDP camps were established in and around Myitkyina and nearby Waimaw with support from local organizations including Kachin Baptist Convention and Metta Development Foundation. As the war continued, Burmese peace movement benefit concerts in distant cities like Yangon raised funds for the Myitkyina IDPs.
Since early 2012 the United Nations High Commissioner for Refugees (UNHCR), the UN's refugee agency, the World Food Program (WFP) and other UN agencies have been supplying food, shelter and other aid to IDP camps in government controlled areas. UNHCR works through local non-governmental organizations (NGOs) to distribute aid, but with other world crises competing for funds, the UN agencies' US$71 million request for Kachin State and Shan State IDPs was met with only an $8 million commitment in 2015, causing allotments to be reduced to less than 20 cents per day per IDP family, which is below survival level.
Life in IDP camps in both the government controlled- and KIO controlled- areas has been particularly difficult during the harsh, freezing winters of the northern mountains and during the rainy seasons when floods and mudslides are common.
Volunteers from churches and other organizations have staffed schools and clinics for IDPs and started livelihood programs. The volunteers are themselves at risk in conflict areas. In January 2015, two volunteer teachers from the Kachin Baptist Convention were raped and murdered in a Shan State village where government troops were stationed. IDP camps in KIO territory have been hit by Burma government artillery shells and were in range of aerial bombardment during attacks on KIO's Laiza headquarters. In Burma government-controlled areas, IDPs have been arrested and tortured on suspicion of being KIO members or supporters.
On Shan State's border with China, in the self-administered Kokang (ethnic Chinese) region, a ceasefire between the Burma government and Myanmar Nationalities Democratic Alliance Army (MNDAA) was broken in 2009 and an estimated 30,000 civilians fled across the border. Most eventually returned after the MNDAA was suppressed.
Conflict in Shan State's Kokang area flared up again in early 2015, sending as many as 60,000 refugees into China's Yunnan Province. Unlike Kachin refugees, the ethnic Chinese Kokang were allowed to cross the border, and most were given shelter in Nansan town. The influx of ethnic Chinese Kokang refugees from Burma has been a serious concern for China's government, along with cross-border "collateral damage" from Burma government forces' attacks on MNDAA. Most of 2015's Kokang refugees gradually returned home, but as much as a third of the population was estimated to be absent from the area at the time of Burma's national election in November 2015.
Several armed groups signed a ceasefire agreement with the Burma government in October 2015, but the MNDAA and some other combatant groups in Shan State were not involved in the process and the KIO rejected the pact as non-inclusive. With opposition leader Aung San Suu Kyi's NLD taking a majority of seats in parliament, hopes are pinned on renewed negotiations that could lead to a durable political solution including a federal system or increased autonomy of ethnic regions.
A significant indicator of how much control Burma's new NLD government can assert over Burma's military will be whether attacks and human rights violations by government soldiers continue in Kachin and Shan States, or if occupying forces are withdrawn from those ethnic areas.
However and whenever the war in the northeast ends, the return of IDPs and refugees to their homes in Kachin and Shan States will be complicated by various factors. An immediate safety concern is landmines. According to the International Campaign to Ban Landmines, Burma had the third highest usage of landmines in the world in 2014. The length of time spent away from villages and farms also raises questions about how these IDPs and refugees would be able to return back to the livelihoods they once had. "Even if the IDPs can go back to their villages because the political situation is now good, we would still need to assist them so they can go back to making a living like they did before the fighting," Phyu Ei Aung of Metta Development Foundation told Myanmar Now in January 2016.
In addressing the roots of conflict, the NLD government must also prioritize new policies to rectify the environmental damage and corruption associated with resource extraction in Kachin and Shan States – including the jade business with its deadly erosion and massive wealth siphoned away by military cronies, the devastating legal/illegal logging, and the suspended-not-cancelled Myitsone dam. Tackling the complexities of northeastern Myanmar unsurprisingly requires a multi-faceted solution
Edith Mirante is founder of Project Maje, an independent information project on Burma's human rights and environmental issues. She is the author of two books on Burma.