Can Washington and New Delhi Find Common Ground on Intellectual Property?
Intellectual property represents a big asymmetric advantage for U.S. economic competitiveness.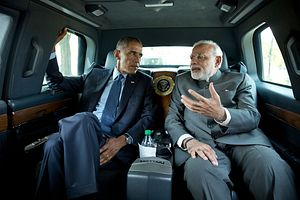 Intellectual property (IP) protection remains a sticking point in the budding bromance between Washington and Delhi. Reports have emerged over the last month that the Indian government has given informal assurances on IP protection to a U.S. business lobbying organization. Such assurances would violate at least the spirit of Delhi's commitment to viewing IP regulation within the framework of broader humanitarian goals, and as such have generated considerable controversy.
It's not surprising that India and the United States feel differently about IP protection. Vast social and economic differences often lead to different regulatory approaches; the U.S. favors strong protection for its corporate interests, while especially in pharmaceuticals, India reserves the right to compel firms to license their IP in service of broader health care goals. In the past, these practices have made Western firms reluctant to invest in Indian industry and infrastructure (see the Novartis case from 2013).
In this case, U.S. business interests seem to be taking precedence ahead of Indian law. A U.S.-India Business Council (USIBC) report suggested that the organization had received assurances that U.S. companies would not be subjected to compulsory licensing. The Indian government has denied this report, insisting that its IP practice comports with the requirements of the TRIPS (Trade Related Aspects of Intellectual Property Rights) regime, and that it retained the sovereign right to apply its regulatory scheme as the government saw fit.
There's little question that the United States has pressured India to toughen its IP protections. This pressure has happened at both the commercial and the political levels. Then again, Washington pressures everyone on IP. IP protection has become a centerpiece of every trade agreement the United States has pursued over the past two decades. The Obama administration, and the Bush administration before it, have committed to the idea that IP represents the asymmetric advantage of the U.S. economy, and that the protection of IP can ensure the U.S. position at the top of the world economic food chain. In return for stronger IP protection, the United States has dangled foreign direct investment (FDI) and trade access to the U.S. market, as well as atmospheric security commitments.
While sales of military hardware and know-how (such as with the EMALS carrier launching system) have avoided some of these problems, regulations on the Indian defense industry have led to other issues, including a reluctance on the part of U.S. firms to commit to investment and technology transfer. As intellectual property issues become more salient in the defense sector, the U.S. and India may run into more problems, even on hard security questions. Then again, the U.S. has plenty of carrots to offer, and may succeed in bringing Indian IP practice into greater accord with its own.