China's Global Food Quest
ChemChina's $43 billion acquisition of Swiss-based Syngenta could be a game-changer for food production.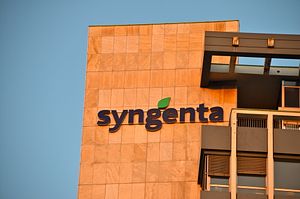 After spending hundreds of billions of dollars over the past two decades acquiring oil, natural gas, coal and other mineral resources around the global, food-related sectors are becoming the new favorite of China's overseas investment. It is estimated that over the past five years, China's overseas food-related M&A topped $20 billion. This includes Shuanghui International's $4.7 billion takeover of American company Smithfield Food in 2013 and the acquisition of Dutch grain trader Nidera and Singapore-based Noble Group's agribusiness by China National Cereals, Oils and Foodstuffs Corporation.
However, all of these deals pale in comparison to China's latest move. In November 2015, China National Chemical Corp (ChemChina) entered talks to buy the Swiss-based Syngenta for $41.7 billion. Subsequently, ChemChina increased its offer to more than $43 billion. This is the largest overseas acquisition by a Chinese company to date.
In February 2016, Syngenta agreed to the offer from ChemChina. The deal still needs the support of Syngenta's shareholders and regulatory approval, especially from the U.S. government, given Syngenta's large presence in the U.S. market. While there are already security concerns in the U.S., particularly among agricultural officials, about the deal, it is quite unlikely that the U.S. will block the deal. The Committee on Foreign Investment in the United States (CFIUS) has never before blocked a deal on food security grounds. For instance, CFIUS approved Shuanghui's takeover of Smithfield Foods, despite concerns in the U.S about the implications for America's food safety and security.
Food Security
This is certainly not the first major overseas acquisition by ChemChina. In fact, since 2006, ChemChina has spent billions of dollars on overseas M&A, including the $2.4 billion acquisition of Israel's Makhteshim Agan Group, the world's largest maker of generic pesticides, and the 400 million euro purchase of France's Adisseo group, a global animal nutrition feed firm. ChemChina's boldest attempt to buy Syngenta certainly makes business sense, as it would make ChemChina not only the largest pesticide producer in China but also around the world.
However, what ChenChina is more interested in is Syngenta's seeds business, particularly genetically modified (GM) seeds. This in turn primarily reflects China's rising food security concerns and strategic considerations.
As the most populous country in the world, food security is of paramount importance to China's policymakers. However, with very limited arable land and fresh water resources, yield improvement is considered the most hopeful solution to China's food problem and China has placed great emphasis on agricultural technologies, particularly modern seeding technologies. As China's former Premier Wen Jiabao said in an interview in 2011, food security remains China biggest concern, and the only way to address the challenge is to rely on high-yield variety breeding and GM technologies to transform the agricultural sector.
GM technology is also viewed by the Chinese leadership as an emerging sector of strategic importance. In a speech at the Rural Work Conference in 2014, Chinese President Xi Jinping called on domestic scientists to "boldly research and innovate, and dominate the high points of GM technologies and big foreign companies must not be allowed to control the market for genetically modified crop."
Therefore, the Syngenta deal will not only contribute to China's food security but also help it seize the commanding heights of GM technologies. Given that Syngenta has one of the broadest seeds portfolios in the GM industry, including 6,800 varieties of its own proprietary genetics, this $43 billion takeover could transform ChemChina into a leading developer of GM seeds, capable of competing with U.S. giants Monsanto and DuPont, even after the latter's merger with Dow Chemical Co.
Embracing GM Technologies
Despite billions of dollars of investment in GM technologies over the past few years, the Chinese government has been quite cautious about commercializing GM crops, particularly GM grains. This is primarily because of a highly skeptical public and the strong resistance from the defense establishment towards GM food. One of the key sources of the public distrust and the suspicions of the People's Liberation Army (PLA) towards GM food is the fact that GM technologies are dominated by Western countries, particularly Monsanto and DuPont. PLA strategists have been arguing that GM food is a U.S. bio-weapon targeting China. In 2013, in an educational film jointly produced by the National Defence University, two departments under the Ministry of Defence, and the Chinese Academy of Social Sciences claimed that the United States is using GM food to destroy China. In December of that year, at the 12th National Security Forum in Beijing, several Chinese generals, including the retired Lieutenant-General Mi Zhenyu – a top PLA strategist – criticized GM food as threatening China's national security and called for establishment of biosecurity defence system.
Making ChemChina a national champion of GM technologies by acquiring Syngenta could ease this resistance, creating a clear path for the commercialization of GM grains in the future. Recent statements that it will carefully promote GM technologies have sent a clear signal that the Chinese government is determined to push forward with the commercialization of GM technologies. Should ChemChina's takeover of Syngenta prove a success, the commercialization of GM grains in China could take place soon. As the largest agricultural producer and food importer in the world, China's changing attitude towards GM technologies could also prove a game changer for the future of GM food and for the global food production system.
Zhang Hongzhou is an Associate Research Fellow with the China Programme at the S. Rajaratnam School of International Studies (RSIS), Nanyang Technological University, Singapore.