India, Thailand Set Up New Joint Security Commission
New body announced during Thai defense minister's visit to New Delhi.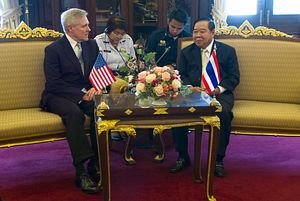 Thailand and India have agreed to form a new joint security commission as they look to strengthen bilateral cooperation, both sides announced during the visit of Thailand's defense minister last week.
Prawit Wongsuwon, who is also deputy prime minister, paid an official visit to India from March 17-18, where he met several high-level officials. As with several recent bilateral engagements, defense ties were a key topic of conversation, particularly in his meeting with Indian Defense Minister Manohar Parrikar and National Security Adviser Ajit Doval.
According to Thai defense ministry spokesman Kongcheep Tantrawanich, the two sides discussed major security threats – ranging from terrorism to drug trafficking to cybercrime – as well as the state of their cooperation. They also agreed to establish a non-military joint security commission help boost strategic collaboration.
"Both sides agree to set up a joint commission consisting of police as well as legal and security experts. This is to strengthen security cooperation and maintain strategic partnership," Kongcheep said.
He also added that Parrikar had agreed to expand defense industry cooperation and facilitate knowledge transfer on cyber security to Thai officials, while Thailand would exchange security information and increase cooperation with India on maritime security, especially in the Strait of Malacca.
During his visit, Prawit was accompanied by a Thai delegation which included the permanent secretary for defense, the police chief, and the secretary-general of the National Security Council.
Prawit's visit to India comes ahead of Thai prime minister Prayut Chan-o-cha's much-anticipated trip to New Delhi in April. The two sides will also commemorate the 70th anniversary of their bilateral relationship in 2017. Next year, India is also expected to send warships to join Thailand's International Fleet Review 2017 in August, which will coincide with the 50th anniversary of the founding of the Association of Southeast Asian Nations (ASEAN).