Indonesia Plays Up New South China Sea 'Base' After China Spat
Lawmakers want existing plans for a new 'base' in the Natunas to get a closer look.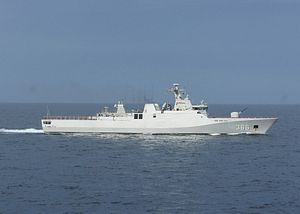 Last week, a Chinese coast guard ship once again attempted to intercept an Indonesian crackdown on a Chinese boat for illegal fishing near the Natuna Islands in the South China Sea, sparking unprecedented outrage from Jakarta.
Though Indonesia is technically not a claimant in the South China Sea disputes, it is an interested party since China's nine-dash line overlaps with the exclusive economic zone (EEZ) around the resource-rich Natuna Islands, a point that has long miffed Jakarta. The latest incident has predictably led to speculation about the extent to which Indonesia might reexamine its approach to the South China Sea and its overall policy towards China under its president Joko "Jokowi" Widodo "See: "Indonesia's South China Sea Policy: A Delicate Equilibrium").
As I noted in a previous piece, my own sense is that we will see a recalibration of Indonesia's South China Sea policy – which I've termed a "delicate equilibrium" – rather than a radical departure from it (See: "Will Indonesia's South China Sea Policy Change Amid China's Assertiveness?". This would include a faster buildup of Indonesian capabilities near the Natunas.
Sure enough, since the incident, Indonesian lawmakers have begun reiterating the importance of the construction of a military base in the Natunas. Mahfud Siddiq, the head of the House of Representatives' (DPR's) commission on defense and foreign affairs, said on March 24 that developing a base would be "important for the defense system" of Indonesia, "which shares its borders with many countries in the South China Sea."
To be sure, the plan to construct a base in the Natunas is not new. As I pointed out in a previous piece, it has been considered for a while now and was even publicly known since last July (See: "A New Indonesia Military Base Near the South China Sea?"). Siddiq himself noted that this is a plan that has been in the works since 2015 and had been planned to be completed in 2017, costing around 1.3 trillion rupiah by his estimate.
And as I noted in that piece, it is still early days and it is not entirely clear what exactly that base would look like. As the panel's deputy chairman T.B. Hasanudin noted, it may not be a traditional base – a post where military personnel are placed in a particular location ready to be deployed – but what he termed a "redisposition of forces" with additional equipment and defense equipment in the area.
But the broader point is that Chinese actions increase Indonesian threat perceptions and give these initiatives even more momentum. Since the incident, some lawmakers have called for other military initiatives as well including reinforcing the fleet supervising the Natunas. Indonesian officials, including the coordinating political, legal and security affairs minister Luhut Pandjaitan, have also said that Jakarta will boost its presence in the Natunas with better-equipped patrol boats and other defense systems, which are also moves that had been previously in the works (See: "A New Indonesia Military Boost Near the South China Sea?"). Luhut, who is no stranger to sensationalist comments, said that Indonesia would "transform Natuna Islands akin to an aircraft carrier." "It will become a strong military base with the navy and air force there," he added.
He also said that Jokowi had himself been firm on the issue. "It is part of our territorial integrity. The President told me two or three days ago: 'Luhut, I won't compromise.' So that is clear", he said.