Philippines Election Race Takes a New Turn With Grace Poe Decision
New favorable ruling for senator could play a critical role in influencing upcoming polls.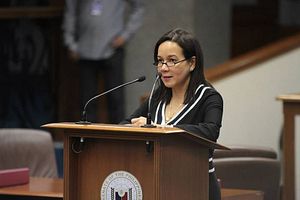 The Philippine Supreme Court ruled Tuesday that first-term senator Grace Poe is eligible to run for president, thereby removing a key uncertainty in the country's national elections due in May.
In a 9-6 vote, judges voted to allow Poe to run in the May election, court spokesman Theodore Te confirmed. The decision reverses the election commission's earlier decision to disqualify her for failing to meet citizenship and residency requirements and puts her in a position to reclaim her position as frontrunner in the race.
The Commission on Elections (Comelec) ruled last year that Poe, who was abandoned as a baby and still does not know the true identity and nationality of her real parents, is not a natural-born Filipino, a requirement for presidential candidates. It also concluded that she had not resided in the Philippines for longer than ten years since she returned from the United States in 2004, based on an election form she filled when she ran for senator.
Poe, rumored to be an illegitimate child of notorious Philippine dictator Ferdinand Marcos, has been unable to locate her real parents and was later adopted and raised by Filipino movie star Fernando Poe Jr and his wife Susan Roces. She moved to the United States in the 1980s and became a citizen there before later moving back to the Philippines, reacquiring her Philippine citizenship and renouncing her U.S. citizenship.
In oral arguments before the Supreme Court, Poe's chief counsel insisted that international law guarantees her right – even as a foundling – to run for president, and that the circumstances around her birth as well as the clear record clarifying when she left and returned to the Philippines essentially resolve both the citizenship and residency questions.
If the ruling holds up, Poe, still a frontrunner in the presidential race, would be in a strong position to emerge as the next leader of Southeast Asia's second most populous nation. The most recent poll by independent group Pulse Asia showed that Poe continued to lead despite a slight dip in her numbers following the election commissions decision, coming in at 26 percent, with current vice president Jejomar Binay catching up in a statistical tie with her at 25 percent. Meanwhile, southern city mayor Rodrigo Duterte and ex-interior minister Manuel Roxas, current President Benigno Aquino III's handpicked successor, are both tied at 21 percent.
Te, the high court's spokesman, said that the text of the main ruling and the opinions of the justices would be released in the coming days. Poe's opponents have already said that they may seek an appeal of the decision, particularly since it was a close one that could be reversed following reconsideration.
Poe's father had cleared a similar roadblock to his own presidential bid in 2004 when the Supreme Court ruled 8-5 that he was a natural-born citizen qualified to run for president. He eventually lost to incumbent president Gloria Macapagal-Arroyo.