Split, Merge, and Lose? The Future of Party Politics in Japan
An opposition merger is a symptom of a deeper problem with Japanese party politics.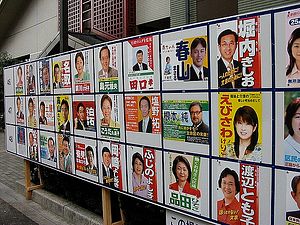 Once again, Japan is about to get a new political party. Two opposition parties, the Democratic Party of Japan (DPJ) and the Japan Innovation Party (Ishin no To), have agreed to merge into one, the Democratic Party (DP or Minshin To), with the aim of unifying and consolidating a fragmented opposition against the ruling coalition, led by the Liberal Democratic Party (LDP).
This merger could be understood as one of the major outcomes of a series of opposition attempts to work together. Since the last session of the Diet, where Abe's LDP-led administration finally passed the controversial security bills, Japan's opposition parties have explored ways to counter Abe's government. With their eye particularly on the upcoming election for the upper house and a potential election for the lower house, the opposition parties have accelerated their efforts to be ready to take on the LDP-led coalition.
Nonetheless, public expectation for the new party seems to be relatively muted, according to recent polls. Moreover, none of the negative factors for the LDP – the recent economic stagnation or the series of scandals involving party members – appear to have damaged its popularity. In sum, even with the ruling coalition facing headwinds, the attempt by opposition parties to boost their momentum seems to be unsuccessful, at least so far.
The opposition's unpopularity can be explained to some extent. Given that a number of members of the Japan Innovation Party were originally from the DPJ, the merger may simply remind people of the former DPJ and its attempt at governing from 2009 to 2012, an attempt widely considered a failure. In addition, frequent party splits and mergers among the opposition have left the public feeling rather jaded by it all.
Identifying factors for the unpopularity of opposition parties is one thing; what is more important is that this situation reveals a fundamental problem that has plagued Japanese politics for years: the failure of the party system in Japan.
In theory, political parties are meant to aggregate scattered public preferences and present voters with a set of policies as clear options. One of the crucial roles of political parties is to clarify and prioritize a wide range of issues through the political process both inside and outside parliament. If we consider Japanese party politics today in the context of certain policy issues such as national security or nuclear energy, differences among parties may well be evident. On many other issues, though, the distinctions are harder to discern. Simply put, the parties seem to be fundamentally similar, and it is hard to place them on a policy spectrum for any given policy area.
Although Japan has seen the rise and fall of a number of parties in recent years, this does not mean that voters enjoy great choice. In fact, in policy terms, voters have very limited options. Of course, the kind of political polarization seen in the U.S. is hardly appealing, but the Japanese electorate would doubtless welcome a much wider spectrum of policy choices.
Given this fundamental malfunction, splitting and merging parties will never be a solution, nor will creating another new party or asking the public to give an existing party a new name. Rather, what Japan needs is a fundamental restructuring of existing parties, which includes both incumbent and opposition parties based on each member's policy stance and with the aim of presenting voters with a clear policy spectrum.
Michio UEDA is an independent scholar based in Tokyo. As a political scientist, his main focus has been party politics and elections in Southeast Asian and East Asian countries. Michio received his LLB from the University of Tokyo, and an MA with distinction in Southeast Asian Studies from the University of Wisconsin-Madison, where he studied as a Fulbright scholar. He previously worked in Japan's Ministry of Defense.