The Truth About Myanmar's Rohingya Issue
It is much more complex than is often portrayed by some.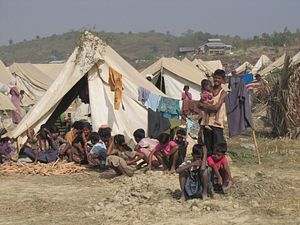 This article is part of "Southeast Asia: Refugees in Crisis," an ongoing series by The Diplomat featuring exclusive articles from scholars and practitioners tackling Southeast Asia's ongoing refugee crisis. All articles in the series can be found here.
After over 50 years of military rule, Myanmar is finally making the long-awaited transition to elected government. Its second liberation is brought about by Aung San Suu Kyi, the head of the opposition National League for Democracy (NLD) and the daughter of Aung San, the man who is known for engineering Myanmar's first liberation from the British. Yet, as foreign media converges on the nation, coverage in recent months has been focused on one issue: the Rohingya.
Nicholas Kristoff's recent article in The New York Times begins: "Soon the world will witness a remarkable sight: a beloved Nobel Peace Prize winner presiding over 21st-century concentration camps." Tens of thousands of Rohingya have been forcibly confined in deplorable conditions in Sittwe, whilst there is evidence that the ethnic cleansing perpetrated under the military government amounts to genocide. In May 2015, stranded Rohingya off the coast of Thailand elicited humanitarian outrage from the international community. Ever since, foreign commentators have called for an end to what appears to be government inaction or lack of accountability for extreme human rights abuses in Rakhine state.
But international attention directed at the issue – meant to hold the government accountable –may have in fact inadvertently played a role in exacerbating tensions between the Rohingya and the Rakhine Burmese. Increasing resentment is bred within the Rakhine Buddhist community, who believe the situation has been mischaracterized.
In most cases the situation has been mischaracterized. Rakhine history expert Jacques P. Leider may have put it best in his analysis Rohingya: The Name, The Movement, The Quest for Identity. "By narrowing the debate on the Rohingyas to the legal and humanitarian aspects, editorialists around the world have taken an easy approach towards a complicated issue… where issues like ethnicity, history, and cultural identity are key ingredients of legitimacy," Leider states.
In even a cursory survey of Rohingya history, it is clear that the Rohingya are not an ethnic, but rather a political construction. There is evidence that Muslims have been living in Rakhine state (at the time under the Arakan kingdom) since the 9th century, but a significant number of Muslims from across the bay of Bengal (at the time a part of India, now Bangladesh) immigrated to British Burma with the colonialists in the 20th century. They are, as defined by Benedict Rogers (himself a prominent critic of the military regime's persecution), "Muslims of Bengali ethnic origin." The group referred to as "Rohingya" by contemporary Rohingya scholars (and most of the international community) today actually display huge diversity of ethnic origins and social backgrounds, and, as Leider argues, the existence of a "single identity" is difficult to pinpoint.
This is not to deny the Rohingya's claims for citizenship. This is, however, to point out that claims to legitimacy are much more complicated than is currently understood. As one diplomat told me: "On all issues, the people of Myanmar are with you. But on the Rohingya issue, the people will never be with you." What is at the heart of this huge gap between perspectives of the majority of Burmese and the international community, and how does this inform making progress on alleviating the genuine humanitarian crisis facing the Rakhine Muslims in Sittwe?
At stake are issues of legitimacy. The international community's use of the term 'Rohingya' validates the narrative of essentializing a Muslim identity in Rakhine state. In the most conservative terms, we can say that scholars of Rohingya history have not understood this to conclusively be the case. Yet, the lack of nuance with which the international community has approached very important issues of legitimacy has contributed to a sense that Rakhine Buddhists are misunderstood, and besieged. On the other side of the political tension in Rakhine state, as shown by Schissler, Walton and Phyu Thi's "listening project" in this series, are Rakhine Buddhists who are genuinely afraid of a (false) Muslim takeover.
Myanmar remains a rumor driven society. In Kyaw Yin Hlaing's analysis of Buddhist misapprehension of Muslim Burmese, surveys were conducted in seven cities in Myanmar, with 500 participants in total. It is clear that anti-Muslim propaganda has become part of regular nationalist discourse. Of the survey respondents, 85 percent cited fear of Muslims turning the country Islamic as the main reason for their dislike of Muslims. In Rakhine state, this discourse is repeated and amplified due to the outbreaks of communal violence.
Yet, in New York Times coverage of the tensions between Muslim and Buddhist Burmese, very few Rakhine Buddhist voices were heard. When asked why, Kristoff replies, "The problem is the trade-offs with length… we didn't want to exceed 10 minutes for fear of losing viewers." This careless portrayal of the Rohingya's claims to legitimacy is not just a matter of academic nit-picking. It has real implications for humanitarian aid.
Just after the May 2015 boat crisis, there were large protests in Sittwe – largely ignored by the rest of the world – by Rakhine Buddhists protesting misrepresentation of the situation in Sittwe, with protestors carrying signs like "No UN, No INGOs [international non-governmental organizations]." Protests like this (of which there have been many) are aimed at the international community, from media to INGOs, and often lead to increased violence in their aftermath. This makes it more difficult for these INGOs, as well as local NGOs, to deliver humanitarian aid to those in Rakhine state.
For Aung San Suu Kyi to retain legitimacy where it matters most, it is understandable that she is not outspoken on an issue that could spark even more violence. As mentioned before, this is not simply a case of the military government leaving Rakhine state. The NLD must aim to resolve this crisis peacefully, which means cooperating not only with Rakhine Muslims but also Rakhine Buddhists.
For a Buddhist, Burman-majority nation like Myanmar, it is difficult for Aung San Suu Kyi to portray herself as a neutral arbiter. Especially in Rakhine state, where most official positions are held by Rakhine Buddhists, it is important that she be seen as someone understanding to their plight – and therefore someone who can negotiate with them to potentially seek a humanitarian alternative to the concentration camps of Sittwe. As Aung San Suu Kyi says herself, "If you want to bring an end to long-standing conflict, you have to be prepared to compromise."
If she loses legitimacy with them, not only will future negotiations on the Rohingya be closed off to her and the NLD, but the peace process itself will come under fire for her seeming partisanship, and with it, the entire process of building Myanmar's democracy. What happens in Rakhine state will be watched by the rest of the world, but it will be felt most acutely in Myanmar.
It is important that the international community tread more carefully in their currently unbridled calls for awareness about the Rohingya issue. The Myanmar people are not unaware that the Muslim minority of Rakhine state are being mistreated. Aung San Suu Kyi and the NLD, deep in negotiations on the peace process, are being constantly reminded of the importance of granting appropriate rights to ethnic nationalities in Myanmar. Myanmar will not be built in a day, nor will the camps in Sittwe be torn down in a day. The fact that lives are on the line makes it all the more important that we channel efforts intelligently.
Jasmine Chia is a student at Harvard University and one of the organizers of the Refugees in Crisis series. This article was written following research recently conducted in Yangon and Rakhine State.