Will Myanmar Backslide on Human Rights?
History is not encouraging.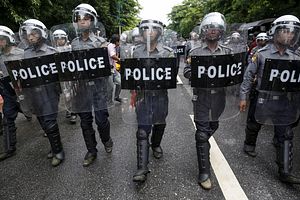 In 2012, during the early days of Myanmar's transition to democracy, U Gambira sat in the front row of a crowded hall at Yangon University and listened while U.S. President Barack Obama delivered an historic speech.
It was a significant moment, both for Myanmar and Gambira. Five years before, as a monk, he had led nationwide protests as part of the"Saffron Revolution," in which thousands took to the streets calling for an end to direct military rule. In the crackdown that followed he and many of his peers were imprisoned and brutally tortured.
It was remarkable that Gambira should be allowed to attend Obama's speech, as he had been pardoned and released just months prior. His presence seemed emblematic of the fact that deep change had come to Myanmar, part of a foreign policy success story that many in Washington were eager to claim.
During his address, Obama spoke approvingly on the progress made under new President Thein Sein, noting how, post-Saffron, "the desire for change has been met by an agenda for reform" and, referring to recent amnesties, looked forward to a "future where a single prisoner of conscience is one too many."
That night, Gambira would pose solemnly for a photograph with a beaming American president; within weeks he would be arrested again.
At the present time, with not just one but hundreds of political prisoners held or jailed by the state it would seem that, by the measure of Obama's projections, Myanmar has yet to fulfill its reform potential. Indeed, the list of those politically imprisoned or detained are testament to the repressive reflexes of Myanmar's security agencies and the Army-run ministries that control them.
Among their number are student protesters and their supporters; citizens accused of "online defamation" for sharing satirical Facebook posts; and a former opposition party official sentenced to two years in jail for "religious defamation" – a charge related to his modest criticism of a divisive Buddhist-chauvinist organization.
In addition to this, journalists have been condemned to jail for their reporting; poets for satirical poetry; interfaith campaigners incarcerated on suspicious pretexts; and land rights activists imprisoned on "bogus charges" for opposing state-licensed larceny.
And then there is Gambira who, it seems, is being punished for his past on the pretext of immigration offences (which have a long history of being selectively enforced in Myanmar.) Having been followed for several days by Special Branch, he was reportedly arrested without a warrant mid-January, on the orders of Immigration authorities. He is alleged to have illegally crossed the border from Thailand. Amnesty International have called the allegations against him "contrived, arbitrary and politically motivated."
This month Gambira was formally charged, and now faces what seems like an inevitable path towards sentencing. Suffering from acute mental illness, his weeks in jail will have already taken a miserable toll on his state of mind; despite this, he has been repeatedly denied bail.
A member of his family told The Diplomat that the judge presiding over his case has refused to see evidence from mental health experts concerning his state of mind. This practice "doesn't seem to conform to Myanmar Criminal Code and Evidentiary code rules, and definitely not international law,"  Sam Zarifi of International Commission of Jurists said. "There is no reason why Gambira shouldn't be given bail," he added.
Phil Robertson, Deputy Asia director of Human Rights Watch told The Diplomat that he viewed such treatment as "politically motivated pay-back for the years of his activism against the past military governments of Burma."
Gambira's long journey back to prison in some ways parallels the crooked arc of human rights progress – and backsliding – that Myanmar has seen since its transition to democracy began. While genuine and substantial progress has been made, egregious rights abuses continue, perpetrated in the most part by the military and the limbs of state it controls.
Such crises, however, have been obscured by the euphoria over the recent election victory of the National League for Democracy (NLD) and the accession to power of its chosen President, U Htin Kyaw. These events have begun to rehabilitate the notion that the country is moving unstoppably toward further progress.
While the NLD victory should inspire hope, there are limits to the prospects for reform: For example, the new government will have little power to halt or check military abuses. Now, a report by Amnesty International has observed, will it be able to do much about the political prisoner issue. The new government may be able to pardon some of those held improperly; however, they may not be able to end the cycle of amnesties-and-arrests.
In terms of stopping the prisons filling up once again, the major challenge that the NLD faces is the national constitution. The charter, penned by the former junta and approved in a rigged referendum in 2008, grants the Tatmadaw (as the armed forces are known in Burmese) control over key institutions, such as the police, which are run through the army-controlled Ministry for Home Affairs.
As the law stands now, an NLD government will not have any say over which protests are "approved" by the authorities; the Ministry of Home Affairs wields this power through the Myanmar Police Force – this being so, anyone engaging in unwanted political protest could be arrested by the state, even against government objections. It is also possible that security services may block the release of some of those nominated for amnesty on the grounds that they still deem them a "security threat."
Referring to Myanmar's Ministry of Home Affairs and the security services it controls, Laura Haigh from Amnesty observed: "the fact that the military retains ultimate control over these institutions is deeply worrying, and it's unclear to what extent the incoming government will be able to end the cycle of political arrests and imprisonment."
While the party can attempt to change or amend some of the laws that have been used to persecute dissidents, they do so at the risk of a political confrontation that could play into the Tatmadaw's hands. In the event of a national crisis, the military can, through its domination of the National Security Council, suspend democratic rule.
Thus, absent a showdown between parliament and the army, political arrests can and most probably will continue.
With the military holding so many trump cards, efforts by the NLD to revise old laws and prevent new abuses may well fail without meaningful external support. Given these circumstances, rights groups argue, there needs to be an increase in foreign pressure on Myanmar, accompanied by a greater recognition of the deteriorating rights landscape.
"The international community must stop burying their heads in the sand and pretend that Myanmar is a human rights success story, when the ground reality is very different. There has been a marked increase in repression over the past years as international pressure on human rights has subsided," Amnesty's Haigh told The Diplomat.
"The entire diplomatic community in Yangon should be pressuring Naypyidaw and using existing leverage to promote and protect human rights," Matthew Smith, Executive Director of Fortify Rights, said.
"The U.S. should maintain the threat of targeted sanctions against individuals responsible for human rights violations. Naypyidaw is not impervious to this type of pressure. This isn't a hermit kingdom. Engagement with sticks and carrots can and has worked," he continued.
Given the NLD's relative lack of power, if reforms stall, neglect on the part of foreign allies will have inevitably played a role. In such circumstances, a new generation of Gambiras may well appear and be likewise brutalized, then ignored.
This is not an unlikely scenario: There is every chance that Myanmar will become yet another country in which domestic efforts to advance rights and democracy will wilt in the face of international complacency. Strategic and trade imperatives for the West continue to press hard, and history is rich with precedent.
Emanuel Stoakes is a freelance journalist and researcher in the field of human rights and conflict. He has produced work for Al Jazeera, The Daily Telegraph, The Guardian, The Independent, The New Statesman, Vice and Souciant magazine, among others.