Afghan President Blames Pakistan for Sheltering Taliban
Ghani said militant groups "are being hosted and aided from the territory of Pakistan."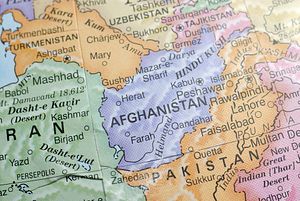 In the wake of last week's Taliban attack on a government intelligence building–which resulted in 64 deaths and 347 injuries–Afghan President Ashraf Ghani called on Pakistan to cease its support for militants.
"The enemies of Afghanistan are Daesh, al-Qaeda, the murderous Haqqani network, and some of the Taliban who enjoy shedding the blood of their countrymen," Ghani said in a speech to a joint session of parliament also broadcast on television. He said these militant groups "are being hosted and aided from the territory of Pakistan."
While some have categorized Ghani's speech as signaling a shift in policies, the rhetoric is similar to statements made last year. In  August 2015 after a series of attacks in Kabul resulted in at least 50 deaths, Ghani gave a televised address in which he said, "We don't want Pakistan to bring the Taliban to peace talks, but to stop the Taliban's activities on their soil."
That spate of attacks–which included an assault on the Kabul airport–came just two weeks after the news broke that Mullah Omar had died in 2013 in Pakistan, a fact the Taliban (and Islamabad) had kept secret.
In his recent speech Ghani said, "We expect Pakistan to honor its commitments in the Quadrilateral Coordination Group and take military action against those who, according to our security institutions and the intelligence services of our allies, are operating out of Pakistan."
The QCG–comprised of Afghanistan, Pakistan, the United States and China–has unsuccessfully attempted to restart peace negotiations with the Taliban. That process hit a major roadblock when the Mullah Omar news broke and hasn't been able to draw significant Taliban figures into negotiations, despite renewed efforts in 2016.
Pakistan has long been considered the key to getting the Taliban to the negotiating table, but as Tim Craig and Sayed Salahuddin write for the Washington Post, "Pakistan has been unable — or unwilling — to apply enough pressure on the Taliban to enter negotiations."
Recently, a senior Pakistani official–Sartaj Aziz, the foreign affairs adviser–admitted that Pakistan houses the Taliban leadership. On March 1, Aziz spoke at an event in Washington and commented, "We have some influence over them because their leadership is in Pakistan and they get some medical facilities. Their families are here… We can use those levers to pressurize them to say, 'Come to the table'. But we can't negotiate on behalf of the Afghan government because we cannot offer them what the Afghan government can offer them."
Although Aziz acknowledged the leverage Pakistan has, the threat doesn't seem to be working in terms of bringing top leadership to the table.
While Ghani said in his speech that the door to peace negotiations remains open, the overall tone is that the time for talking is quickly coming to an end. "This opportunity will not be there forever," he said.
Ghani also promised to introduce new candidates for the still-empty defense minister and intelligence chief posts. Since coming into office in September 2014, the National Unity Government has been unable to successfully agree on and get parliamentary approval for a defense minister. Meanwhile, the last intelligence chief, Rahmatullah Nabil, resigned suddenly in December, essentially in protest of Ghani's flirtations with Pakistan. He said that Ghani was surrendering "Afghanistan's 5,000 year history to Pakistan's 60-year history."