Amid Signs of Xi's Weakness, Appeals for Detained Activists Get Results
"China's censors, secret police, and even President Xi Jinping may not be as all-powerful as they appear."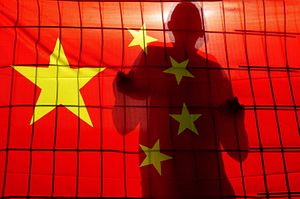 Given the prodigious resources and brutality that the Chinese Communist Party (CCP) employs against those it sees as a threat to its rule, one might conclude that the regime's opponents are destined to fail. But just as conditions appear especially bleak, a new round of regime criticism emerges, including from state-media journalists and the ranks of the party itself. The past month has been chock-full of such dynamics. One apparent byproduct has been the release of detained party critics.
These moments offer vivid reminders that China's censors, secret police, and even President Xi Jinping may not be as all-powerful as they appear in the face of dedicated activists, international outcries, and the CCP's own internal interest groups.
Over the last six weeks, several individuals who had been detained for what they said, wrote, or believed were set free. Chen Taihe, a law professor, was released from "residential surveillance" in late February and allowed to travel to the United States to reunite with his family. Zhang Kai, a prominent lawyer who had assisted Christians opposing a government campaign to remove crosses, announced on social media on March 24 that he had returned home. Jia Jia, a journalist who disappeared on March 15 in connection with an anonymous letter calling for Xi Jinping's resignation, resurfaced after 12 days. And four of the five Hong Kong booksellers who were mysteriously detained in late 2015—apparently in response to controversial and salacious books on top Chinese officials—were no longer in mainland police custody as of early April.
Granted, the outcomes of the cases include considerable ambiguity. These individuals should never have been detained in the first place, most are still not completely free, and some were forced to cooperate with the authorities—including through televised confessions—to earn their release. Nevertheless, it is clear that the situation would have been much worse absent domestic and international pressure on their behalf.
Moreover, their releases are consistent with a broader pattern. Freedom House research has found that despite an atmosphere of tight political controls and new arrests, Chinese leaders made more concessions to international and domestic pressure on media and internet freedom issues in 2015 than in any other year in recent memory.
In the coming days and weeks, indictments, trials, and verdicts are expected in a slew of other, less well-known cases involving freedom of expression. A Uyghur mother is charged with "leaking state secrets" for speaking to Radio Free Asia about her son, who disappeared into police custody in 2009. An elderly Falun Gong couple in Henan could face years in prison after police found four printers and several boxes of materials related to their persecuted spiritual movement during a raid on their home. Four mainland activists face charges for voicing solidarity with Hong Kong's 2014 pro-democracy protesters in online posts or offline banners. And a Tibetan entrepreneur who advocated for bilingual education and protection of Tibetan culture, including in microblog posts and interviews with foreign media, has been charged with inciting separatism. The outcome of investigations involving editors and technical staff at Wujie, a government-run website in Xinjiang that posted the anonymous letter urging Xi's resignation, also remains to be seen.
The many journalists and insiders who have spoken out against censorship and CCP media controls in recent weeks could face reprisals as well. These include staff at the financial news magazine Caixin, which exposed censors' deletion of an article; former Xinhua reporter Zhou Fang, whose open letter denouncing censorship went viral online; professor Jiang Hong, television anchor Bai Yansong, actor Zhang Guoli, and other delegates to the Chinese People's Political Consultative Conference who raised their concerns during the official advisory body's annual meeting last month; and of course, popular real-estate mogul Ren Zhiqiang, whose deleted microblog account catalyzed some of the recent pushback against Xi.
For the moment, any planned punishment for these individuals' ideological "transgressions" appears to have been put on hold. Some analysts have attributed the pause, especially in Ren's case, to a recent article that offered a careful defense of the principle of loyal criticism of the government. The piece was published on the website of the Central Commission for Discipline Inspection, the party's anti-corruption agency, which is led by close Xi ally and Politburo Standing Committee member Wang Qishan.
Even as intra-party politicking unfolds behind the scenes, well-timed diplomatic pressure, foreign news reporting, and grassroots campaigns could provide much-needed protection for these and other Chinese citizens at risk of punishment for exercising their right to free expression.
Despite the Chinese government's refrain that it handles prosecutions "according to law," the outcomes of free expression cases in China are inevitably based on a political cost-benefit analysis somewhere in the party's political-legal hierarchy. At a time when Xi is facing increased internal challenges to his authority, even as he attempts to tighten the screws on criticism inside and outside the party, the powers that be may be more susceptible than in the past to external calls for leniency.
For the sake of these individuals, their families, and the broader battle for democracy and human rights in the world's most populous nation, it's certainly worth a try.
Sarah Cook is a senior research analyst at Freedom House and director of the China Media Bulletin.