Another Secular Blogger Murdered in Bangladesh
A liberal Bangladeshi blogger has been killed by religious fanatics, the latest in a spate of attacks.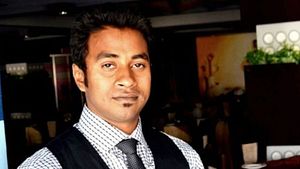 The grisly murder of another secular blogger by machete-wielding attackers in Bangladesh has sparked public outrage and triggered protests nationwide.  This is the latest murder in a string of brutal attacks on liberal bloggers by suspected Islamist militants.
The late blogger, Nazimuddin Samad, a postgraduate law student from the state-run Jagannath University, was assaulted by four assailants while returning home with another youth after completing classes at his university. The youth accompanying Samad during the attack has been missing ever since.
"They hacked his head with a machete. As he fell down, one of them shot him in the head with a pistol from close range. He died on the spot," the deputy commissioner of Dhaka Metropolitan Police Syed Nurul Islam was quoted as saying by Agence France-Presse.
"It is a case of targeted killing. But no group has claimed responsibility," Islam added.
Samad, originally from the northeastern city of Sylhet, had only recently arrived in Dhaka to pursue his legal studies. Deputy police commissioner Islam said it is likely that the perpetrators were tracking Islam's whereabouts before his arrival in the capital.
Imran Sarker, who spearheads Bangladesh's biggest online secular activist group, the Bangladesh Bloggers Association,said that Samad was an outspoken writer against injustice and militancy.
His Facebook page showed that he was a member of the Shahbag movement, which has been pushing to prosecute those who fought for Pakistan during the 1971 Liberation War that led to the creation of Bangladesh.
In some of his social media posts, he supported a petition to remove Islam as Bangladesh's state religion and urged the government to take a tougher line with Islamist groups. He also openly mocked hardline Islamists and their attitude to women's rights. In another Facebook post he said that religion is "the most barbaric invention."
Sarker said of Samad: "We found him [to be] always a loud voice against all injustice and also a great supporter of secularism."
Bangladesh has come under fire for the string of murders targeting bloggers with secularist views. So far, since 2015, five bloggers and one publisher have been killed in a similar manner by militants in the last two years: Niloy Chatterjee, Ananta Bijoy Das, Washiqur Rahman Babu, Avijit Roy, Faisal Arefin Dipan, and now Nazimuddin Samad.
After the latest murder, over 1,000 students blocked a road in Dhaka to demand that Samad's attackers be brought to justice. The public is concerned about the growing climate of religious intolerance in a country that prides itself on secularism, one of the four fundamental precepts enshrined in the 1972 Constitution. Although the secularism clause was removed in 1977, the Supreme Court restored secularism as one of the Constitution's basic tenets in 2010.
Last year a Bangladeshi court sentenced two students, Faisal bin Nayem and Rezwanul Azad Rana, to death for the 2013 murder of blogger Ahmed Rajib Haider. Of the two culprits, Rana is on the run and was sentenced in absentia.
Like Samad, Haider was one of many bloggers advocating for the persecution of Islamist leaders who committed war crimes during the 1971 Liberation War.  Most of these bloggers who have been killed by religious fanatics have some commonalities: they have openly raised questions about the role of religion and been bluntly critical of religious extremism and militancy. They are also loosely affiliated with MuktoMona, an online website for secularists and atheists.
Many secular groups have voiced their concerns that the government is not playing its part to protect dissident writers and activists. As a result, many publishers, bloggers, and writers have either fled the country or gone into hiding in fear for their lives.
"The persistent failure of the Bangladeshi Government and the international community to better protect threatened thinkers has created a climate of fear and direct threat to free thought in the country," PEN America, an advocacy group promoting freedom of expression, said in a statement.
The spate of ideological murders is an attack on Bangladesh's secular principles and ideas. More needs to be done to address the rising intolerance and violence against liberal-minded bloggers and independent voices. The courts will need to act resolutely to deliver justice in Samad's murder and protect the most vulnerable in society. If that doesn't happen, the country will soon lose its secularist ethos.
Roshni Kapur is an independent journalist based in Singapore.