China Unveils New South China Sea Lighthouse on Subi Reef
Beijing holds a "completion ceremony" for a lighthouse on one of its artificial islands.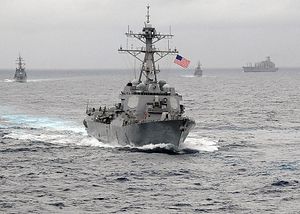 China has begun operating a lighthouse on one of its artificially-constructed islands in the South China Sea.
According to Xinhua, China's transport ministry held a completion ceremony Tuesday marking the start of operations of the 55-meter high lighthouse on Subi Reef, one of seven features in the Spratly Islands in the South China Sea which China has controversially converted into man-made islands.
Subi Reef is also the feature where the U.S. guided missile destroyer the USS Lassen sailed within 12 nautical miles of late October, drawing fierce protests from Beijing but also leading to weeks of uncertainty about exactly what Washington had sought to do. Since Subi is an artificial island previously submerged at high tide, it is not entitled to 12-nautical mile territorial sea under a reasonable reading of the United Nations Convention on the Law of the Sea (UNCLOS).
Construction of the lighthouse began in October 2015, and China's transport ministry continues to maintain that such structures are designed to improve maritime search and rescue, environmental protection, navigation safety and disaster prevention in line with its international obligations.
"The…lighthouses help China better perform international responsibilities and obligations in maritime search and rescue, prevention and elimination of natural disasters, marine environmental protection and navigation safety," it said.
The lighthouse in Subi is the third to be put into operation. In line with previous Chinese rhetoric about such structures, Xinhua said that the lighthouse, which emits white light at night with a light range of 22 nautical miles and a glowing cycle of five seconds, and is equipped with an automatic identification system and very high frequency stations inside the lighthouse would be useful for navigation.
"[T]he lighthouse can provide efficient navigation services such as positioning reference, route guidance and navigation safety information to ships, which can improve navigation management and emergency response," it said.