Corruption and Chaos in Papua New Guinea
A two-plus-year corruption investigation into PNG's prime minister comes to a head.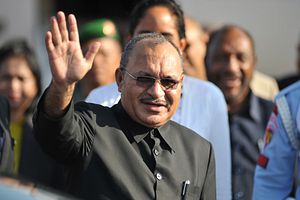 Backstabbing, factionalism, and dramatic abuses of power have led the battle against corruption in Papua New Guinea to take on Shakespearean proportions this week, as the National Fraud and Anti-Corruption Directorate (NFACD) locks horns with high profile government figures, including the attorney general and Prime Minister Peter O'Neill.
Headed up by Chief Superintendent Matthew Damaru, the NFACD is the chief anti-corruption agency in Papua New Guinea, operating as a police agency within the Royal Papua New Guinea Constabulary. During the last month, the NFACD has exploded onto the political scene by arresting Attorney General Ano Pala, Supreme Court Justice Bernard Sakora, and the prime minister's lawyer, Tiffany Twivey Nonggorr, for corruption, fraud, and perverting the course of justice.
The arrests come on the heels of a two and a half year struggle to carry out an arrest warrant against O'Neill himself. O'Neill won power in August 2011 partially on the basis of his anti-corruption stance and his promise to establish both an Independent Commission Against Corruption and Taskforce Sweep, which were charged with targeting corruption at the highest levels. Seemingly as a surprise to O'Neill, the task force did their job, and their discovery of O'Neill's own alleged corruption in June 2014 led him to shut the agency down.
O'Neill is alleged to have authorized the Finance Department's fraudulent payment of AUD $30 million to the PNG law firm Paraka Lawyers, apparently in return for work performed for government. Taskforce Sweep issued arrest warrants for O'Neill and his Finance Minister James Marape. Arguing that the allegations were unfounded and politically motivated, O'Neill obtained court orders — including a stay issued by the same Justice Sakora who was arrested last week — preventing the task force from questioning or arresting himself or Marape in connection with the fraud. Along with disbanding Taskforce Sweep, O'Neill replaced then Attorney General Kerenga Kua and Police Commissioner Geoffrey Vaki with two of his loyalists, Ano Pala and Gari Baki. The government also suspended Chief Magistrate Nerrie Eliakim, who had issued the warrant against O'Neill, ostensibly on grounds unrelated to her role in signing the warrant.
The NFACD picked up the threads dropped by Taskforce Sweep and allegedly found more evidence of corruption among senior government figures, issuing a warrant in July 2015 for the arrest of Treasury Secretary Dairi Vele. Damaru ended up bringing contempt charges against new Police Commissioner Gari Baki for allegedly convincing a magistrate to stay the Vele warrant. Baki responded by issuing an arrest warrant for Damaru. Damaru hired Australian lawyers Greg Egan and Terence Lambert to fight the charges, who then mysteriously found themselves issued a travel ban by the PNG Department of Immigration — again, apparently on unrelated grounds. The ban was overturned and Damaru's warrant was stayed, leaving the NFACD determined to fight another day.
The stalemate surrounding the O'Neill arrest warrant, and popular discontent about perceptions of O'Neill's behavior, provide a tense backdrop to the NFACD's activities last week. The arrests of the attorney general, Justice Sakora, and the prime minister's lawyer has pitted two rival factions within the Royal Papua New Guinea Constabulary against each other, Montague-Capulet style: those loyal to Police Commissioner Baki versus those loyal to the NFACD.
Immediately following the arrests, Baki issued a directive suspending Damaru and his deputy Timothy Gitua on April 16, 2016, on the grounds of failing to obtain approval for an unrelated investigation in Chimbu province. Damaru has since produced evidence claiming that the investigation was properly approved. He quickly appealed to the PNG National Court with the help of Egan, who was able to obtain a successful result despite O'Neill's recent machinations in forcing Damaru to seek approval from Ano Pala — the attorney general who was arrested last week — in order to continue using his Australian lawyers.
Damaru has now had his suspension set aside, freeing him up to continue the investigation. On arriving back at NFACD headquarters, however, he found that Baki's officers had changed the locks. Neither he nor his officers could gain access to their own office. The other police informed Damaru, "We don't care about the court order… we will investigate the judge who granted those orders." Following the stay of Damaru's suspension, Baki has ordered the temporary closure of the NFACD, assuring media that the directorate will stay closed "until he sees accountability." Baki further claims that the suspensions are unrelated to the O'Neill warrant, arguing that "I have taken steps to assume control of the erratic and out-of-control National Fraud and Anti-Corruption Directorate."
For now, Damaru appears to remain barricaded out of his temporarily defunct office, whilst former Attorney General Kerengu Kua, former Chief Justice Sir Arnold Amet, and many social media commentators are calling for Commissioner Baki to step down. Former Prime Minister Sir Michael Somare has publicly called upon O'Neill to submit to the rule of law and cooperate with the NFACD. O'Neill and Marape have spent the last month in an unsuccessful crusade against their potentially imminent arrests, with the PNG Supreme Court handing down a decision two weeks ago denying O'Neill's attempts to gain a court order preventing the NFACD from investigating the Paraka matter further.
While he overwhelmingly defeated a vote of no confidence against him in October 2015, time may be running out for O'Neill, as his increasingly convoluted attempts to avoid answering questions on the Paraka matter are causing many Papua New Guineans to run out of patience. With his attorney general under arrest and a Mexican standoff taking place within the police force, the future of public confidence in his administration may rest on O'Neill's ability to face the public with frankness and transparency about the Paraka affair. Perhaps O'Neill would do well to heed the words of the immortal Bard: "corruption wins not more than honesty."
Sally Andrews is a New Colombo Plan Scholar and the 2015-2016 New Colombo Plan Indonesia Fellow. She is a Director of the West Papuan Development Company and the 2016 Indo-Pacific Fellow for Young Australians in International Affairs.
This article was originally published on the Young Australians in International Affairs blog, Insights. It is reprinted with kind permission.