Fearing Encroachment, Japan to Increase Investment on Far-Flung Islands
Japan wants to encourage islanders to stay put — but is that in their best interests?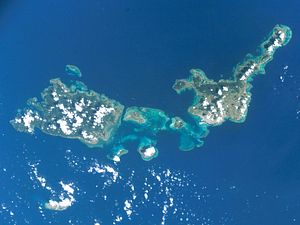 On Wednesday, the Japanese Diet enacted a suprapartisan law promoting special measures to support inhabitants of 71 remote islands in eight prefectures on the periphery of Japan's maritime borders. The purpose of the bill is to prevent these islands from becoming uninhabited. Legislators are concerned that if all residents leave any one island, it will become easier for foreigners to encroach on the newly empty land.
The new law requires the government to set up administrative offices, purchase land, and develop ports on these remote islands. Central and local governments will also subsidize transportation costs for residents and provide financial assistance to fishermen.
Japan is particularly concerned about keeping these islands inhabited as China is ramping up its maritime assertiveness in the East China Sea. While protecting territorial integrity is a key responsibility of any state – and civilian occupation is a good way to argue for a state's de facto administrative control over disputed territory – it remains an open question whether staying on the islands is truly in the best interest of the islanders themselves.
Sometimes, as Brad Williams analyzed in an article for Asian Security, it is the locals themselves who push for greater central government support — in the specific form of militarization. Examining the preferences of locals on the Yaeyama Islands, remote Okinawan islands at the southwestern end of the Japanese archipelago, Williams finds two distinct kinds of motivations for government support for greater militarization.
In Yonaguni, elites want militarization because they see it as "compensation politics." With limited economic opportunities, hosting military units is important to the livelihoods of the islanders. In contrast to the material motivations driving Yonaguni's leadership, in Ishigaki, elites are driven by ideology, "seeking militarization for deterrence purposes and otherwise transforming the island into a rightist breeding ground in defense of Japanese territory."
Yet even as locals themselves are participating in the political process to receive aid through militarization, Williams criticizes Yaeyama militarization for diminishing islanders' autonomy and dampening micro-regional economic activity.
While the nature of government aid to these 71 islands is different from the aid given to Yaeyama islands – purely civilian support versus military largesse – locals should be clear-eyed and wary about the limited, and ultimately self-serving, nature of central government support.
The temporary law will go into effect next April, and be on the books for ten years.