Japanese Destroyers Visit Vietnam's Cam Ranh Bay in Historic Move
The two countries record another first in their burgeoning defense relationship.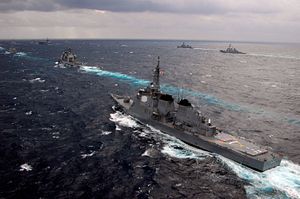 Two Japanese destroyers arrived Tuesday in a historic visit to Vietnam's Cam Ranh Bay which fronts the South China Sea.
As I mentioned in an earlier piece, Japanese officials had disclosed last month that two Japanese warships would sail to the Philippines and on to Vietnam, accompanied by a submarine arriving in Subic Bay (See: "Japanese Submarine to Visit the Philippines Amid South China Sea Tensions").
On Tuesday, two guided-missile destroyers from the Japan Maritime Self Defense Force (JMSDF) – the Ariake and Setogiri – carrying 500 crew members, made a port call at Cam Ranh Bay International Seaport in Vietnam. Japanese officials have confirmed that the visit is the first of its kind.
At a welcome ceremony, Japan's ambassador to Vietnam, Fukuda Hiroshi, read a letter written by Japan's Minister of Defense Gen Nakatani on the need to preserve peace and stability in the South China Sea for the benefit of the region and the world. Nakatani also praised the port of Cam Ranh, where Vietnam inaugurated a new international facility capable of receiving foreign warships in March (See: "Vietnam Unveils New Port Facility for Foreign Warships in Cam Ranh Bay").
At a press conference back in Tokyo, Nakatani also said that he expected defense collaboration with Vietnam to grow and that Japan would work with other major powers such as the United States to ensure peace and stability in the South China Sea.
As I mentioned in a previous piece, while the move may appear to be a new development, in has in fact been in the works for a while as Japan has sought to boost defense ties with Vietnam, one of the more forward-leaning Southeast Asian claimants in the South China Sea disputes, amid China's growing assertiveness there.
Last November, Nakatani and his Vietnamese counterpart Phung Quang Thanh had already agreed during a meeting in Hanoi last November that Japanese vessels would be allowed to make port calls in Cam Ranh Bay, a deep-water harbor in central Vietnam alongside the South China Sea (See: "Japan Warships Could Visit Vietnam Naval Base Near South China Sea in 2016").